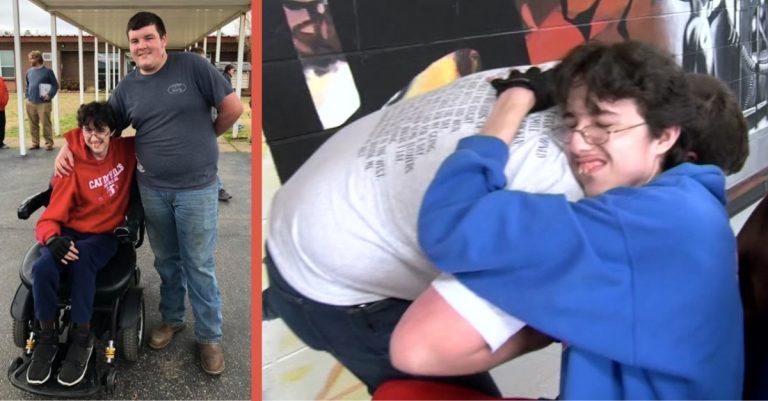 One high school student went above and beyond to give back to one of his classmates. Tanner Wilson, who is a senior at Caddo Hills High School in Norman, Arkansas, bought his friend Brandon Qualls a new electric wheelchair with his own money that he saved up for more than two years.
"He's just been a really good friend and I wanted to do him a favor," Tanner said in an interview when the story hit the news, "I just felt like I needed to do it, and I wanted to do it."
For several years, Brandon would use a self-propelled wheelchair in order to get around. He says that his arms would get tired real quick from wheeling himself around all day and he would have to stop and take rests. That's when Tanner surprised Brandon with his own new and improved electric wheelchair in class on February 26th.
A teacher helped decorate the wheelchair with orange flames on the fenders and had Brandon's last name written on the back, also in orange flames. Orange happens to be Brandon's favorite color, so it was a very kind and thoughtful gesture!
"They came in and my face just blew up, crying everywhere," Brandon said in an interview when asked about his reaction. "Just like, 'Wow, can't believe he did that for me!'" Tanner confirmed that seeing Brandon's face just light up made saving up for the wheelchair "100 percent worth it."
"There's many people out here that have troubles and need a little bit of help," Tanner says.
Caddo Hills School District shared the moment on Facebook the day that Brandon was gifted his new electric wheelchair. Since posting the photo, it has gathered over 3,000 Facebook reactions, almost 400 comments from parents in the school district and beyond, and almost 2,000 shares.
"We would like to share some love," the school district's post began, "Today Tanner Wilson, Caddo Hill's Senior, surprised his fellow classmate Brandon Qualls with a motorized wheelchair. We are so grateful for the heartfelt surprise from one Indian to another. Tanner has been saving for two years to show his appreciation and friendship for Brandon."
What an absolutely heartwarming story and a beautiful act of kindness. Be sure to SHARE this article if you loved this story as much as we did!
Check out the news coverage on this wonderful story below (and grab your tissues):