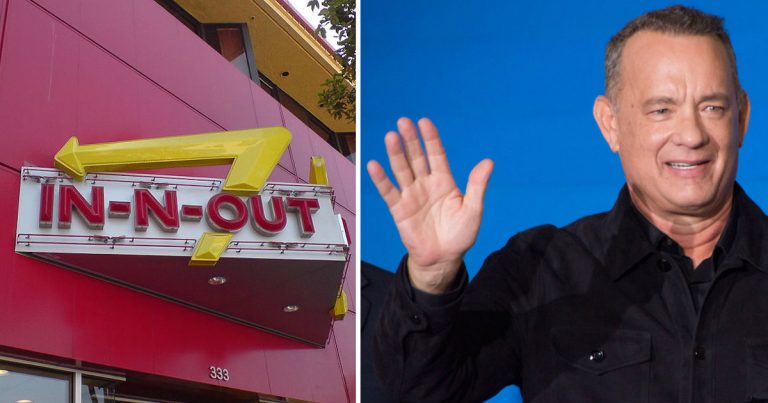 Is there anything that Tom Hanks can do to make us love him more? Of course there, he is Tom Hanks! The man is full of charm and wins us over constantly. When he's not supporting his wife, he's out there making great movies, or, apparently, buying burgers for his adoring fans!
Tom Hanks might be a movie star with a career that spans over 30 years, but that doesn't mean he isn't just like the rest of us. If he craves a burger, he heads out to his local burger chain to get one for himself! Recently, Tom and his wife, Rita Wilson, were spotted at an In-N-Out Burger in Fontana, California on December 21, 2018.
Because Tom and Rita ordered their food and sat down like they were regular folks, fans of Tom couldn't help but snap photos of him. This is a common practice when most people see celebrities out in public. Some celebrities embrace it well and accept that is part of what comes with fame. Meanwhile, many other celebrities might ask their security to tell fans to not take photos or don't have the time to stop for selfies. Not Tom Hanks!
It seems that Tom realized people were taking photos with him and being the amazing man he is, he stopped to take multiple pictures with people at the In-N-Out. As if that wasn't enough, Tom also went ahead and bought food for everyone! Talk about a nice guy! That totally explains why Meg Ryan loves working with him, he's just too sweet.
Fontana's Oak Park Elementary School tweeted about Tom being at the In-N-Out and revealed that he'd bought food for the group (as well as other diners at the burger chain). As he was leaving the restaurant, he went up to a cashier and handed her money for the next few cars that came up to the drive-thru.
Look who visited Fontana In N Out! Woody himself, Tom Hanks, and he bought lunch for everyone! Nice! pic.twitter.com/LcNGr9S7X0

— Oak Park Elementary (@FUSD_OakPark) December 22, 2018
The news of Tom's generosity spread like wildfire after people began to share their pictures and stories on social media. One social media user wrote on Instagram:
"He is such a nice guy taking pictures with everyone….he told us Merry Christmas. And I went over and talked to his wife Rita while Tom took pictures with everyone!"
We sure wish we'd been at that In-N-Out when Tom Hanks walked in. Maybe next time, since it seems like he is clearly comfortable dining out in public.
Everybody talking about @tomhanks being at in n out in Fontana. My wife works there and got a selfie with him haha pic.twitter.com/fnWIRYdD1G

— jando (@justcallmejando) December 24, 2018
If you love Tom Hanks and wish you'd been lucky enough to meet him, SHARE this story with your friends and family members on Facebook!
You can watch a compilation of the best Tom Hanks movie moments in the video below: