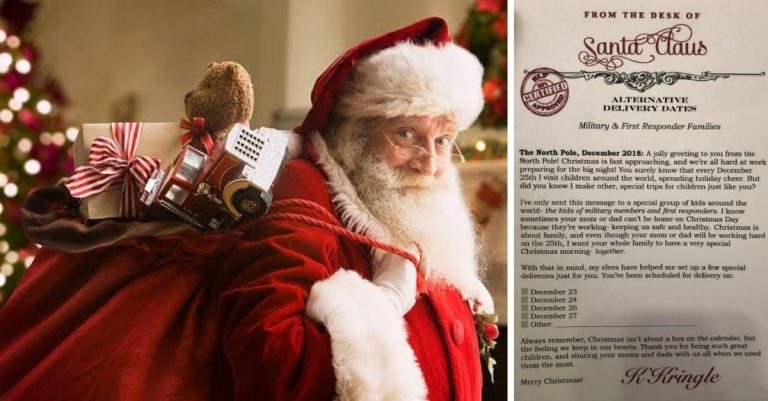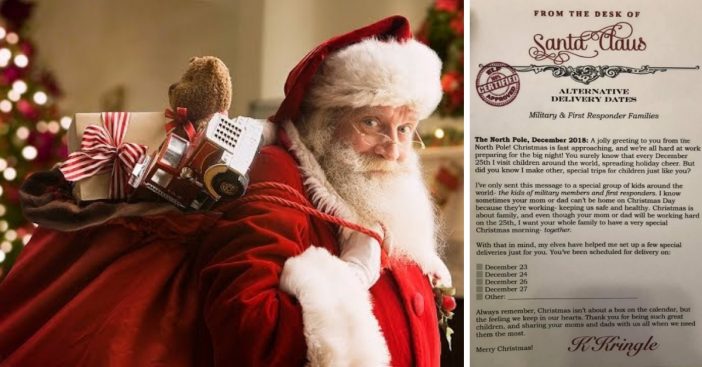 When it comes to being part of a military or first-responder family, it means that holidays can be pretty tough knowing your loved one will need to work to keep everyone safe while everyone else is enjoying the day with their families. It can be tough on the moms and the children alike. One mom went above and beyond to make sure that her family would spend Christmas together… even if it meant doing it on a different day.
Stephanie Lynn typed up her own letter from Santa addressed to her children. In the letter, Santa addresses the children as 'kids of military members and first responders' and says that they may schedule delivery of their presents and celebrate Christmas on any alternate date provided on the letter. All they would need to do is check off a date and send it back!
https://www.facebook.com/photo.php?fbid=10107087675483569&set=a.914529982679&type=3&theater
In the original post that went viral, Stephanie Lynn shared the reason for the letter with military and first-responder families in mind.
"As all of you know, the holidays can be a rough time for families like ours- juggling shift work (which I'm so glad Brent doesn't deal with anymore!), on-call hours, deployments, TDYs, etc. and "normal" holiday events can get quite hectic. And no matter what, our amazing kids just push on through, sharing their parent(s) with us all," Lynn says.
"This year, it's likely Brent will be working on Christmas Day, so we've decided to have Christmas the morning of the 24th, when we can all be together. I typed up a letter from Santa Claus, just for these special kids, and wanted to share it with y'all, just in case."
https://www.facebook.com/photo.php?fbid=10106547123683709&set=a.851210959509&type=3&theater
"Always remember, Christmas isn't about a box on the calendar, but the feeling we keep in our hearts," the letter from Santa concludes, "Thank you for being such great children, and sharing your moms and dads with us all when we need them the most."
Since posting the photo of the letter, the post has received almost 50,000 shares, over 2,000 comments, and almost 9,000 general reactions. Many people have taken to the post to tag other people and let them know of the heartwarming sentiment of this note.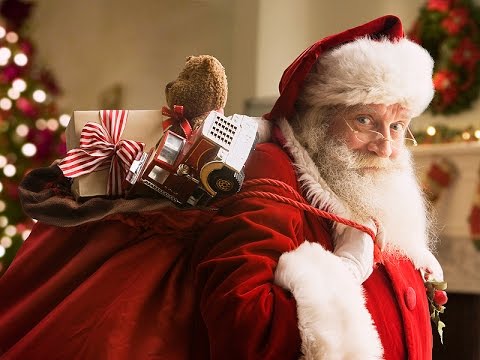 "This would have been perfect for our family last year when my husband had to leave on Dec 17 due to orders from the USMC," one Facebook comment said.
Lynn has also updated the Facebook post since then with several different drafts of custom-made letters for different professions and one 'general use' template letter.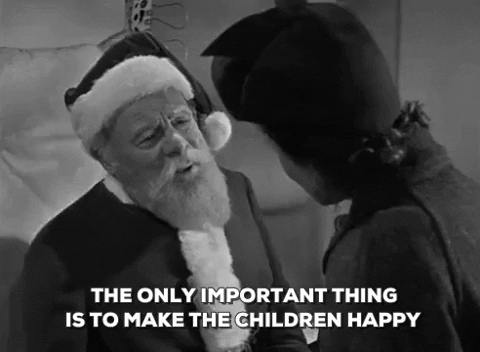 Be sure to SHARE this article with your friends and family to spread the news about these custom letters from Santa!