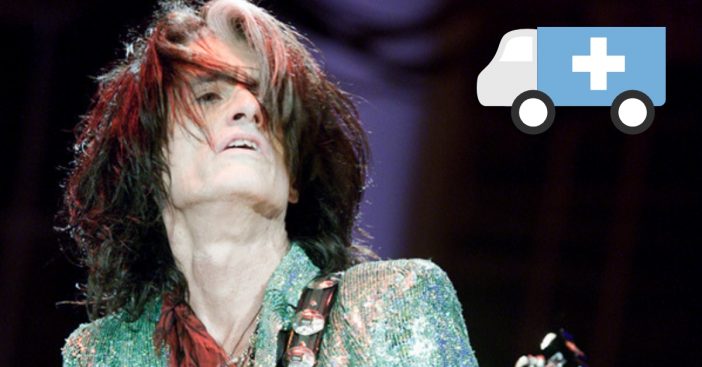 Joe Perry, the longtime guitarist from the band Aerosmith was hospitalized on Saturday night after performing at a Billy Joel concert. He was playing in Madison Square Garden and collapsed in the dressing room after the show. Perry had joined Billy Joel onstage to perform Aerosmith's hit song from 1975, "Walk This Way". Perry, who is currently 68 years old, was taken to the hospital for testing.
He was also having trouble breathing at the time of his collapse. He was given oxygen through a tracheal tube and taken out to an ambulance on a stretcher. According to his representatives, he is currently alert and responsive. He expects to return to touring later this month. Thankfully, he will be okay!
This is his second collapse in recent years
This was his second backstage collapse in the last few years. He collapsed after a show in Coney Island in 2016. It was after a show with his other group Hollywood Vampires. He plays in that group with Alice Cooper and Johnny Depp.
Before the concert, he retweeted Billy Joel's post about the concert that evening. No word on if he was not feeling well before or during the concert. Likely, he was just exhausted due to his energy on stage and his age.
#Repost @billyjoel
・・・
Billy with tonight's special guest Joe Perry!

photo: @myrnasuarezphoto pic.twitter.com/rVMtRLXR7m

— Joe Perry (@JoePerry) November 11, 2018
The origin of Aerosmith
Perry originally formed a band with Tom Hamilton called The Jam Band. Eventually, it became Aerosmith after Steven Tyler, Brad Whitford, and Joey Kramer joined. Perry collaborated on all of Aerosmith's albums except "Rock in a Hard Place" in 1982. He also had a successful solo career with several albums.
Perry was ranked 84th in Rolling Stone's list of The 100 Greatest Guitarists of All Time. He was also inducted into the Songwriters Hall of Fame. Joe Perry wrote a book on his experiences in 2014 called "Rocks: My Life In and Out of Aerosmith". Have you read his book? If so, what did you think about his experiences?
Joe Perry's upcoming tours
Perry is set to being a solo tour on November 30. He is also part of Aerosmith's upcoming residency at Park Theater at Park MGM in Las Vegas in April of 2019. Aerosmith is also set to play during Super Bowl weekend in February 2019. We hope Perry gets well soon and is able to keep playing his amazing music!
Please SHARE to send Joe Perry some get well wishes! We hope he recovers quickly. Are you a big fan of Aerosmith and Joe Perry? Will you go see them in Las Vegas?