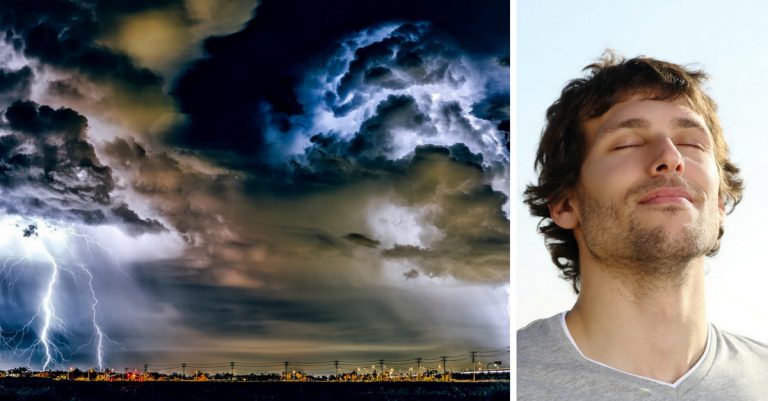 These days, we have weather reports everywhere we turn. From our phones to TV to radio announcements, you probably know when the weather is calling for rain or thunderstorms. However, nature also gives signs that it is about to storm.
All you need to do is look for them. Here are the top signs that it is about to thunderstorm. Be on the lookout the next time the forecast calls for rain.
1. Tree leaves turn
This is an old wives tale, but it is actually true. Before a storm, the humidity usually goes up quickly. This causes leaf stems to drop their leaves down. You might see the underside of the leaves, especially if the wind is picking up too.
2. Bugs stop mating
Okay, this one you may not notice. But it is pretty interesting. Studies show that when the barometric pressure drops before it rains, bugs don't want to mate. You might notice bugs being less crazy around you.
3. However, bees get busier
Busier stocking up on food that is. Honeybees don't like to go out in the rain, so if they can sense it is about to storm, they will work harder to stock up on food for their hive.
4. You might see birds fleeing
If you see birds suddenly flying away or flying by themselves instead of a flock, there is a chance it is about to storm. Birds can often sense sounds that humans can't and know about storms before we do. They also don't like to get caught in the rain.
5. Your dog might give you a clue too
If your dog is afraid of thunderstorms, they might sense a storm is coming too. They may hear thunder before we can or sense the change in pressure. If your pup starts acting nervous, a storm might be approaching.
6. You might be able to smell it
You know that smell before it rains? You aren't making it up. There is a fresh scent that comes from the ozone. When a storm is coming it pushes that air from the ozone down to a place where we can sniff it.
Do you love the scent just before it rains? What other signs do you notice before it storms? If you found this article interesting, please SHARE with a friend!
RELATED: Things You'll Only Remember If You Grew Up In The 1960s