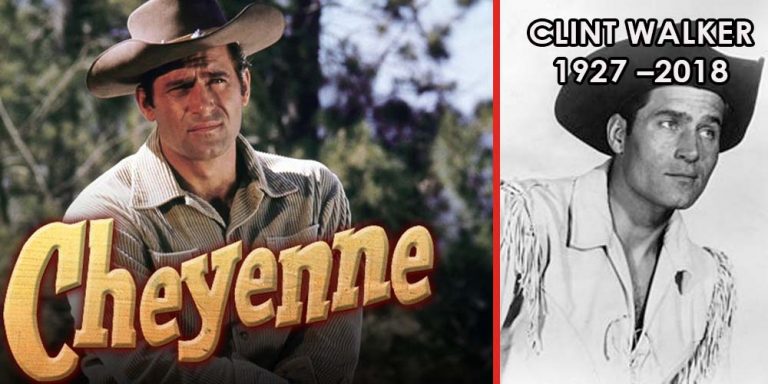 Clint Walker was a true cowboy, and displayed it one of the classic TV Westerns of the 1950s and 1960s, Cheyenne! From 1955 to 1963, Clint would entertain with his good looks and imposing physique. The man was 6 feet 6 inches tall and was the definition of a true cowboy.
The man who played the title character in the TV western series Cheyenne passed away in May of 2018. Clint's daughter, Valerie Walker, told the Associated Press that her father died of congestive heart failure at a hospital in Grass Valley, Calif., at age 91. We take a look back at his work with these fan favorites.
According to Wikipedia "Walker left school to work at a factory and on a river boat, then joined the United States Merchant Marine at the age of 17 in the last months of World War II.
After leaving the Merchant Marine, he worked doing odd jobs in Brownwood, Texas, Long Beach, California, and Las Vegas, Nevada, where he worked as a doorman at the Sands Hotel. Walker was also employed as a sheet metal worker and a nightclub bouncer."
He starred in the movie Yuma (1971):
Here's an Interview with an older Clint.
We've included Cheyenne as one of the best classic TV westerns. Do you agree with our list? Here's an obituary for Mr. Walker.
Some Memorable Quotes by Clint
"End your day with a smile, a happy thought, and a grateful heart."
-Clint Walker
"Without chiropractic care, I couldn't have existed with my work as a TV and film actor."
-Clint Walker
"When the War ended in 1945, I started selling vacuum cleaners door to door. Then I sold insurance door to door. I even tried selling cars."
-Clint Walker
"Well, The Dirty Dozen was like a vacation."
-Clint Walker
"I seldom ever missed a Gary Cooper picture if I could manage to see it."
-Clint Walker
"So, I got into the law enforcement game. I worked for an outfit called Newton Detective Agency for a while. I worked eight hours on the waterfront making sure the longshoremen didn't take too many things."
-Clint Walker
"Another thing I recall was falling in love with Shirley Temple when I was nine or ten."
-Clint Walker
"Because I had worked the river boats some summers, pushing as far as New Orleans, I joined the Merchant Marine."
-Clint Walker
"That tv box has a tremendous capacity to reach people."
-Clint Walker
What a man, and what a true American Icon. What do you remember about the Cheyenne star?
RELATED: Incredible Theatrics Made 'The Good, The Bad, And The Ugly' The Best Spaghetti Western