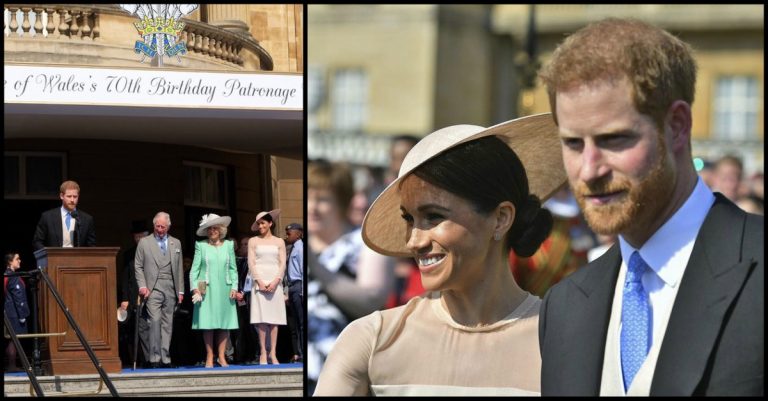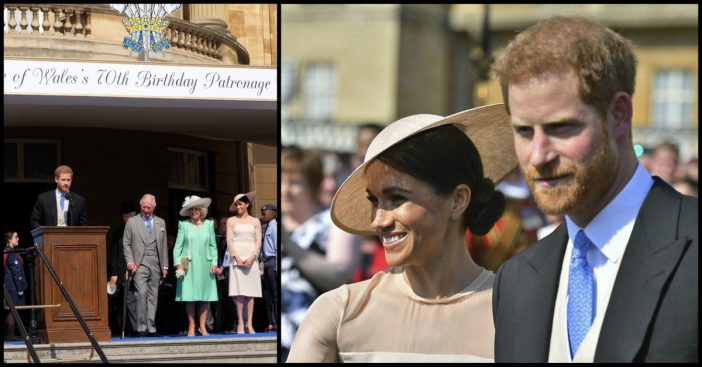 Before Prince Harry and Meghan Markle got married on May 19, 2018, they announced that they'd be putting off their honeymoon for a little while. Because of their delayed honeymoon, they were able to make appearances at royal events before leaving to travel.
Today, May 22 (just three days after their wedding!), the Duke and Duchess of Sussex made their first appearance since tying the knot. Harry and Meghan attended The Prince of Wales' 70th Birthday Patronage Celebration. The party, which took place at the Buckingham Palace Gardens, was to celebrate Prince Charles' (Harry's father's) 70th birthday.
https://www.instagram.com/p/BjFxczigpa_/?taken-by=kensingtonroyal
Of course, all eyes were on the newlyweds as they stepped out for the first time since their wedding. Harry wore a classic suit, while Meghan wore a beautiful (and modest) dress.
Prince Harry and Meghan, the Duchess of Sussex, arrive at a garden party at Buckingham Palace, London pic.twitter.com/yp79NK3jb4

— Elliot Wagland (@elliotwagland) May 22, 2018
She classed up her outfit with a stunning hat and some simple, sparkly jewelry.
The Duke of Sussex gave a speech in which he talked about The Prince of Wales: "His enthusiasm & energy are truly infectious; it has certainly inspired William & I to get involved in issues we care passionately about & do whatever we can to make a difference." #princeandpatron pic.twitter.com/OBt8jECf94

— The Duke and Duchess of Cambridge (@KensingtonRoyal) May 22, 2018
During the celebration, Prince Harry made a speech about his father. At some point, Meghan shared a laugh with her in-laws.
https://www.instagram.com/p/BjFxd9vAdfE/?taken-by=kensingtonroyal
The Duke and Duchess also took some time during the celebration to shake hands and meet other people attending the garden party.
This was The Duke and Duchess of Sussex's first engagement as a married couple and Their Royal Highnesses met people representing The Prince's Patronages at Buckingham Palace. #PrinceandPatron pic.twitter.com/BdWVyXfWye

— The Duke and Duchess of Cambridge (@KensingtonRoyal) May 22, 2018
For her first appearance as an official part of the royal family, Meghan seemed to handle it like a pro. Not only did she look beautiful, she also seemed like she was having a great time.
Lovely images of Harry, Meghan, Charles and Camilla at the Garden Party: pic.twitter.com/HNrDiE9D4r

— Emily Nash (@emynash) May 22, 2018
Some people pointed out that the "newlywed glow" hadn't worn off, as Harry and Meghan couldn't seem to keep their hands off each other at the celebration.
And it's goodbye from us….(clearly the post wedding glow hasn't rubbed off given that PDA!) #DukeandDuchessofSussex pic.twitter.com/t2S0DtUZTS

— Rebecca English (@RE_DailyMail) May 22, 2018
Of course, they didn't break royal protocol or anything, and mostly just held hands (they didn't even kiss).
Fantastic to invite more than 150 supporters of @britishasiantst to Buckingham Palace today to celebrate our Founder HRH The Prince of Wales 70th birthday this year. Great for so many of them to meet HRH, the DoC and Harry & Meghan. pic.twitter.com/xpnzD7g9Ds

— Richard Hawkes (@R_Hawkes) May 22, 2018
Although it's only been a few days, Meghan looks like she's fitting right in with her new royal family. If you think the Duke and Duchess looked great at their first event as a married couple, don't forget to share this article with your friends!