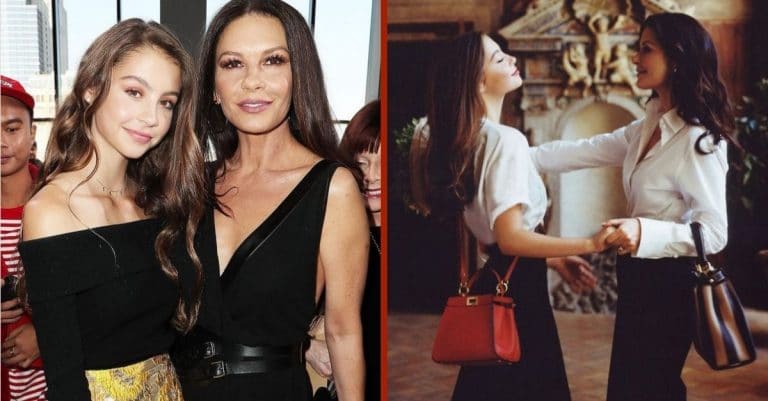 Updated: 6/30/2021
Following the careers of celebrities, it's hard not to pick up on any family resemblances between them and their children. Examples include  Reese Witherspoon and Ava Phillippe, Cindy Crawford and her daughter Kaia Gerber…and most recently, Catherine Zeta-Jones and her daughter, Carys Zeta Douglas. For some time now, fans of the Zorro actress couldn't help but notice the resemblance between the teen and her mother – bother her parents, actually. Carys is the youngest daughter of Michael Douglas.
The similarities became especially apparent during New York's Fashion Week in recent years. While viewers had plenty of stunning outfits to admire, celebrities and their family members got to show their fans a glimpse into their personal lives. Carys is no stranger to the spotlight – and her mother carefully monitors this exposure so Carys both knows what life as a celebrity is like and can still have a personal, private life away from the cameras, stigma, and pain she herself has faced.
Catch up with Carys Zeta-Douglas
View this post on Instagram
During Michael Kors' 2018 spring show at New York Fashion Week, Zeta-Jones turned up with daughter Carys. There, the actress posed with Naomi Watts, Nicole Kidman, and even designer Michael Kors himself. Carys can be seen in many a photo, further highlighting the resemblance between her and her mother even at that age.
View this post on Instagram
RELATED: Catherine Zeta-Jones Shares Rare Photo With Look-Alike Dad For Father's Day
Even their outfits coordinated and complemented one another while also remaining unique and flattering to the wearer. Zeta-Jones donned a halter dress with a plunging neckline and belt at the waist. Beside her, daughter Carys sported a more flowy dress that hung off of the shoulder at the top. The skirt had flower detailing with metallic gold and yellow coloring. It was enough to get viewers thinking they were seeing double.
View this post on Instagram
New York Fashion Week would be neither the first nor last outing the mother-daughter duo made together; indeed, it wouldn't be the first of its kind, exclusive to Michael Kors. They also attended the Hand-in-Hand telethon. During this event, they worked with none other than Oprah Winfrey, Beyoncé, Kerry Washington, and more to raise $44 million for hurricane victims. Already, this shows Zeta-Jones' intent on keeping her children modest and understanding the importance of giving back.
View this post on Instagram
At 14, Carys began constructing an online presence through her own Instagram account. She joined actor Michael Douglas, thought their pages' respective subject matter differs somewhat. Douglas offers family photos and acting throwbacks. Meanwhile, Carys ended up fully leaning into fashion with professional-looking selfies and trendy outfits that are surely the envy of the block. All this supports the growing theory that Carys will be taking to the runway more and more, maybe in projects of her own, supported by her current count as of June 30 of 167,000 followers.
View this post on Instagram
However, don't rule out acting for either Carys or her brother. Zeta-Jones revealed to Jimmy Kimmel on his show that both kids "go to summer camp every year — they do like three musicals and straight plays — and they love it."
Michael Douglas and Catherine Zeta-Jones have a lot to be proud of
View this post on Instagram
It's been a busy last few years for the family of Catherine Zeta-Jones and Michael Douglas. In 2021, Carys celebrated her milestone 18th birthday, ascending another step into adulthood with her parents cheering her on the whole way. Seeing pictures of the kids from Zeta-Jones is usually reserved for special occasions, and she did not hold back with her post calling her "everything, and everything is you."
View this post on Instagram
Just a month later, the family congregated to celebrate Carys and the class of 2021 upon her high school graduation. She was joined by her brother and parents, though some spectators thought Douglas was her grandfather. Between continuing her education at college – no word yet on which university – Carys studies other languages and stays involved with some modeling gigs, usually alongside mother Catherine Zeta-Jones like a Dolce & Gabbana event and a magazine shoot for Variety.
View this post on Instagram
Dylan is enrolled in college and Carys is starting out, but they may enter the same career field as their parents. Zeta-Jones revealed, "Their passion is about acting as a craft and they've done every theater camp. My kids went off to summer camp every year, to theater camp with all the Broadway kids, and held their own very, very well, I have to say." It's worth keeping an eye out for Carys in future, besides work as herself on Extra with Billy Bush and Entertainment Tonight.