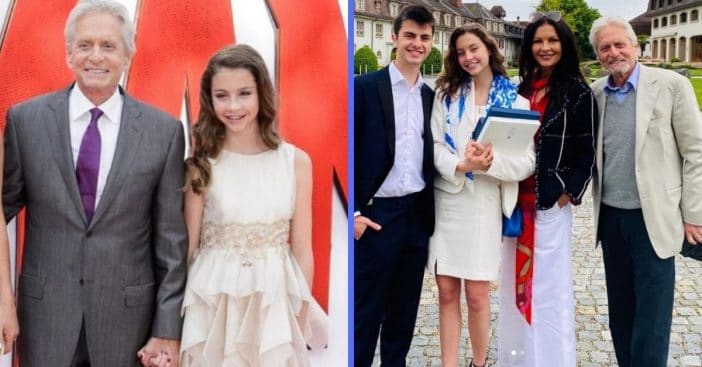 At the age of 76, Michael Douglas got to attend a high school graduation for his daughter Carys. However, when watching the 18-year-old accept her diploma, Douglas had actually been mistaken for her grandfather.
Douglas talked about the experience on the Monday, June 7 episode of The Kelly Clarkson Show. For the most part, the family got to enjoy what Catherine Zeta-Jones called a "lovely experience," enabled by easing pandemic restrictions. Here's how Douglas reacted to the mishap.
Graduation attendants mistaken Michael Douglas as Carys' grandfather
View this post on Instagram
In late May, Carys was joined by her mother Catherine Zeta-Jones, brother Dylan, and father Michael Douglas for her high school graduation. "It was so wonderful, I'm so proud of her," Douglas reflected on the event. Shortly after the event, he shared a commemorative photo of the family together on Instagram.
RELATED: Catherine Zeta-Jones Shares Secrets From Her 20-Year Marriage To Michael Douglas
But some people at the event who looked at that family misinterpreted what they saw. Douglas went on talking with Clarkson, "I gotta tell you Kelly, it's a little rough when you're going out the doors and the other parents are saying, 'Oh congratulations…you must be so proud of your granddaughter.'"
Approaching it with a bracing attitude
View this post on Instagram
Upon hearing about this incident, host Kelly Clarkson burst out into laughter. Douglas went on to recall his own taken aback response, reciting, "I said, 'Well, I don't know man. Yeah okay.'" He went on to explain his preference for understanding, "I'm not gonna take it personal, they're just trying to be nice."
View this post on Instagram
All this doesn't even take into account the big change in store not just for Carys but for Catherine Zeta-Jones and Michael Douglas as her parents. "It's scary. It really is," Douglas admitted of the prospect of becoming an empty nester during a Today interview. "You look at each other and go, 'Well, it's just you and me babe.' You forget how many conversations you sort of hide behind in terms of talking about your kids and what's going on next and this and that, and then one day you just look at each other … We're 20 years now, so all those good years of paying attention to each other are paying off now."