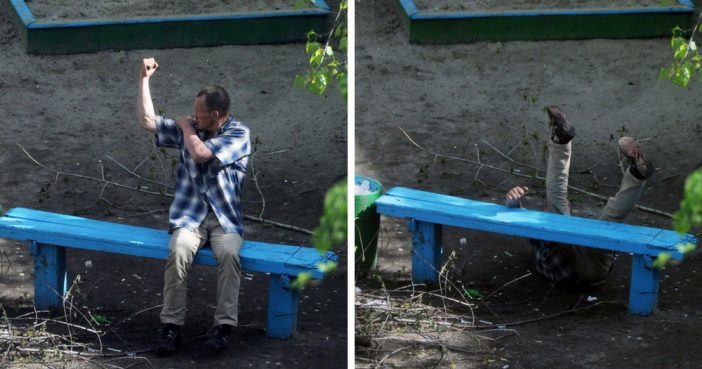 One of the most ubiquitous sights in any city around the world is the humble park bench: a meeting spot for friends, a place to grab lunch or perhaps a smoke, and maybe a quick snooze. Usually, such mundane activities fade easily into the background of our busy lives and we would hardly stop to notice the goings on around a small public meeting spot, but for Ukrainian photographer Yevgeniy Kotenko, one such bench has turned into the rich body of photography spanning over a decade titled On the Bench.
In a working-class suburb of Kyiv, friends gather…
Lovers meet…
While the faces change, the park bench (barring the occasional paint-job) remains the same.
This photo series, shot from the fourth-floor window of Yevhen Kotenko's parents' kitchen, captures life around a wooden bench in the Dniprovskyy suburb of the Ukrainian capital. (The exact location of the bench is here.)
Photographer Kotenko (pictured) began capturing life on the bench in 2007 or 2008. The 36-year-old told RFE/RL: "I didn't give myself any time limits or goals, I just went to the kitchen and looked out the window. Usually, there was something to see."
Kotenko says he has fond childhood memories of the neighborhood that he grew up in, "but there were a lot of bad things, too, that are better not to think about."