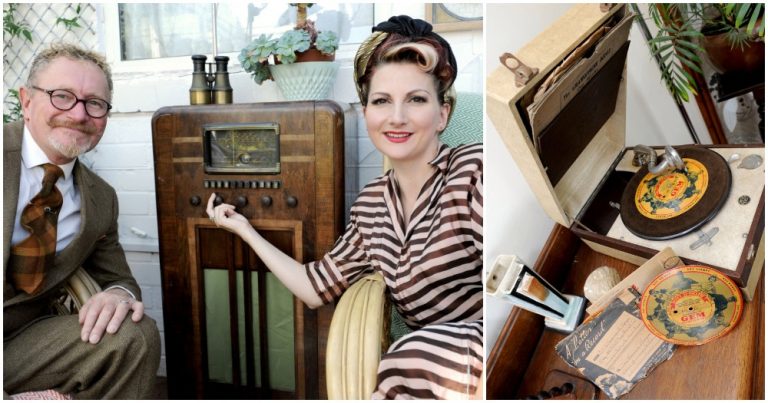 Meet the family who is so obsessed with war-time Britain that they have converted their home into a 1940s haven.
Kitten and husband Richard Von Mew wear only vintage clothes, decorate their home with antiques from the decade and eat a 1940s diet – including Spam and powdered eggs.
Kitten Von Mew with her husband Richard and their 14-month-old daughter Betsy have embraced the 1940s.
Kitten, who first became interested in the era when she began modeling as a 1940s pin-up in 2001, said she slowly became enamored with the decade's style and way of life.
She said: "We've got amazing respect for those who lived through World War II. In the face of all the atrocities, came out amazing things like the positives of people coming together in a community spirit.
"People came together for strength and support which I don't think you get nowadays. Also on the moral side, music, and theatre-going right up to the front line to entertain the troops.
Kitten first began to model as a 1940s pin-up before she began to fall in love with the decade
The family sticks to decorating their home with vintage items, including a voice-o-graph
The family sticks to a 1940s diet, even loving Spam for dinner.
Kitten putting a vinyl on her vintage gramophone
Kitten Von Mew putting a plak on her vintage gramophone to listen to her favorite song) – Meet the family living in a time warp – who live in a house decked out like war time Britain – and love nothing more than sitting down to a plate of Spam. Kitten and Richard Von Mew, from Stratford-Upon-Avon, Warks, have transformed their home into a snapshot of the 1940s – wearing only vintage clothes and allowing their daughter Betsy, 14 months, to play only with toys from the age. Kitten, 36, started modeling as a 40s pin-up in 2001 but it was not until five years later that she started embracing the lifestyle at home, before converting construction site supervisor, husband Richard. The pair dress exclusively in vintage inspired clothes, and tot Betsy even has an extensive wartime-inspired wardrobe.
She said that she found people's motivation to get through the Second World War period "awe-inspiring".
The stay-at-home mum said: "I just find the whole thing awe-inspiring how they got through it and found positivity and escapism. That's why I like to portray the 1940s pin-up."
The 36-year-old has also converted her construction site supervisor into a 1940s-tragic, with the pair now even dressing their 14-month-old Betsy in wartime-inspired clothes.