Road trips are a blast, but sometimes you just need to break up the journey with a bit of roadside fun. Sure, you could spend your time going to some worthwhile attraction, but where's the great story in that? It's better to sacrifice a few minutes visiting something bizarre, like these strangest roadside attractions we've compiled for you.
Without further ado, we give you the strangest roadside attractions in each state! Don't see a state you're looking for? Keep checking back; we'll be updating the list regularly.
Alabama: Unclaimed Baggage Center
You may be wondering how exactly it's legal for airlines to sell lost luggage. Well, you can rest assured that unless you fall off the face of the planet, yours is (mostly) safe. They conduct a three-month search, hoping to find a bag's original owner. If they can't find you, though, your luggage may be purchased by the illustrious Unclaimed Baggage Center in Scottsboro, Alabama. There, visitors can shop from an impressive selection of jewelry, electronics, clothes, and — of course — luggage.
Alaska: World's Largest Santa
Just because North Pole, Alaska, isn't the real North Pole, doesn't mean this town of 2,000 outside Fairbanks can't capitalize on the name, right? Their 900lb statue of St. Nick serves as a giant advertisement for the Santa Claus House – a place, like in your dreams, where Christmas never ends.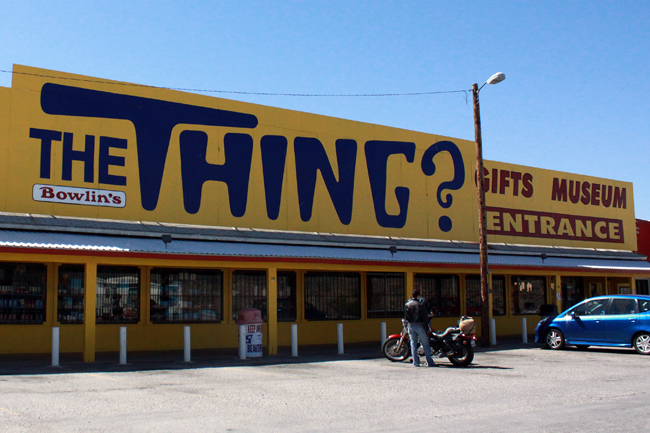 If you live near Tucson, Arizona — or are planning a trip in those parts — this could very well be a real conversation. You see, drivers on the I-10 start to see billboard after billboard for something called The Thing once they get about 40 miles outside of Tucson. What exactly is The Thing? You know, we could try to explain it to you, but it's really best if you just mosey on down to Arizona and take a look for yourself. Mere words can't do this bizarre attraction justice. We can tell you one thing for sure: After miles and miles of signs piquing your interest for The Thing, you are sure to be disappointed by this roadside attraction.
Arkansas: Peavy's Monster Mart
This little souvenir shop/convenience store — with its mural and amateurish cutout in front — pays homage to the Boggy Creek Monster, a Sasquatch-like beast said to have roamed the area since the 1940s.
California: Salvation Mountain
You won't find a plethora of roadside billboards trying to lure you to Southern California's Salvation Mountain, but you may feel like you're called there by a, ahem, higher power, so to speak. Created by Leonard Knight, the mountain is a tribute to god and also features flowers, shrubbery, strange objects, and other bits of nature, like birds and sunshine and such. The 50 foot-by-150 foot adobe sight preaches love and kind of resembles a mountain onto which a gaggle of hippies threw up. But, you know, have at it.
Connecticut: Cushing Brain Collection
We're constantly surprised at the weird things by which Americans find themselves intrigued, but alas, we're not here to judge. Driving through New Haven, Connecticut? Have a stop at the state-of-the-art Cushing Brain Collection at Yale University's Whitney Medical Library. The collection includes hundreds of tumor-ridden brains suspended in jars of brownish liquid. There's even a self-guided scavenger hunt you can go on! It's technically for children, but a scavenger hunt is a scavenger hunt in our book.
Colorado: Cano's Castle
Beer can folk art at its finest, Cano's Castle is a four-tower chateau made almost entirely of suds cans and scrap metal. Also, heads up: Jesus lives inside. At least according to its architect, Donald "Cano" Espinoza.
Delaware: Fountain of Youth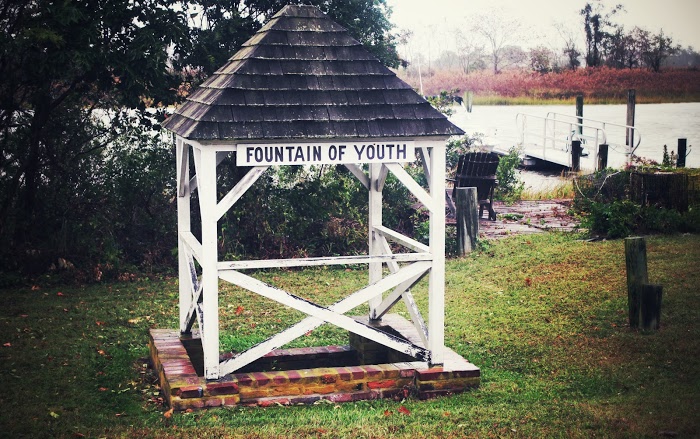 If only Ponce de Leon and the cast of Cocoon knew this was here all along. Discovered by the Dutch in 1631, it's long since dried up. Which's bad news for Steve Guttenberg?
Florida: Museum for the Man Who Invented Air Conditioning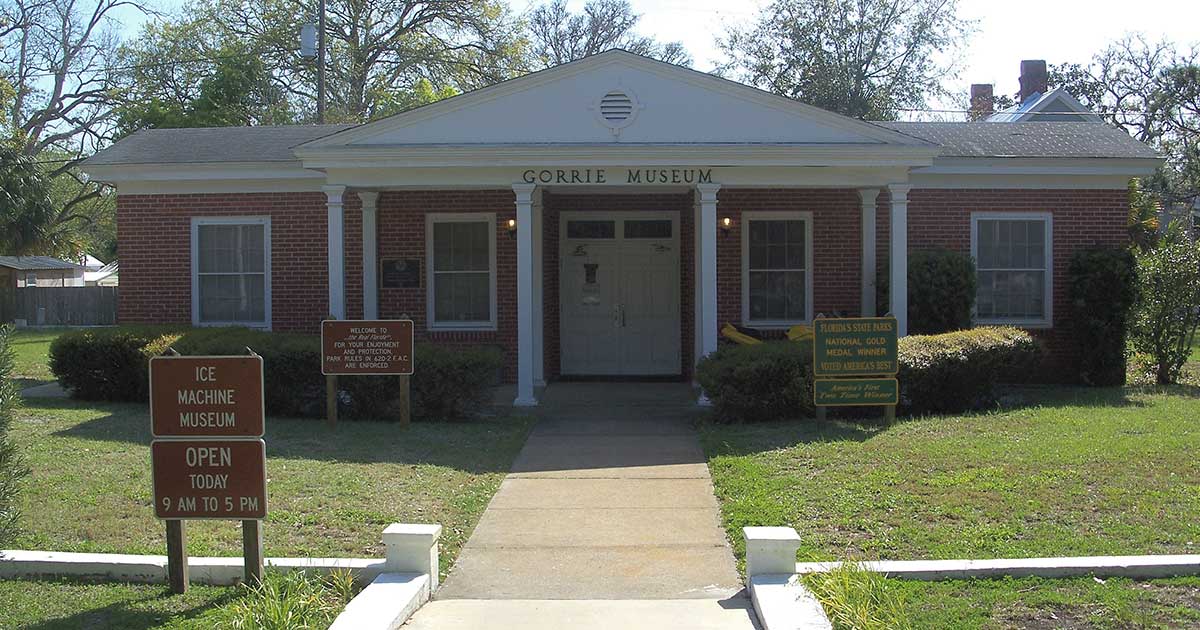 Who wants to live without their creature comforts? Well, if it weren't for John Gorrie's air refrigeration machine invention in the 1850s, we'd all be living without AC in the hot summer months. Gorrie created the machine to help cool hospital patients. Unfortunately for him, no one paid much attention to his life-changing invention, and he died pretty much penniless and without recognition.
But now, all that's changed thanks to the John Gorrie Museum in Apalachicola, Florida.
Georgia: Jimmy Carter Peanut Statue
This mildly unnerving, 13ft statue of a toothy nut was erected by the Indiana Democratic Party to honor the peanut-farmer-turned-presidential hopeful as he campaigned around the Hoosier State during the 1976 campaign. It's since found its way to Carter's hometown of Plains, Georgia.