22. A Four-Post Bed
Simple, yet elegant, this room is ideal for a husband and wife. The beauty of the dark wood bed blends perfectly with the ornate wallpaper and window dressings. One lone lamp illuminates the space and gives off a romantic glow. By placing the bed off to the right of the room, there is more walking space.
23. An Elegant Bathroom with a Unique Statue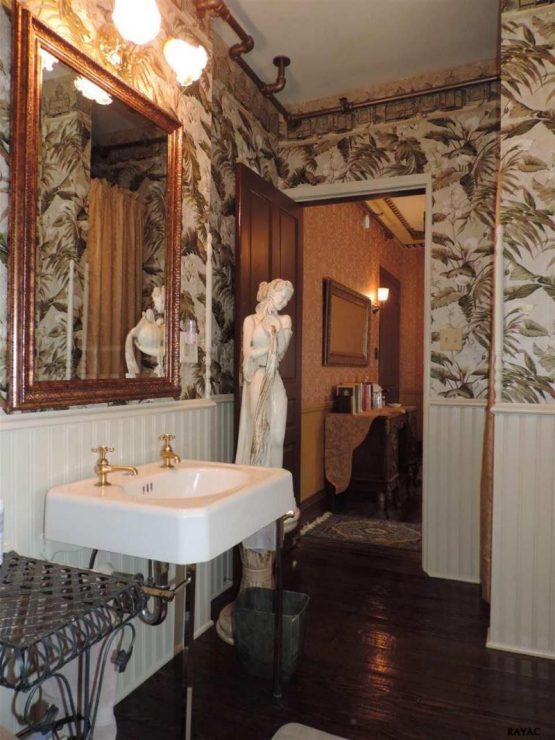 This is a bathroom like no other! Your eye immediately is drawn to the statue of the woman. She looks blissful and serene. This energy is then transferred to the rest of the room. Extra dark stained wood floors contrast with the brighter wispy wallpaper. Another ceramic white sink is held up with steel legs. A gold hung mirror looks like a rare antique find.
24. Clawfoot Tub
A traditional clawfoot tub makes this bathroom true to its original design. There is plumbing that is vertical and gold. This makes the room feel extra decorative. The underside of the white clawfoot tub is painted a light green which ties into the wallpaper. Lastly, the radiator is perfect for placing towels on to heat up while bathing!
26. Jewel-Toned Guest Room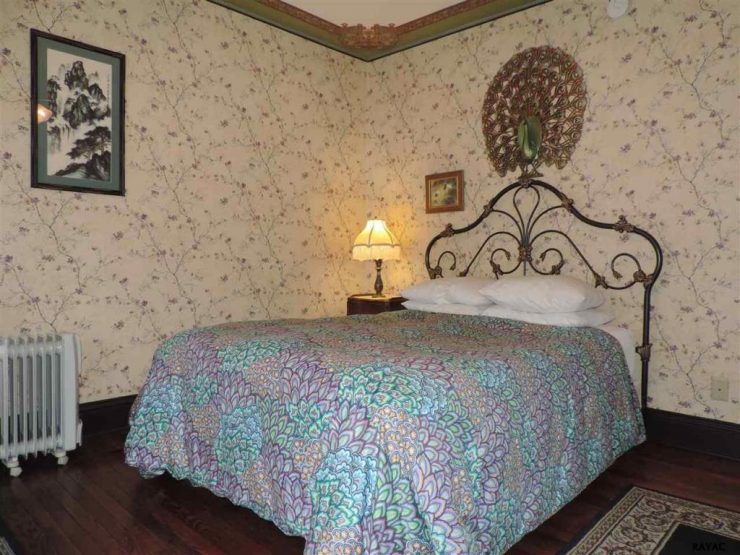 Brighter, jewel tones colors are used in this bedroom's comforter. These don't necessarily match the rest of the home, but a peacock accent hung above the bed hints at the use of the colors. Instead of overpowering the room with hanging art, one lone frame is placed off the side of the bed. The radiator is painted white to lighten up the room.
27. Purple Window Coverings Add Style
From this angle, you can see that this jewel-inspired room has a great view. Large windows are adorned with periwinkle curtains, which match the comforter. The bay window, which pops out, as its wall painted green to bring the whole space together. To invite the outdoors in, there is a green planter placed on the window seat.
28. 3rd Bathroom with Tiled Floor
This bathroom is completely different than the other. There isn't a clawfoot tub and there are no gold accents. White tile is accented with an ivory wallpaper. A unique checkered floor reflects the home's age. Nothing else competes the the texture except the lace on the curtains hung over the window, which lets in lots of light.