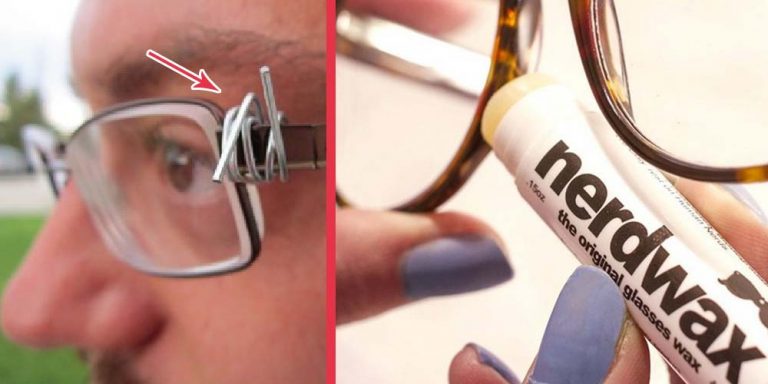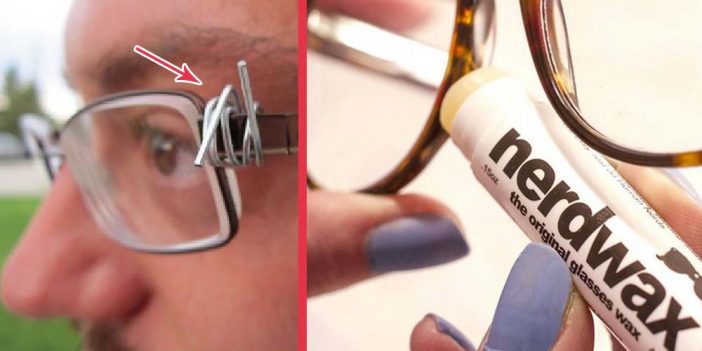 7. A pair of flexible glasses perfect for those who just need some to pop on for a bit of quick reading.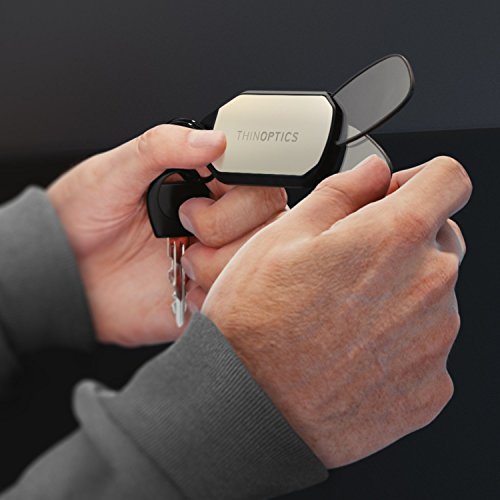 Promising review: "Perfect! I never have to worry about where my glasses are OR even if I have them with me! First time I used them was out to dinner with family and friends and I took out my keychain, and popped up the glasses and slid them on my nose and everyone went wild and they just had to try them on! I'm so happy I stumbled on these glasses LUCKY FIND!" —Amazon Customer
8. This 4-in-1 screwdriver that fits on your keychain to tune up your hinges in a pinch.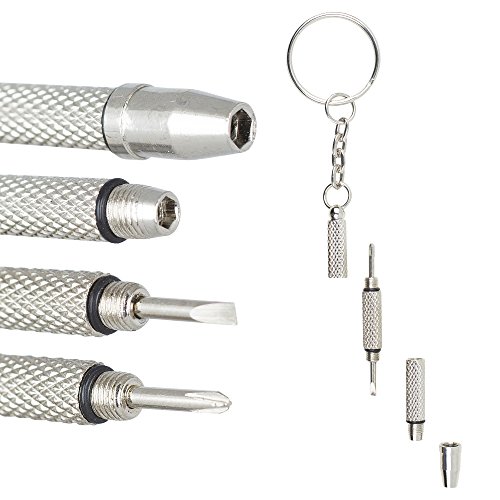 Promising review: "Great for adjusting all sorts of glasses from sunglasses to reading glasses. Also handy if you are working on watches or anything where you need a small Phillips or flat-head screwdriver." —Mitch V. Pham
9. A necklace loop — a subtle way to hang your glasses without resorting to those granny chains.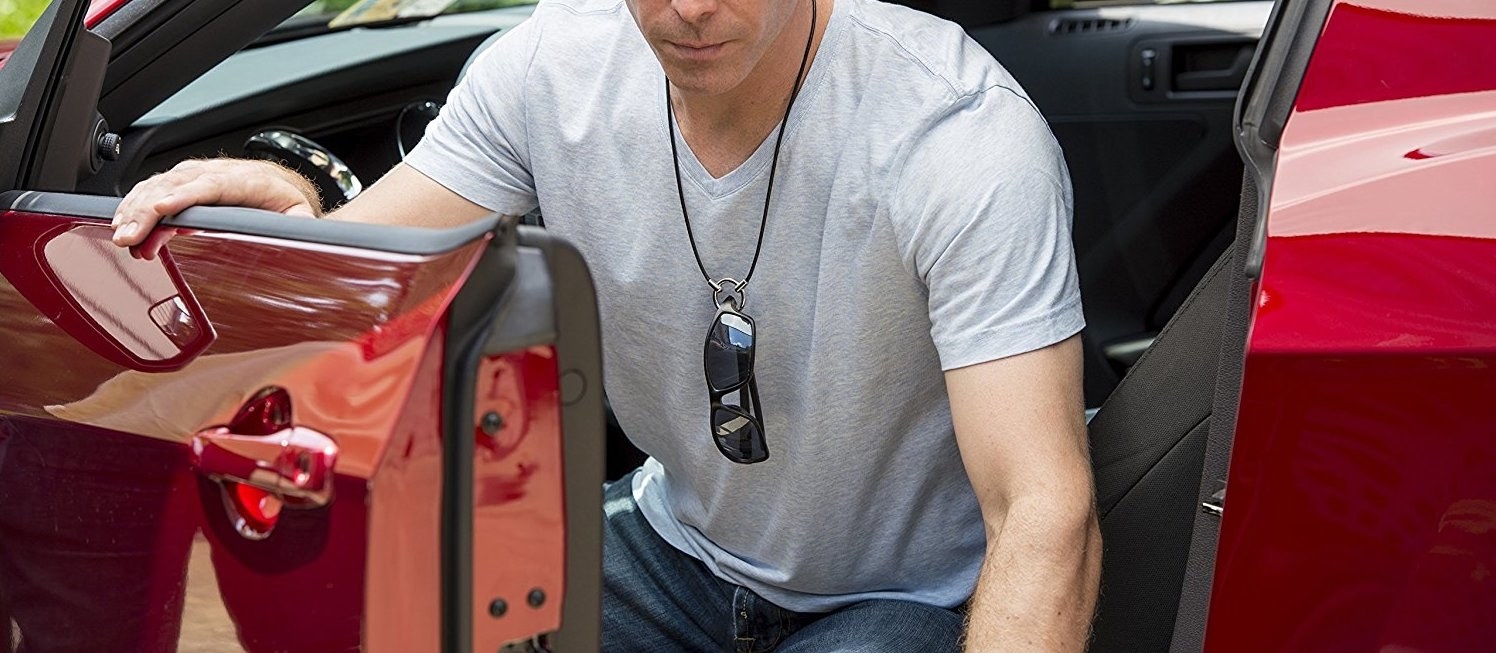 Promising review: "As I've gotten older it has become more difficult to see small print. I became frustrated hunting for my glasses. I purchased three different types of glasses holders in order to see what worked best for me. This one is my favorite. Why? Because it is the simplest. It is non-flashy and a fun piece of jewelry when my glasses are on my face and a great place to hang them so they are always with when I'm not reading the small print. I think it is the least old-lady-like option." —TeresaS
10. This lens cleaning kit that'll treat your lenses so that they repel water.
Promising review: "The hydrophobic cleaner is great for glasses and does seem to reduce the frequency with which I have to clean my glasses. I use this on both my regular eyeglasses and my sunglasses. The bottom of the container is the storage area for the lens cloth, making it convenient to have everything in one container. I like the pen style rather than the spray applicator, as I seem to use less clean when I can put it only where it's needed." —Matthew Brodie
11. A plush-lined nightstand case so you have a place to keep your frames when you're done reading for the night.
Promising review: "I don't know why I waited so long to get a stand for my glasses. At night I take my contacts out and wear my glasses so I always try to find a safe spot to put them in. I've looked at padded holders but just never got one, so now I did. It's great I know where my glasses are, they're safe and they won't get scratched. Like I said, I don't know why I waited so long!" —Aliqat
12. A simple hard shell case — it remains the best way to prevent scuffs when you're throwing glasses into your bag.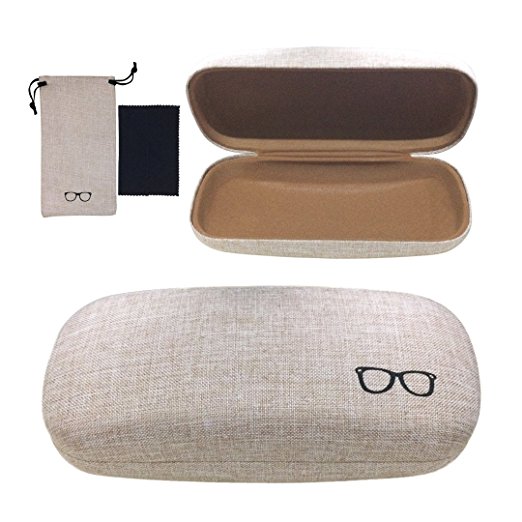 Promising review: "Being nearsighted, I don't need my glasses when shopping — only to drive — so I just leave them in the car. I don't like to leave them just loose on the dash, but it's almost impossible to find a hard-sided glasses case that doesn't lint all over the lenses! I have been looking for years, but when you ask at the eyeglasses stores for a lint-free case, they look at you as if you are from Mars. They don't advertise themselves as such but they are made inside and out from linen, and linen does not lint. Well, they work: My lenses are as clean coming out as they were going in. So if this drives you crazy too and you hate particles all over your lenses, these cases will keep your glasses fresh and clean. I have not found anything else that even comes close and I have been looking for years." —shrinkwrap