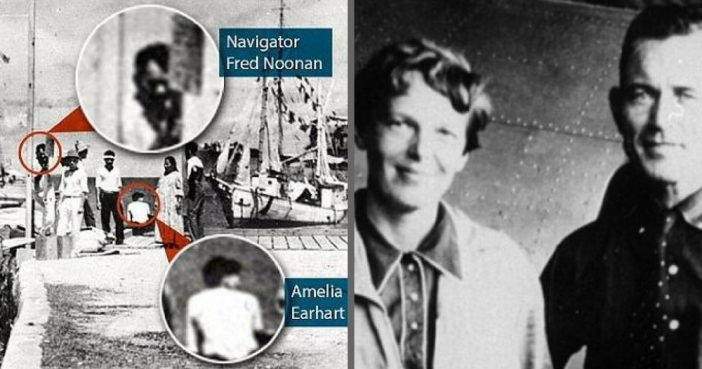 Now, investigators believe they have discovered the "smoking gun" that would support a decades-old theory that Earhart and her navigator, Fred Noonan, were captured by the Japanese: a newly unearthed photograph from the National Archives that purportedly shows Earhart and Noonan — and their plane — on an atoll in the Marshall Islands.

"I was originally skeptical until we could get the photograph authenticated," Shawn Henry, a former FBI assistant executive director who is now helping privately investigate the Earhart disappearance, told The Washington Post. "The fact that it came out of the National Archives as opposed to somebody's basement or garage somewhere — that to me gave it a lot more credibility."

…

he 8-by-10-inch black-and-white photograph went ignored in a stack of 20 or 30 other pictures until Kinney took a closer look a few months later, Henry said.

In the photo, a figure with Earhart's haircut and approximate body type sits on the dock, facing away from the camera, Henry points out. Toward the left of the dock is a man they believe is Noonan. On the far right of the photo is a barge with an airplane on it, supposedly Earhart's.
This is the picture (credit Daily Mail)
Like so much of the Earhart post-disappearance legend, this one gets shaky once you examine it.
More on NEXT page…