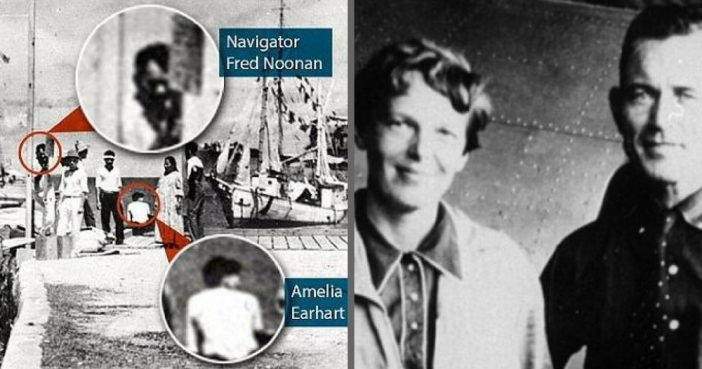 For instance, if Earhart and Noonan were captured by the Japanese, as hypothesized, why are they lolling about on a pier without any Japanese soldiers or Japanese-looking people around? The image was taken on Jaluit atoll, but the location of Jaluit makes it very unlikely that Earhart would have made it there. The radio direction finding bearings of Earhart all converge in the Phoenix Islands but Jaluit, marked by the red arrow, is far outside the RDF bearings and her planned route.
And then there is the provenance of the images themselves.
As the MailOnline's investigator who uncovered the questionable photo notes: 'In the archives I found that the envelopes containing the photographs were stamped on the lower rear corner – something that was difficult to notice as they're in a three-ring binder/enclosure.

'The (aerial) surveillance photos in the first few envelopes were dated earlier than the 1940s, but the photos taken from on the island (Jaluit), that were in the latter envelopes, were dated 1940+'.
On the whole, this new theory looks about as plausible as the New Jersey housewife theory. But History Channel is on the case and whatever could go wrong?
What do you think happened to Amelia Earhart's Airplane? Share your feedback in the comment section below.
If you LIKE this story, please SHARE this story!
Related: Amelia Earhart May Have Survived Crash-Landing, Newly Discovered Unseen Photo Suggests