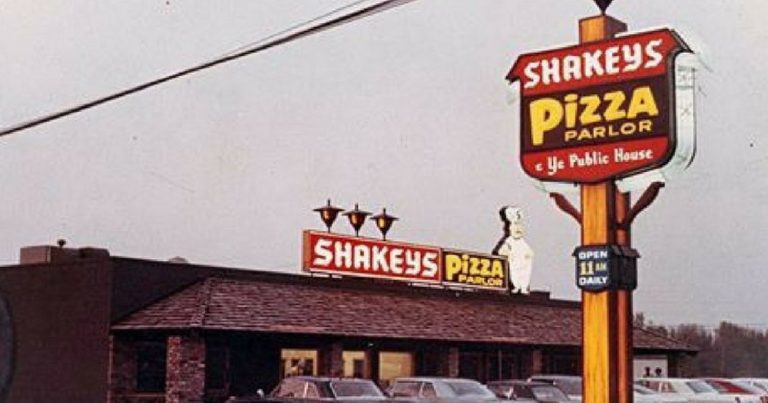 If you've ever heard ragtime piano music and the first thing you think of is pizza, you are likely one of the millions that has dined at Shakey's Pizza. Perhaps you celebrated a birthday there, or met with your Little League team, or maybe your family just wanted an inexpensive way to avoid cooking dinner for the evening. Whatever the reason, a friendly straw hat-wearing employee stood ready to dish out the goods.
I seem to remember Shakey's Pizza being the absolute best pizza! Let's find out about the very first Shakey's Pizza parlor.
The first Shakey's opened in Sacramento, California in 1954, thanks to two entrepreneurs, Ed Plummer and Sherwood "Shakey" Johnson (whose nickname came from nerve damage he received in WWII). It holds the distinction of being the first franchised pizza parlor.
Do you remember when Shakey's had an all-you-can-eat pizza option? Or what about their fried chicken lunches?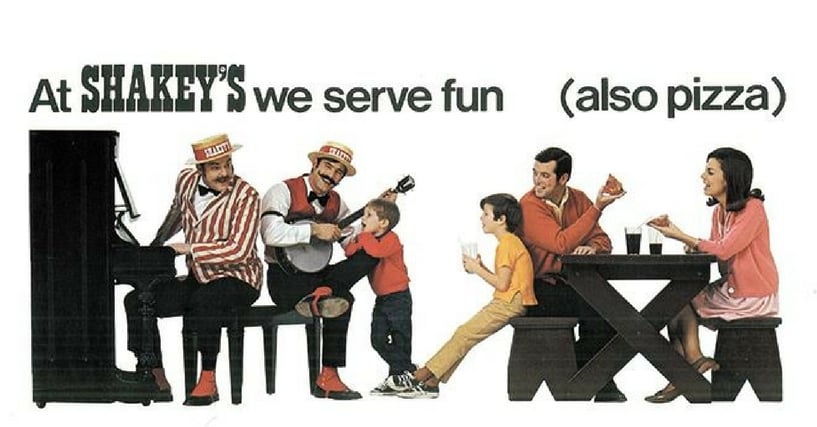 Below is a Shakey's Commercial from 1970 starring Gordon Jump
Johnson eventually sold his shares in the company in 1967, and at the time, there were some 272 stores nationwide. The new owners began expanding internationally expanding to Canada first, then throughout Asia.
Unfortunately, when the 80s rolled around, many of the now-500 US-based Shakey's Pizzas closed, although they are still very popular in places such as Japan and the Philippines.
Do you have any memories of Shakey's Pizza? Tell us in the comments section below.
Also, we found a great recipe to try and recreate their famous crust at home! Enjoy!
SHAKEY'S PIZZA CRUST Recipe
INGREDIENTS
12 ounces All purpose flour; sifted
4 ounces Quaker Harina Preparada Tortilla Flour; sifted
6 1/2 ounces Water; Lukewarm
1/2 tablespoon Sugar
1/2 tablespoon IDY Yeast
1/2 teaspoon Salt
2 teaspoons Crisco Shortening; room temp
Handful Cornmeal Flour; for rolling out dough
PREPARATION
1. Combine Water & Sugar add Yeast and proof 5 minutes. Add mixture into Mixer.
2. Add remaining ingredients and mix using Dough Hook to form Dough Ball.
3. Place Dough in container twice the size of Dough Ball and let rise several times, punching down dough in between rises.
4. Divide Dough in half form balls and wrap with cellophane. Refrigerate until ready to use.
5. Roll out to desired size on CornMeal Flour, add sauce, toppings, ect…
6. Bake at 450° on hot Pizza Stone for 6-8 min or desired doneness.
Recipe from Big Oven
RELATED:
Pizza Delivery: Quality Family Time in 30 Minutes or Less
Do You Remember Bob's Big Boy?