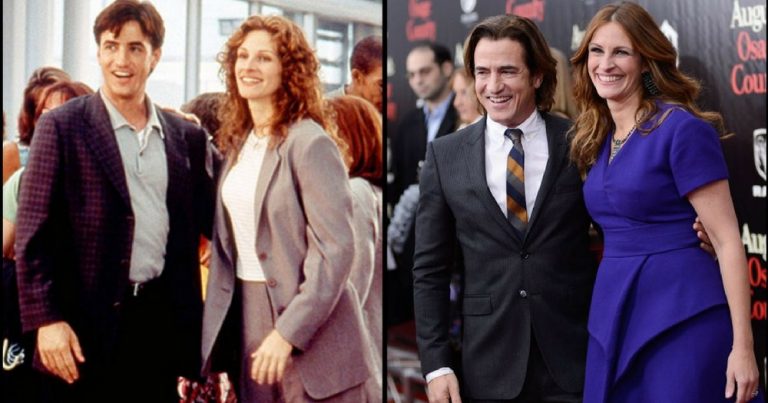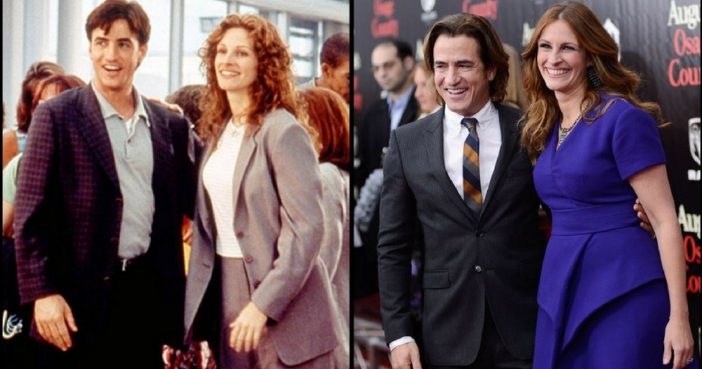 "My Best Friend's Wedding" premiered 20 years ago today and, like so many other films from the 1990s, it doesn't exactly stand the test of time.
Starring Julia Roberts as Julianne, a 27-year-old food critic who's fighting to win back her one-time boyfriend, Michael (Dermot Mulroney), as he prepares to wed bright-eyed, 20-year-old Kimmy (Cameron Diaz), "My Best Friend's Wedding" would probably look markedly different if it was made in 2017.
Though it remains one of the most lucrative, and some might say beloved, romantic comedies in history, much of the plot would be foiled by social media, smartphones and more modern social norms.
Here are a few examples.
1. Jules and Michael would probably be older:
The film revolves around a simple agreement that the two main characters made when they were young: If they were both still single at 28, they would marry each other. "The one constant thing in my life is that he'll always be there," Jules, just weeks away from her birthday, confidently said of their relationship. Unfortunately for her, Michael met Kimmy before the deadline and she finds herself reeling over the possibility of having to live her life without him by her side.
However, social norms have shifted a bit since 1997. So it's possible, if not probable, that if the film were to be recreated today, Jules and Michael would be a little older. According to a 2013 Pew Research Center analysis, the median age for marriage is steadily climbing, at 26.5 for brides and 28.7 for grooms. The study also indicated that in 2013, only 20 percent of adults ages 18 to 29 were married. So today, the marriage deal may not have been made at all.
2. Jules wouldn't have been caught off guard when she found out Michael was engaged:

In the movie, Jules falls to the ground when she discovers that Michael has proposed to someone else. In today's technology-obsessed world, communication has become easier than ever. It seems unlikely that Michael, her best friend, wouldn't have texted her to tell her that he was seeing someone else, or that Kimmy wouldn't have publicized the relationship on social media.
3. Kimmy would have known exactly what to expect from Jules:
Apparently, a recent study proved that  31 percent of female Internet users use Instagram, as do 55 percent of Internet users between the ages of 18-29. Jules is a renowned food critic who, given her use of a cell phone in 1997, was an early adopter of technology trends. What are the odds that she wouldn't be on Instagram? Kimmy could easily get a read on her relationship with Michael, and, at the very least, would figure out from the get-go that her frenemy wasn't actually engaged to her friend, George, as she claimed to be.
4. Wedding culture has changed:
So much of the wedding in "My Best Friend's Wedding" was planned at the last moment. Jules, for example, was only told about the soiree a few days in advance and, after that, she was asked to be Kimmy's maid of honor. Still, the black tie event, replete with a five-piece band, seemed to come together seamlessly. This seems highly unlikely in 2017 when the business of weddings is booming. Last year, it was found that the cost of weddings is on the rise, with personalization becoming more important than ever to brides. Kimmy would also likely have a shower and a bachelorette party today, and it's likely that Jules would have been invited to both, which would have given her more time to try to break up the engaged couple.
5. So many scenes in the film could go viral on social media today:
In an age in which cell phones are ubiquitous, several scenes in the film — including when Kimmy confronts Jules in a crowded bathroom — would likely have been recorded and posted somewhere, especially given Jules' high profile. There could have been more repercussions for Jules than just a few awkward conversations with Kimmy and Michael.
6. Would Jules have been able to act on her evil plan after all?
For several days, Jules stops at nothing to try to sabotage Michael's engagement to Kimmy. At no point is she called about work and she never checks emails or texts — because smartphones didn't exist yet. Today, more distractions could mean less time to chip away at the engaged couple's relationship.
What is your favorite scene from this cult-classic romantic comedy? Tell us in the comments section below.
Related: