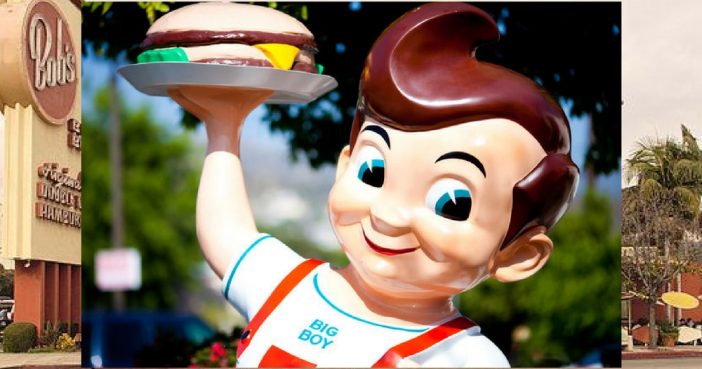 Bob's Big Boy Burgers is recognized best by the emblematic chunky dark-haired boy in red-and-white checkered overalls proudly holding a Big Boy sandwich (A.K.A. the double-decker cheeseburger) with a huge, warm grin on his face.  What you probably never knew about the franchise was that the reason behind its title, as well as the caricature for its famous mascot, was Richard Woodruff of Glendale, California. As a six year old boy, Richard stepped into Bob Wian's diner, which at the time was called "Bob's Pantry." Bob was standing at the counter, contemplating between names for his new hamburger concept. As Wian looked up to see Richard walk in, he casually said to him, "Hello, Big Boy!" After saying that, Bob's eyes lit up- inspired what he had just said. Bob ended up naming his new burger "Bob's Big Boy."  A well-known Warner Bros. animation artist named Ben Washam sketched a portrait of Woodruff, which would eventually become the joyous personality seen on the company's advertisements.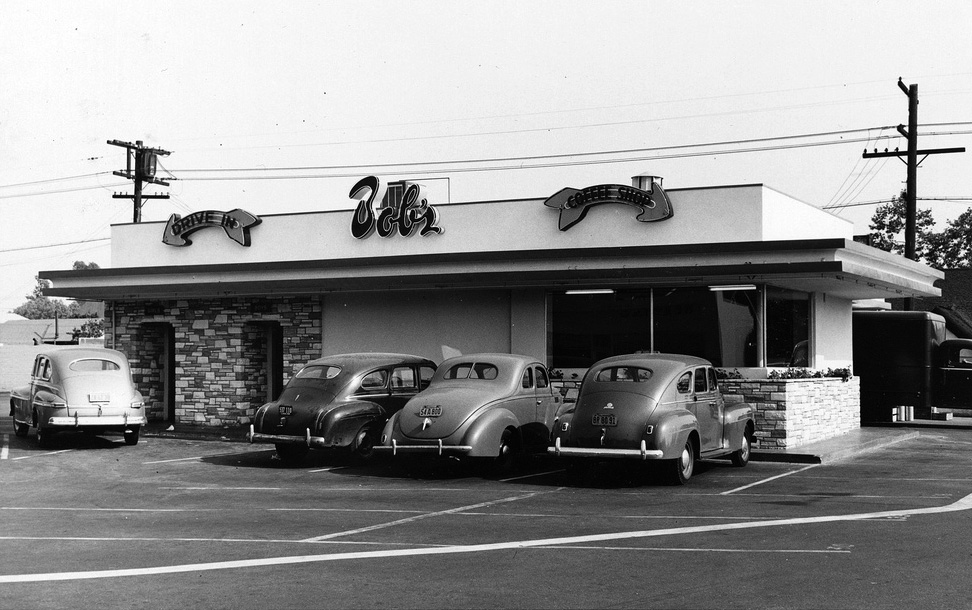 In 1955, Bob Wian hired Manfred Bernhard, who was the son of a graphic designer named Lucian Bernhard. Bernhard drew out a new and improved picture for the Big Boy legacy. With this maneuver set in stone, the "West Coast Big Boy" mascot was revised, fiberglass statues were constructed, witty approaches were created for menus and building designs, and there was even a comic book published for all the youngsters who would come into the restaurant.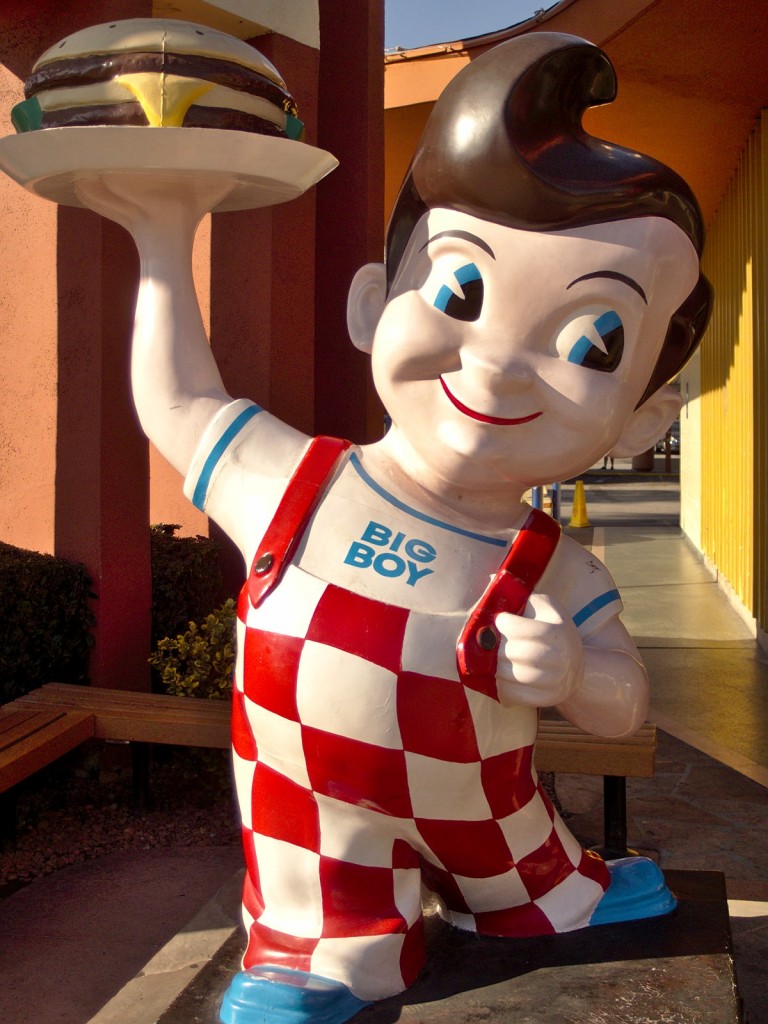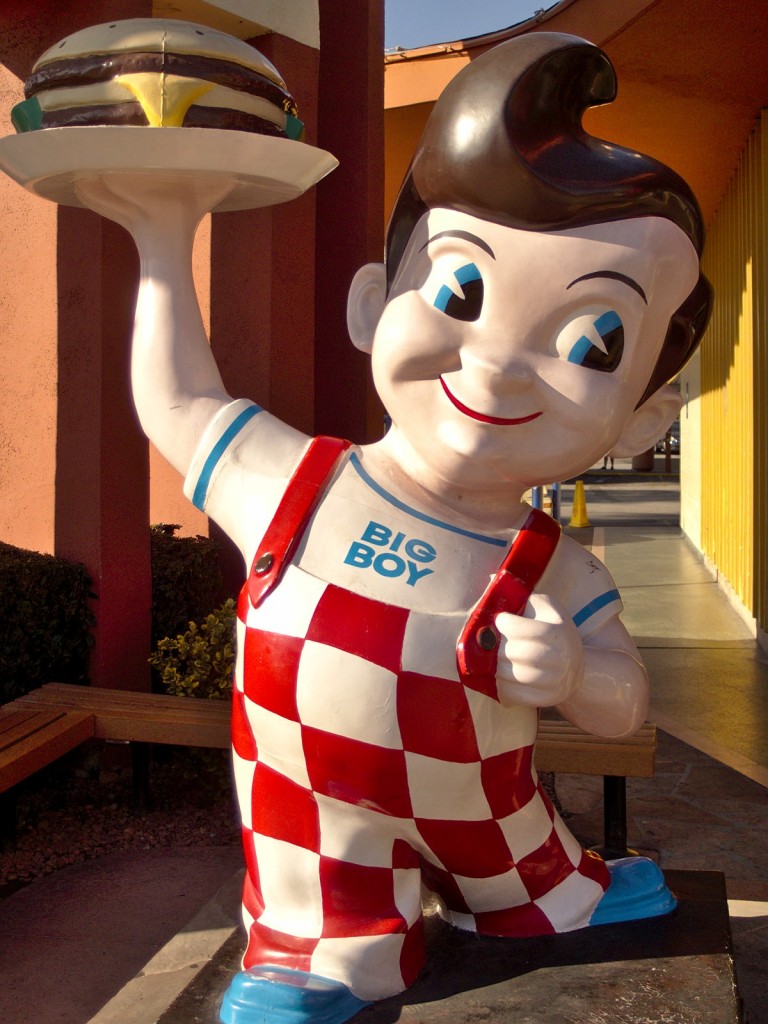 In 1951, one of Bob Wian's original first executives, Dave Frisch would develop a slightly different Big Boy character who was a little thinner. The figure wore a cap that was tilted to the side and his overalls evolved from checkers to stripes. Now having strawberry blonde hair, this new character was portrayed in a running pose. Frisch and his co-executives, Manner's and Azar's copyrighted the new "East Coast Big Boy," and the new character was used for merchandise such as comic books and statues. After 1956, Wian's classic "West Coast Big Boy" design was used solely by all executives across the board, other than, of course, Frisch's, Manner's and Azar's. During the late 1960's, both of the Big Boy designs were re-illustrated to look similar, and they both included the checkered overalls (I guess they settled), the adorable swirled hair do and a hamburger lifted by his arm (taken from the West Coast design,) and the running stance (taken from the East Coast design). Somewhere in the 80's, the hamburger was omitted from the West Coast design. It now represented the ideology of the franchise not only specializing in burgers in all of its North American Big Boy restaurants, it also unintentionally assisted the Japanese Big Boy restaurants, which do not serve hamburgers on a bun (the more you know!).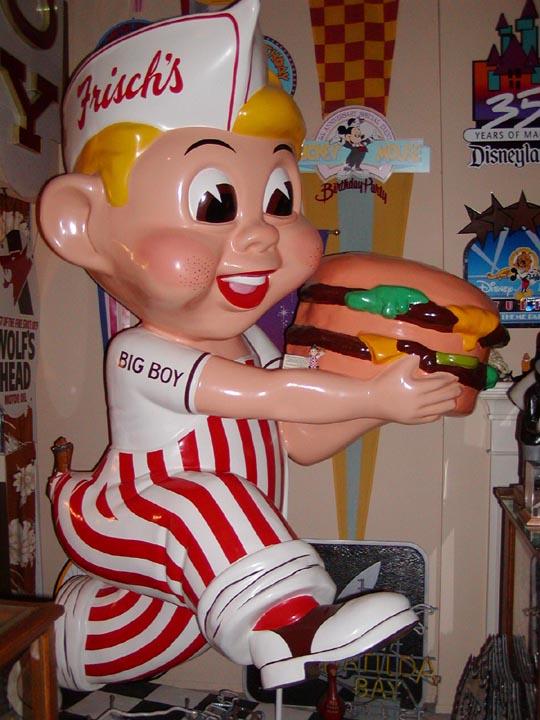 Adventures of Big Boy was a colorful comic book given free to children visiting the restaurants. This, just like Happy Meals, was created in order to "give the kids something to do while they waited for their food." The comic book is about the adventures of Big Boy, his girlfriend Dolly and their dog, whose name was Nugget. There was also the  Big Boy Club, which was a fan club for kids which offered them them opportunities to achieve free Big Boy hamburgers, decoder cards and other cool trinkets. The comic book would eventually evolve into Big Boy Magazine.  Its distribution count once estimated at three million copies!
Manfred Bernhard appointed the book to be produced by Timely Comics.  In its first year Adventures of the Big Boy was managed by Sol Brodsky. Stan Lee wrote it and Bill Everette, Brodsky and Dan DeCarlo drew it. DeCarlo would continue doing the illustrations in the duration of the book's second year. Stan Lee wrote the series all the way through 1961. For 17 years after DeCarlo resigned, starting in the mid 1970's,  Manny Stallman drew the (Marriott) series, followed by Bob Bindig would do illustrations for the series until 1995.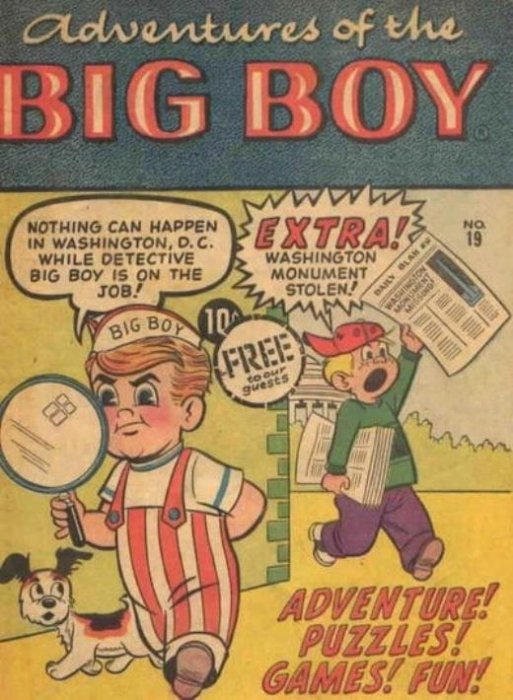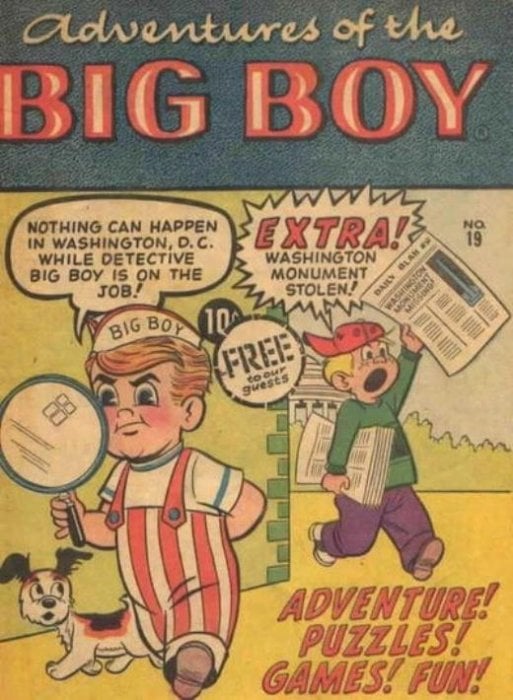 What are some of your favorite Bob's Big Boy Burger memories? Tell us in the comment section below!
Related Links: