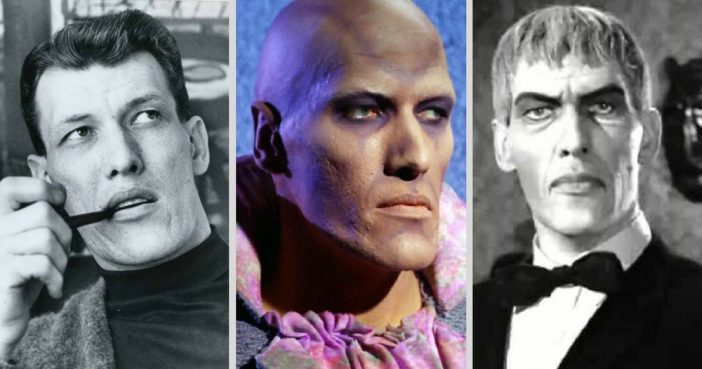 6. Whoopi Goldberg (1988-1993)
Inspired by Nichelle Nichols (Lt. Uhura in the original TV series), Goldberg lobbied the producers of Star Trek: The Next Generation for a role. They came up with just the thing: The wise (and fashion-forward!) Guinan dispensed cocktails and counsel from shipboard bar Ten Forward in 28 episodes. Goldberg boldly went on to win an Oscar, Grammy, Emmy, and Tony.
5. Mick Fleetwood (1989)
Thunder only happens when it's raining, and Mick Fleetwood appears on Next Generation only when he's unrecognizable. In Season 2's "Manhunt," the Fleetwood Mac drummer shaved his signature beard — and endured some torturous makeup — to play a murderous alien with a giant fish-like head. Thankfully for the health of the galaxy, he decided to stick with music.
Alamy
4. Kim Cattrall (1991)
Seven years before Samantha would slip into her first pair of Jimmy Choos on Sex and the City, Cattrall landed the juicy role of Vulcan Lt. Valeris in Star Trek IV: The Undiscovered Country. Perhaps it's not such a leap from scheming space assassin with fashion-forward ears to boom-times Manhattan socialite?
Courtesy Everett Collection
3. Terry O'Quinn (1994)
He played an admiral deprived of his starship (but still in possession of some hair) on the Next Generation episode "The Pegasus" in Season 7. A decade later, O'Quinn would make a big splash with TV viewers (and win a 2007 Emmy) as the mystic survivalist John Locke — shorn of his locks — on six seasons of Lost.
Paramount Television/Courtesy Everett Collection
2. Kate Mulgrew (1995-2001)
Strong command presence … striking red hair … army of minions eager to do anything their leader asks. Yup, that sums up Red Reznikov, Mulgrew's character on Orange Is the New Black, but it also neatly captures her breakout role as Capt. Kathryn Janeway — the franchise's first female Starfleet captain — on seven seasons of the spinoff series Star Trek: Voyager.
CBS Photo Archive/Getty Images
1. Dwayne Johnson (2000)
When "The Rock" played an alien gladiator on Star Trek: Voyager's Season 6 episode "Tsunkatse," it wasn't exactly a stretch from his stint as World Wrestling Entertainment star Rocky Maivia. It was also one of Johnson's first forays into acting, which has eclipsed his other careers — and delighted fans of TheFast and the Furious movies and the raw HBO series Ballers.