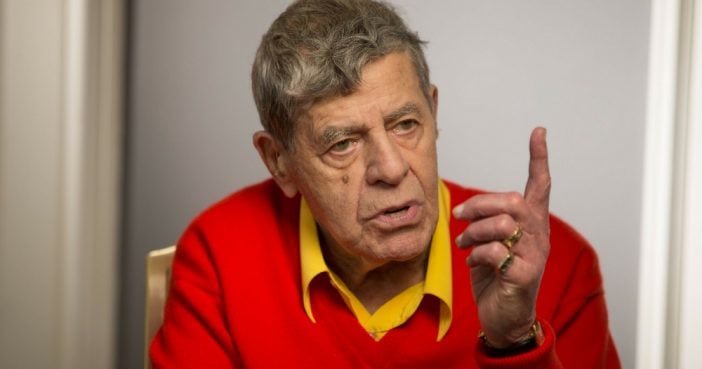 LAS VEGAS (KSNV NEWS3LV) — Famed comedian Jerry Lewis is in the hospital for a 16h straight day straight. The 91-year-old legend was admitted June 2 to be treated with antibiotics for a urinary tract infection.
Comedian, Actor Jerry Lewis, 91, Hospitalized In Las Vegas
Since then, Lewis has developed other complications, according to people close to the entertainer.
It was believed Lewis was on track to be discharged from the hospital over the weekend, but his health worsened late last week.
Lewis has deep roots in Las Vegas. He's lived in the valley since the 70's, and for many years the Jerry Lewis MDA Labor Day Telethon originated from Las Vegas.
(Source News3LV): Full Story: Entertainer Jerry Lewis remains in Las Vegas hospital
Comic Legends Gather, Joining Jerry Lewis For an Evening Of Hilarity Mingling Captains Of Industry, City and Elected Officials
(Source: Business Wire) – PRESS BRIEFING: TUES JUNE 13th: JERRY LEWIS' LEGIONNAIRES OF LAUGHTER LIFETIME ACHIEVEMENT AWARD HONORING ROBIN WILLIAMS @CIPRIANI GALA. The award recognizes the invaluable contribution made by comedians, comedic actors/entertainers , and the immense value that laughter brings to society. Jerry Lewis states: "I want to say thank you for 91 years of support for my passion towards finding a cure for Jerry's kids. For me, my legacy is to give an opportunity to see humor and healing come together in Jerry's House." Jerry continues, "I am so excited to see the inventions and creations by a little boy, Lochie Graham come-to-life for the Children of Bellevue (CoB) @Bellevue, the oldest Hospital in America. Join me in Celebrating my 91st year by supporting Jerry's House today and do it every time you have a free minute!" Legionnaires of Laughter Awards gala fundraiser supports Jerry's House Charity founded by Jerry Lewis and Lochie Graham is Monday, 19 June 2017.
RELATED:
Most Hilarious Moments with Jerry Lewis