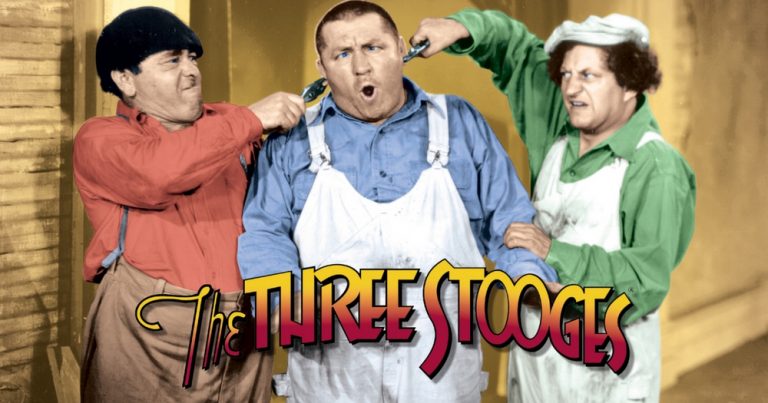 Moe Howard, the "Boss Stooge" and brother of Stooges Curly Howard and Shemp Howard, began his acting career in 1909 by playing bit roles in silent Vitagraph films. At 17 he joined a troupe working on a showboat and also appeared in several two-reel comedy shorts. In 1922 he, brother Shemp and Larry Fine joined roughhouse vaudeville comic Ted Healy, forming the act that would become The Three Stooges. Howard toured vaudeville and appeared in films with Healy for ten years before the Stooges left to pursue a separate career. Moe appeared in more than 250 films during his 66-year career, including 190 Three Stooges shorts. Over the act's 50-year history, the Stooges went through several personnel changes; when Moe died, the act ended.
(IMDb Mini Biography By: Michael J. Bauman <[email protected])
Here are some of our favorite "MOE-ments", along with some fun facts you never knew about the famous joker.
Moe's wife, Helen Schonberger, was a cousin of Harry Houdini, believe it or not!
Moe never wore a wig, even in his senior years, when his famous "soup bowl" haircut turned gray.
In contrast to the grumpy persona he played, who was always bullying Curly Howard, in real life he was actually very protective of Curly. When he wrote letters home to his younger brother he always signed them, "Your loving brother Moe".
Moe got the idea for the popular Stooge gag of eye-gouging one day when, during a game of bridge, Shemp Howard leaned over and poked Larry Fine in the eyes for not playing well.
Moe quit the vaudeville biz after getting married and he joined his mother's real estate business in hopes of a better salary . He hired a few friends as sub-contractors to build houses, but unfortunately they built houses that were way too expensive for the neighborhood they were in, and so he went broke in real estate.
https://www.youtube.com/watch?v=ODFMXGmd0Tw
Moe's mother would play dress-up with him when he was a baby, putting him in dresses and bologna curling his long hair. One day, after he was bullied in school, he and some friends hid in a shed, and he chopped all of his hair off, using a bowl as a guide. After doing so, he was so afraid to face his mother,  he hid for hours. Finally after he came out of hiding, his mother saw his hair and she gleefully told him that she was so happy he did so, simply because she couldn't bring herself to. This hairstyle stuck with him throughout his whole entire life.
Moe was working on his autobiography when he died. At the time, the working title was "I Stooge to Conquer"; it was published posthumously as "Moe Howard and the Three Stooges"
Moe was, in private, a quiet, dedicated family man, whose hobbies included reading, playing bridge and making hooked rugs. He was the only one of the Stooges who really understood the value of a dollar, so during his salad days his investments were saved wisely and inevitably left him a wealthy man at the time of his death.
When The Three Stooges shorts began to appear on local children's shows in the late 1950s, there was a trend occurring across the country where kids would poke each other in the eyes. When Moe heard about this, the Stooges had to say something. They went on many local television shows, as well as national television, and showed how the eye-pokes were done in a way that nobody would get hurt. The kids that were watching thought they were learning a magic trick.
Moe sold old frogs in saloons when he was a child to pay for his fares when he skipped school to go to the theater.
Everyone remembers Moe as the grumpy stooge of the famous three, however in real life he was a humble, caring, soft-spoken family man who made sure his family came first. Although he passed on this day back in 1975, we will always remember him for al of the laughs he gave us when we sat in our living rooms, watching his goofy stunts with his co-stars on television. And honestly, we still enjoy laughing with him to this day.
What's your favorite Moement? Tell us in the comments below!
Related Links: