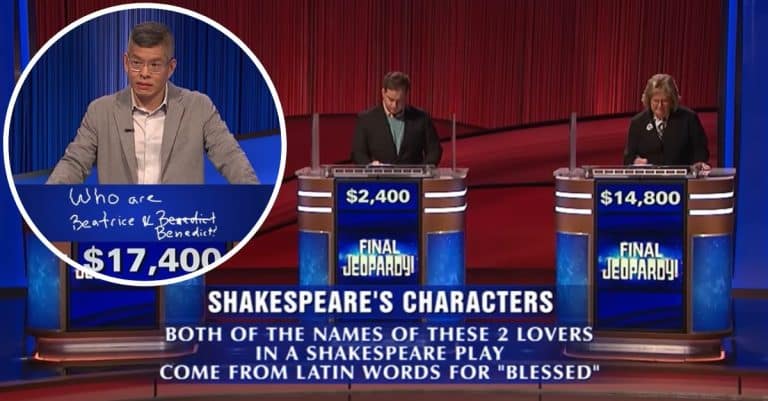 Recently, on the widely acclaimed game show Jeopardy!, contestant Ben Chan achieved an extraordinary accomplishment. He became the first participant ever to achieve nine consecutive runaway victories on the show. With each successive triumph, Chan accumulated such significant winnings that it rendered the second and third-place players unable to catch up, regardless of their wager amounts.
Chan's incredible winning streak began with his victory in four consecutive games. However, his streak faced a temporary interruption in April due to the COVID-19 pandemic. Nonetheless, upon his return to the show to defend his title, the winning spree continued. Unfortunately, the impressive streak finally met its end due to a spelling mistake in the final Jeopardy round during the Tuesday Night episode. This turn of events left passionate Jeopardy! fans enraged and disappointed.
Ben Chan makes a spelling error
During the "Shakespeare's Characters" segment on the show, the contestants were to answer a question with the clue, "Both of the names of these 2 lovers in a Shakespeare play come from Latin words for 'blessed.'"
However, none of the contestants were able to provide the correct answer. Chan's response, "Beatrice and Benedict," despite coming extremely close to the correct answer, "Beatrice and Benedick" from the Shakespearean play Much Ado About Nothing, was unfortunately marked as incorrect due to a misspelling in the name of the latter character, thus ending his winning streak.
Fans expressed their dissatisfaction with the ruling
The ruling on Chan's response and the resulting penalty received a wave of criticism from disappointed fans. Taking to Twitter, they expressed their discontent, openly sharing their dissatisfaction and disgust with the way the situation was handled. "This kind of spelling-related neg-bait is a lousy final Jeopardy! question," a fan wrote. "That's my complaint."
"Since when does being off by one letter count in final jep?" another person quizzed. "There's no other character he could have meant."
"I am in disbelief & extremely disappointed with Jeopardy. Ben Chan is cut out of the game for one letter wrong spelling?" another fan responded. "Ben was the only one who had the answer. The winner did not even know any of the answer."
"I can't believe @Jeopardy made a contestant lose for writing 'Beatrice and Benedict' instead of 'Benedick.' I'm not even that petty," another aggrieved fan wrote, "and I'm a Shakespeare professor."
In response to the unwavering support he received from fans, Chan took to the Jeopardy! Reddit page to directly address some of the concerns that were raised, stating that his answer was indeed an error. "The character's name is Benedick. As Ken (presciently) noted on my first episode, there is no partial credit on Jeopardy! (Yes, I was sooo close!)," he wrote. "The 'Benedict' misspelling is common, and it worked its way onto a couple of my flashcards."
Also, speaking about the spelling mistake after the show, in the spirit of showmanship, Chan stated, "It's a very memorable miss, right? So if you're going to go out on a miss, go out on a memorable miss."