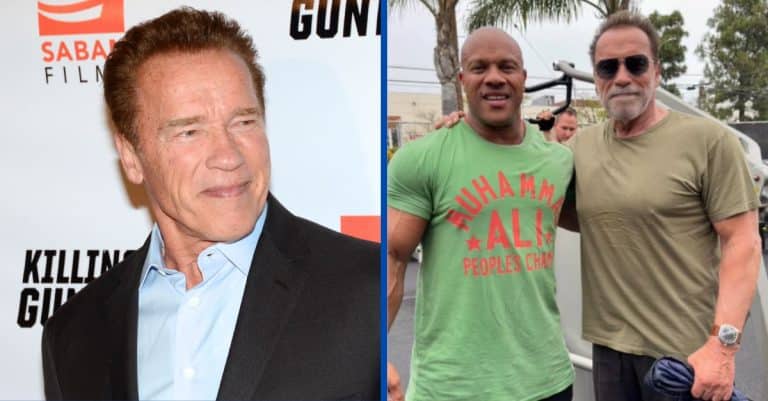 Arnold Schwarzenegger has had an eventful life, to the point that he seems larger than life. But just how tall is he? The popular number going around is – or was – 6'2. But it seems even Arnold Schwarzenegger shrinks with age, as some eagle-eyed bodybuilding fans believe.
Chatter has sprung up thanks to a circulating photo that shows the Governator next to bodybuilder Phil Heath, whose recorded height is 5'9. But in the photo, Heath and 75-year-old Schwarzenegger appear to be very nearly identical in height. There could be other reasons for this – but fans have engaged in quite the debate.
A photo of Arnold Schwarzenegger and Phil Heath has fans discussing his shrinking height
View this post on Instagram
Earlier this week, 43-year-old Heath took to Instagram to share a photo of himself standing right beside Schwarzenegger. "Was able to catch a workout next to @schwarzenegger at the Mecca,Gold's Gym Venice this morning and needless to say I was excited," Heath celebrated. "Arnold still trains daily, carrying the high standards of health and wellness being a top priority so that he can thrive in all areas of his life."
Schwarzenegger echoed the joyful sentiment, replying, "Great to see you, my friend!"
But in the comments section, a heated debate brewed. It just took one comment, which reads, "Well, I guess Arnold is about 5'10" after all." After all, he appears level with Heath in the photo, right? Of course, photographers know all sorts of tricks to make different people and objects appear bigger or smaller – take the tricks used in Lord of the Rings with any scene between Hobbits and Men. But, one Instagram user noted, it could also be simple biology and the aging process. "People shrink with age bro," the user pointed out. Even Arnold Schwarzenegger shrinks. "In his prime, he was 6'2.5"."
What's happening biologically to affect Schwarzenegger and his height?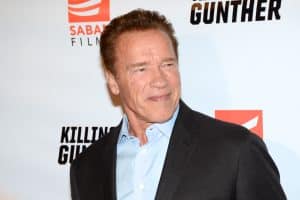 Several factors contribute to losing height through the aging process. First and foremost is the natural degeneration of the spine and the gradual compression of the intervertebral discs between the vertebrae. All of this is connected by one commonality: time. Decades and decades of compression and use can change the alignment of the spine. That's from years of wear and tear all over the body, all connected by the spine, the biggest determining factor of height.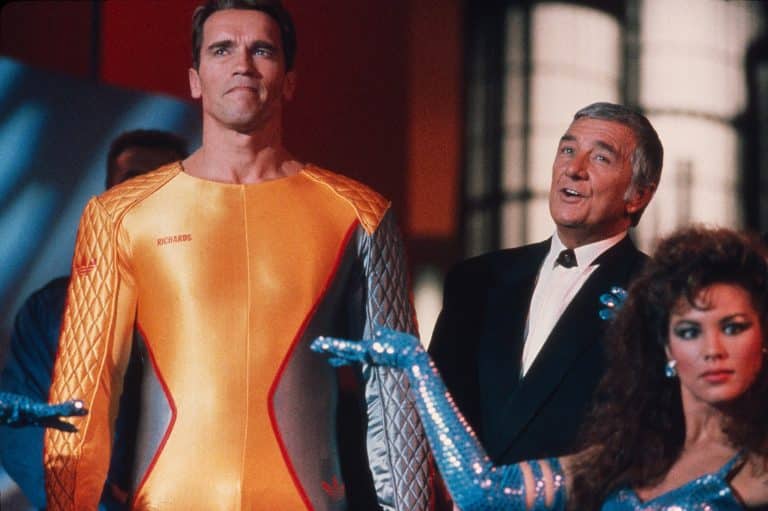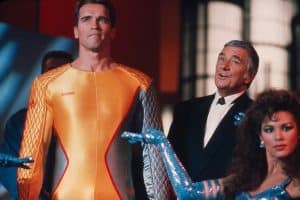 Aging also means the intervertebral discs in the back lose the ability to retain water; these anatomical structures depend on the diffusion of water and nutrients to maintain their health and function. Less water means less spacing, which means less height.
Like many other health conditions, shrinking height with age can be influenced by lifestyle choices. As Heath noted, Schwarzenegger trains daily and chases the best fitness practices for himself, which is a highly personal regimen individualized to every person. The aging process affects him, as it does everyone else, but there is a way to have a say on how this all plays out.