On the 29th anniversary of her late husband, Kurt Cobain's death, Courtney Love took to Instagram to pay a heartwarming tribute to him. The 58-year-old shared a black-and-white photograph taken by R.E.M singer Michael Stipe, which features Kurt's hands clasped together.
"I love beautiful hands. It's the first thing I look at in another," Courteney captioned the photo. "I love that the only photograph of Kurt that @michaelstipe took, despite being a lover of all sorts of beauty, kudzu, [Helena Christensen], River Phoenix; dozens if not 100s of gorgeous photos of people he finds and sees their 'Shen' (a Chinese word of what's in the eyes – loosely translated as 'mojo' but more about the 'twinkle')."
Courteney Love misses her husband, Kurt Cobain
View this post on Instagram
In the  Instagram post, Courteney also expressed her admiration for Michael Stipe, who is the godfather of her and Cobain's daughter, Frances Bean Cobain. "Micheal saw these hands," she wrote. "These left-handed beautiful hands like a votive / a mudra, a shot [of] this singular, powerful photograph of my twin flame."
"It is one of the only images (or sounds/tastes, etc.) that makes me miss him deeply," the caption further reads. "But he chanted with me & often & truly was moved by our Buddhist practice. Thus, I know he's in an enlightened place…"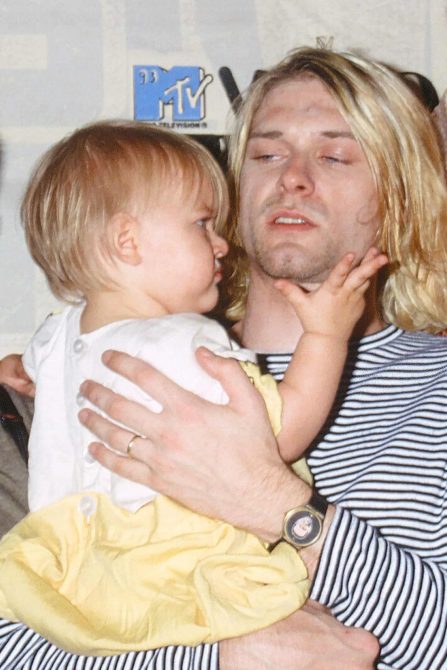 Fans react to Courteney Love's post
The singer's fans took to the comment section to express their admiration for the lovely post by Courteney. A fan went poetic, describing Cobain's hands and Stipe's creativity in capturing the image.
"They move through the whole vortex at a different speed; they communicate and bend themselves, unlike other hands," the Instagram user wrote. "The hands of the type-setter, the massage therapist, the gardener, the welder, the seamstress, the baker, the glass blower, the guitarist. I am one of those fearless types and have few superstitions, but, dude, as a pianist, I still won't put my hands near a garbage disposal even if it's powered off at the source. So: his hands spoke. hands that won't age, so beautiful, and Michael Stipe, gentle seer that he is and was, caught the poem of his hands.thank you for sharing. I hope the sharing helps ease any wound. love to you, Courtney."
"His hands are so ancient and still so young. It's weird to look back at him from middle age versus being a star-struck teenager. The adoration is there but shifted, softer, wiser, edge-less but nevertheless endless," another fan commented. "Those hands carried so much weight and so much power for someone so young. Thank you for sharing this, I know it must be tough to share your grief with so many when so few knew him like you did and so few grieve as deeply as you do."