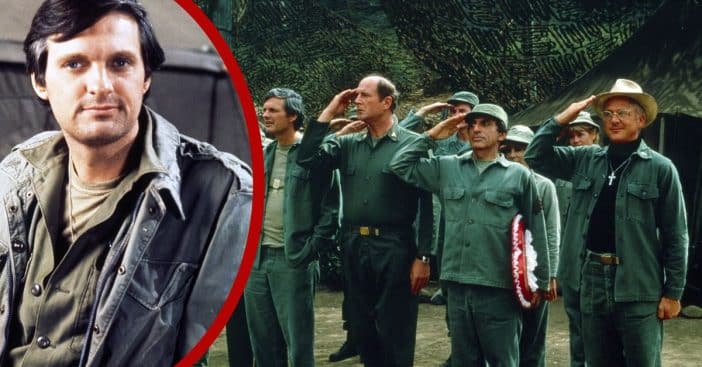 40 years ago, the highly-celebrated finale of M*A*S*H aired and series lead Alan Ada is celebrating the momentous anniversary. The finale aired on February 28, 1983 and saw record-breaking viewership numbers – and to an extent has not been beat to this day.
M*A*S*H saw Alda star as Benjamin Franklin "Hawkeye" Pierce, a role he maintained for 256 episodes across 11 seasons. For his performance, Alda was nominated for 21 Emmy Awards, of which he won five; he also wrote 19 episodes, including the historic finale, "Goodbye, Farewell and Amen." Here is how he remembered the formative episode.
Alan Alda acknowledges the 40th anniversary of the 'M*A*S*H' finale
40 years ago today. ⌛️❤️

— Alan Alda (@alanalda) February 28, 2023
Tuesday marked the 40th anniversary of the finale of M*A*S*H, which quickly became one of the most-watched episodes of TV history – and certainly the most-watched finale. Alda's message was succinct. He said, "40 years ago today," adding an hourglass with the sand mostly fallen through, along with a heart. By time of writing, it has received over 70k likes and almost 3k comments full of nostalgia.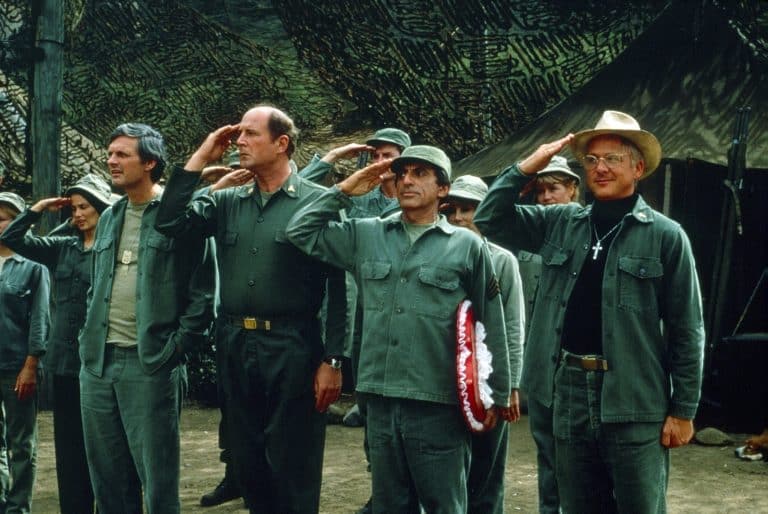 "It was the one night of the entire 8th grade school year that our Grammar teacher, Mrs. Alfieri, didn't give us homework," one user reminisced. Another shared, "When I was a kid, I watched the show with my dad — usually as an excuse to stay up a little bit later and spend time with him. I wouldn't trade that for anything. This past summer, I watched it again with my son. Still perfect." M*A*S*H is as relevant as ever, 40 years later, with Alda at the center of it!
'M*A*S*H' continues to define history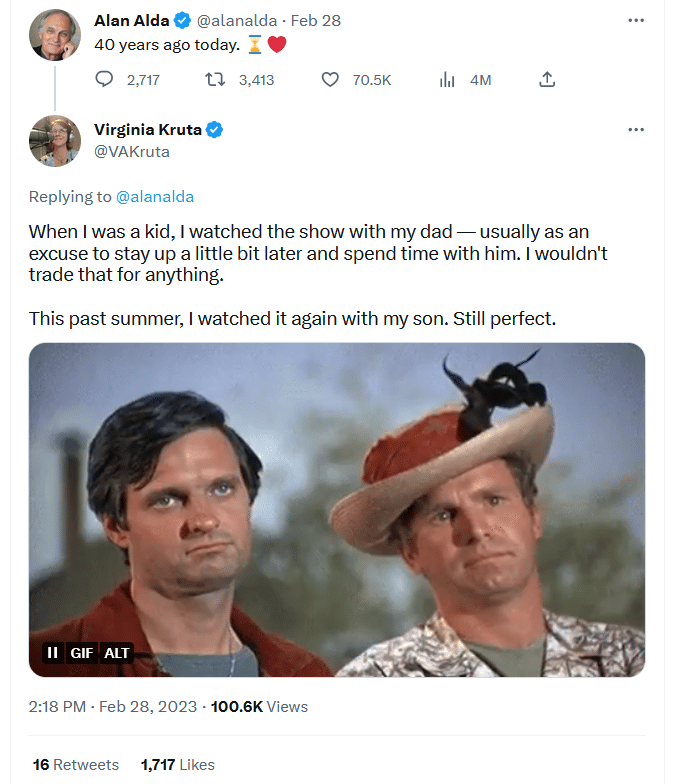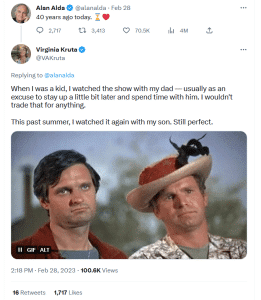 The M*A*S*H finale continues to represent a powerful legacy. The first episode premiered on Sept. 18, 1972 – yes, over 50 years ago! In the decade that followed, it amassed a passionate following who flocked to their screens to bid "Goodbye, Farewell and Amen" to the series and franchise as a whole.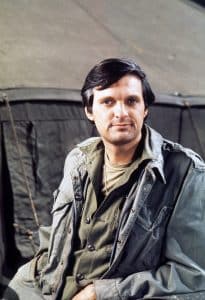 Television was in its infancy still, with three networks to choose from but M*A*S*H still drew in a whopping and unprecedented 106 million views for the finale. CNN further reports that this episode was watched in over 60% of U.S. homes. While it took several years for Super Bowl programs to beat this historic episode, no entertainment program has matched these numbers.
Revisit M*A*S*H more in the deep dive video below.