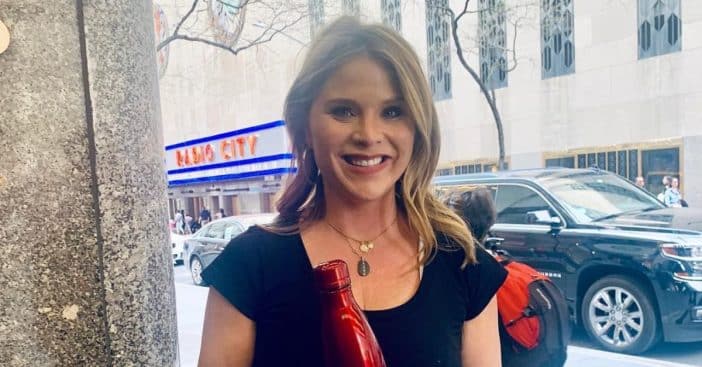 Jenna Bush-Hager recently revealed to People that she felt insecure about her body shape since age 9, but she's now embracing it fully. The co-host of Today with Hoda & Jenna, further explained that she is no longer under any pressure to conform to societal standards.
"I no longer think that way and I haven't for quite some time," Jenna told the outlet. "I think having children, and your body changing in that way is such a good reset where you realize, 'Wow, I've been doing this incredible thing, and my body is so much more than a vessel to be made fun of, to be worrying about.'"
Jenna Bush Hager says that she felt pressured even though her mother tried to motivate her
She revealed that her awareness of her body began at a very young age, which was quite strange for someone so young. "I found a journal over Christmas break where in fourth grade my New Year's resolution was to lose 5 lbs. — my daughter, my eldest, is now in fourth grade and she seems so young."
Jenna detailed that her mother, the former First Lady taught her about body positivity and was very careful with the type of words she used around her, but she was still affected by the pressure from outside of her family. "Even without the signaling from my mom … it came in from outside sources," she said. "What a waste that for however many years, that was my New Year's resolution."
She says she is proud of her body now
The 31-year-old disclosed that she has gotten over her initial struggles with her body, "I don't think I have a bad body image. I just couldn't believe how different I am in that amount of time since I was nine."
"I used to joke that my children would have kale and broccoli, and I'd be eating a bagel waffle with peanut butter and hoping that that would be enough to keep me healthy," Jenna adds, noting that she has become more conscious about what she eats. "I think as a busy working mom, I just wasn't getting the nutrients, the fruits and vegetables, regularly that I should … at some point I realized something needed to change."
Jenna Bush Hager reveals her secret to a healthy body
The mother of three explained that her journey to achieving a positive body image was made possible through exercise, meditation, and being conscious of what she eats. To realize her goal, she partnered with Amazing Grass, a greens blend that makes her fruits and veggies available when she needs it. "I have it with me on the way out of the door so that I put the little scoops into my water bottle and I get two servings of veggies.
"I love exercise. I'm one of those weird people that love it. I sort of need it for my mind as much as my body, " she elaborates, pointing that she also engages in meditation every day as she goes to work. "I notice the change in my day if I don't meditate," she told the outlet. "I've always meditated, but I make it a must now. It's a must do. Instead of racing to my inbox and my phone and my studying for the show, I give myself a beat first so that I can be with myself and write in my journal."
Jenna believes that all these practices have helped her achieve her goal: "I think when you feel good, you're less likely to have any sort of negative self-image."