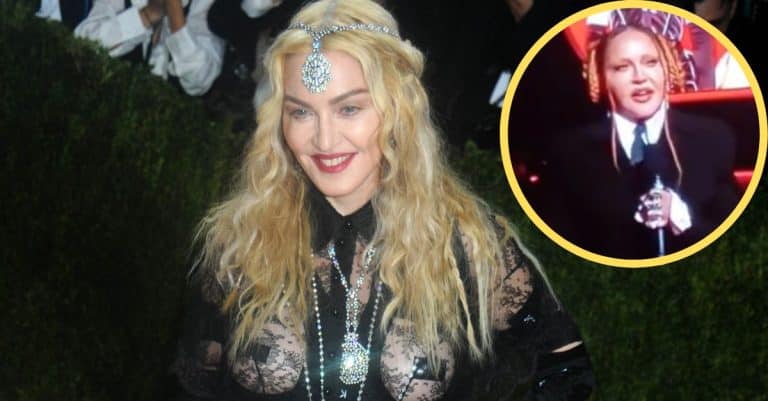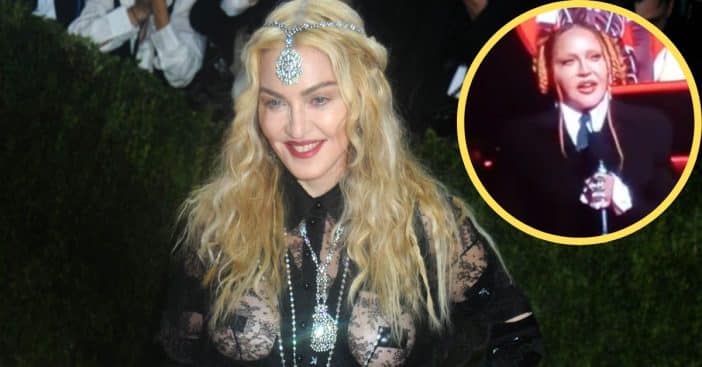 The 2023 Grammys kicked off on Sunday, February 5, starring musical artists celebrating musical artists. Several very recognizable names saw their work honored, including Ozzy Osbourne, who took whom two awards that night. But viewers found themselves distracted by Madonna's face when the "Like a Prayer" singer took the stage for a special introduction.
Madonna, 64, took the stage in Los Angeles Sunday night to introduce Sam Smith, who, with Kim Petras, would perform "Unholy." While she delivered a speech about embracing the rebellious, fans got a clear look at her "new" face that several have said left her "unrecognizable."
Madonna raises a glass for the troublemakers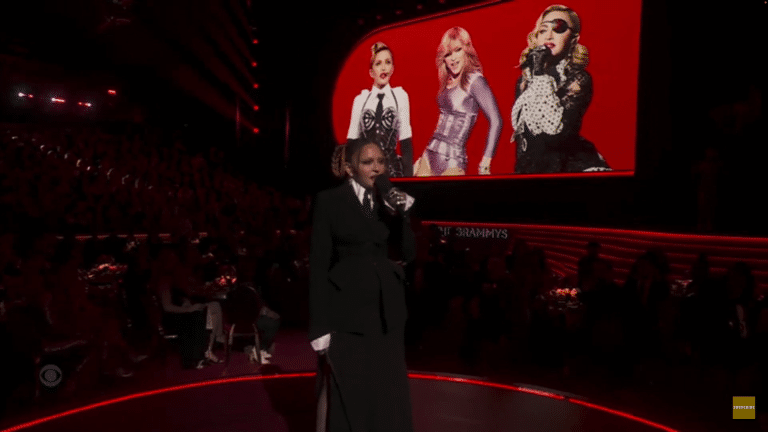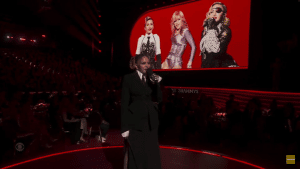 Ahead of Smith's performance, Madonna gave a speech about standing unabashedly out from the crowd. "I'm here to give thanks to all the rebels out there," she said, "forging a new path and taking the heat for all of it. You guys need to know all you troublemakers out there you need to know that your fearlessness does not go unnoticed."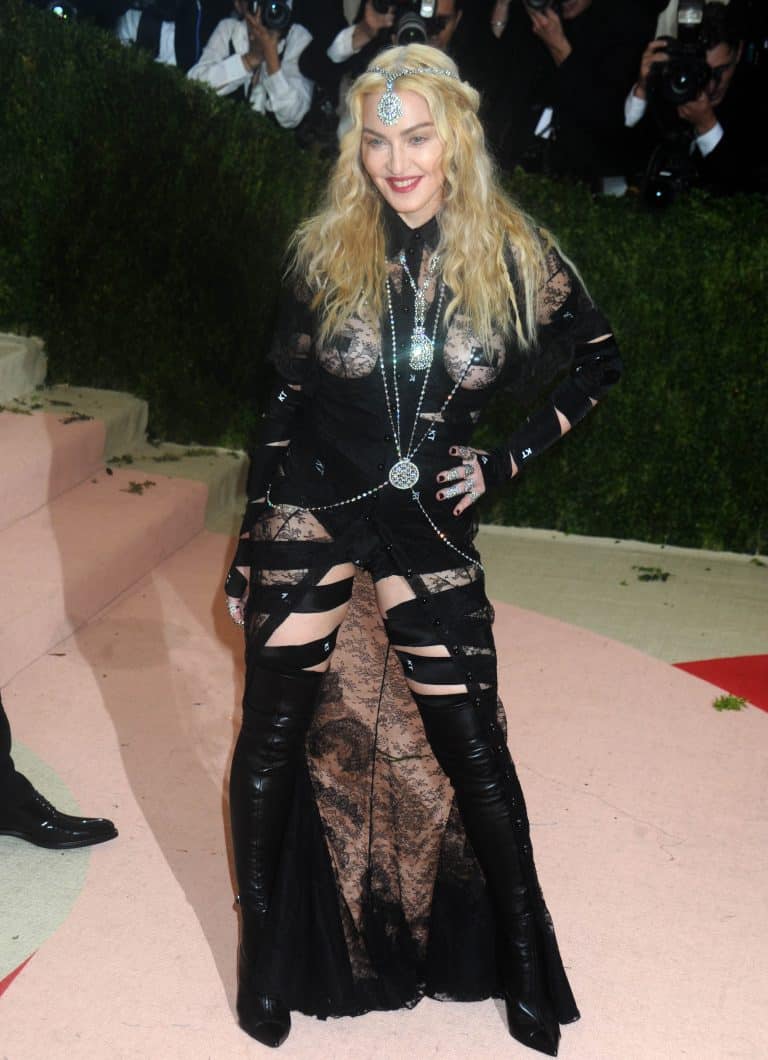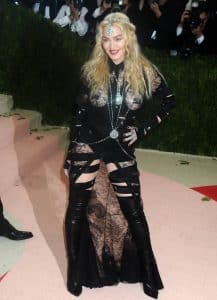 She continued, "You are seen, you are heard, and most of all, you are appreciated." She also praised the idea of being "shocking," which is what many fans were after seeing Madonna's new face. She had her blonde hair in braids, with two left down framing her face, while others were pulled up in loops similar to thinner versions of Princess Leia Organa's hair in Star Wars.
Madonna's fans don't recognize her with her "new" face
Madonna looks good for her age… if her age is 2,700 year old vampire who eats babies and small animals alive. pic.twitter.com/pnJfkhgmAO

— Tim Young (@TimRunsHisMouth) February 6, 2023
On Twitter, Grammy viewers commented on Madonna's new appearance, finding her face quite different from how she used to look. "Madonna doesn't even look like Madonna," one user said, "Who was that? So awkward. #GRAMMYs." Another wrote, "Me attempting to ignore the fact that Madonna has a whole new face." A different user said, "This legit looks like a Madonna impersonator with pics of rhe [sic] real Madonna in the background. She really f–ked up her face," while another agreed, imploring, "I really wish Madonna never touched her face. There really was no reason. She was going to age beautifully. She's always been beautiful. #Stopplayingwithyallface#Grammys2023#Madonna."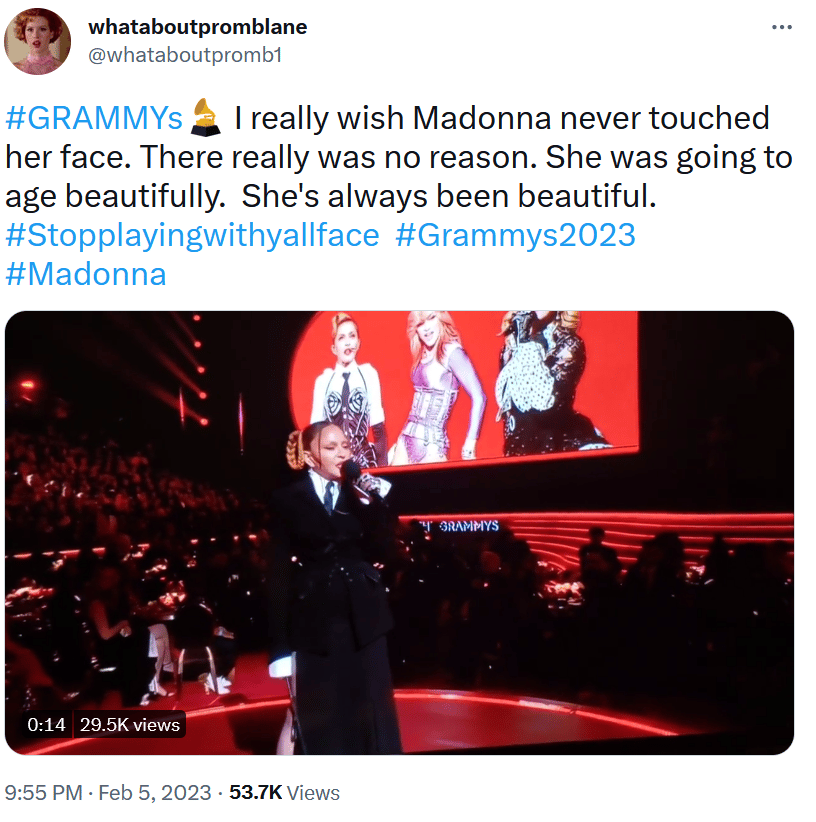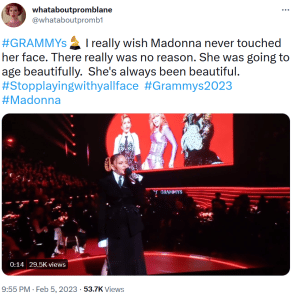 "Here's what I've learned after four decades in music," Madonna had said in her speech. "If they call you shocking, scandalous, troublesome, problematic, provocative or dangerous, you're definitely onto something." But some viewers weren't a fan of this either, with one user posting, "This is the worst narcissistic Madonna #GRAMMYs speech since she gave Aretha Franklin that non-tribute tribute."
What did you think of Madonna's 2023 Grammys presentation?