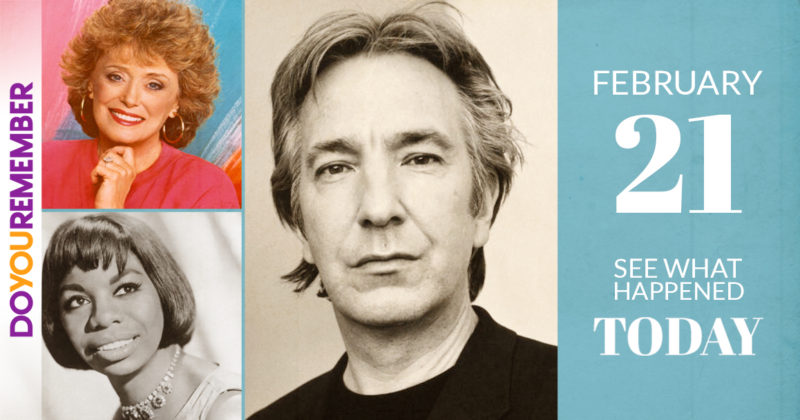 BORN TODAY
1987 – Ashley Greene
1987 – Ellen Page
1986 – Charlotte Church
1983 – Melanie Laurent
1983 – Eoin Macken
1980 – Brendan Sexton III
1979 – Jennifer Love Hewitt
1979 – Jordan Peele
1978 – Nicole Parker
1975 – Wish Bone
1974 – Jonathan Cheban
1963 – Billy Baldwin
1962 – Vanessa Feltz
1962 – Chuck Palahniuk
1961 – Christopher Atkins
1958 – Mary Chapin Carpenter
1958 – Kim Coates
1955 – Kelsey Grammer
1953 – William Petersen
1953 – Christine Ebersole
1946 – Anthony Daniels
1946 – Alan Rickman (RIP)
1943 – David Geffen
1934 – Rue McClanahan (RIP)
1933 – Nina Simone (RIP)
1929 – Chespirito (RIP)
MOVIES TODAY
-Check out the trailers in the links below –
MUSIC TODAY
1948 – Little Jimmy Dickens makes his first appearance on the Grand Ole Opry, performing "John Henry" and "I Dreamed Of An Old Love Affair"
1953 – The late Hank Williams registers a #1 country single in Billboard with "Kaw-Liga"
1966 – The Lovin' Spoonful released the single "Daydream".
1966 – The Beatles released the single "Nowhere Man".
1970 – Simon & Garfunkel rose to #1 in the U.K. with their album Bridge Over Troubled Water.
1970 – Sly & the Family Stone remained on top with "Thank You".
1976 – Waylon Jennings & Willie Nelson share the top spot on the Billboard country chart with "Good Hearted Woman"
1976 – The Four Seasons had the top U.K. song with "December, 1963 (Oh What A Night)".
1976 – Art Garfunkel scored a #1 on the Adult chart this week with "Break Away".
1976 – Rufus Featuring Chaka Khan moved to #1 on the R&B chart with their sweet song "Sweet Thing".
1978 – Johnny Mathis & Deniece Williams released the single "Too Much, Too Little, Too Late".
1981 – Phil Collins debuted at #1 on the U.K. Album chart with Face Value.
1981 – Ronnie Milsap crossed over for a great #1 Adult Contemporary song–"Smoky Mountain Rain".
1981 – Dolly Parton completed the climb to #1 with "9 to 5"

Click to Read How 9 to 5 Changed the Work World

.

1981 – REO Speedwagon, which had toiled for ten years with little success, finally was rewarded as Hi Infidelity became the #1 album.
1987 – Ben E. King had the new #1 song in the U.K. as "Stand By Me", which was featured in the movie of the same name, was re-released.
1987 – Lionel Richie, one of the most successful Adult Contemporary artists of all-time, remained at #1 for the third straight week with "Ballerina Girl".
1990 – Bonnie Raitt was the winner of four awards at the Grammys, including Album of the Year for Nick of Time.
1990 – In yet another blunder by the Grammy Awards, Milli Vanilli won the Best New Artist award.  It was later admitted that they were not the vocalists on the album, and their award was vacated.
1996 – Garth Brooks' "Fresh Horses" album is certified gold, platinum and triple-platinum
TV/RADIO TODAY
1956 – Clarence Nash (the voice of Donald Duck), Cliff Edwards (Jiminy Cricket) and José  Oliveira (José Carioca) appear on the ABC-TV series Mickey Mouse Club. 

Click to see our Top American Bandstand Performances

1970 – The Jackson 5 made their television debut on American Bandstand.

1977 – Neil Diamond's live concert television special aired on NBC.

1981 – Prince appeared on Saturday Night Live on NBC.

1986 – Pat Boone was a guest star on The Fall Guy on ABC-TV.

1987 – Bobby Rydell and Fabian appeared on The Facts of Life on NBC-TV.
OTHER IMPORTANT EVENTS…
1952 – A 17-year-old Jerry Lee Lewis marries his first wife, preacher's daughter Dorothy Barton, in what is rumored to be a shotgun wedding.
1968 – McGraw-Hill publishing company outbid eight other competitors for the rights in the United States to Hunter Davies' authorized biography of the Beatles. McGraw-Hill paid $150,000.
1970 – Boys' Club Days at Disneyland kicks off for the next two days.
1976 – American vocalist Florence Ballard passed away, she was one of the founding members of the popular Motown vocal female group the Supremes (June 30, 1943 / February 22, 1976)
1978 – The 50th Academy Award nominations are announced with Disney receiving 3 for:

Pete's Dragon (Candle On he Water) – Music, Original Song Score
"Candle on the Water" (from Pete's Dragon) – Music, Original Song
"Somebody's Waiting for You" (from The Rescuers) – Music, Original Song

1980 – Janet Vogel of the Skyliners passed away (June 10, 1942 / February 21, 1980)

Click for More Star Wars

1982 – Murray "the K" Kaufman passed away, professionally known as Murray the K, was an influential rock and roll impresario and disc jockey of the 1950s, 1960s and 1970s. (February 14, 1922 / February 21, 1982)

1997 – The very first Star Wars Weekend ever debuts at Disney-MGM Studios in Florida.
Did we miss Anyone or Anything Special? Let us Know in the Comments