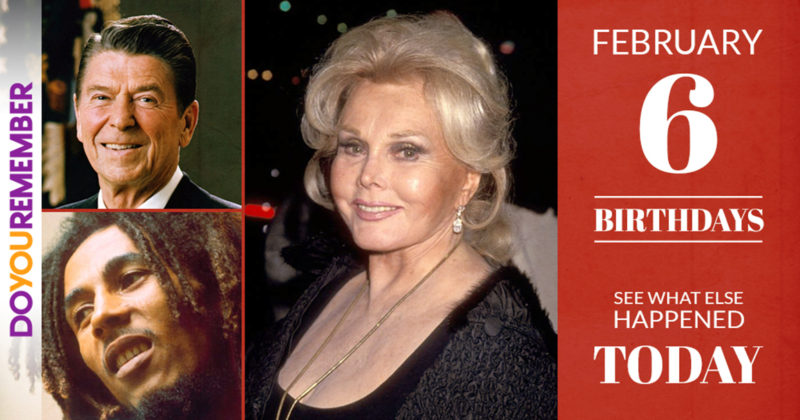 "BORN TODAY"
Dane DeHaan (31)
Kris Humphries (32)
Crystal Reed (32)
Alice Eve (35)
Calum Best (36)
Brian Stepanek (46)
Axl Rose (55)
Richie McDonald (55)
Rick Astley (51)
David Hayter (48)
Robert Townsend (60)
Jim Sheridan (68)
Tom Brokaw (77)
Jon Walmsley (79)
Natalie Cole (RIP)
Bob Marley (RIP)
Fabian (74)
Mike Farrell (78)
Rip Torn (86)
Mamie Van Doren (86)
Zsa Zsa Gabor (RIP)
Thurl Ravenscroft (RIP)
Ronald Reagan (RIP)
Babe Ruth (RIP)
"DIED TODAY "
Jesse Belvin (Born: December 15, 1932/ Died: February 6, 1960)
Hugo Montenegro (Born: September 2, 1925 / Died: February 6, 1981)
Carl Wilson (Born: December 21, 1946/ Died: February 6, 1998)
Falco (Born: February 19,1957 /Died: February 6, 1998)
"MOVIES TODAY"
"MUSIC TODAY"
1943 – Frank Sinatra made his debut as vocalist on radio's "Your Hit Parade."
1957 – The Del-Vikings' "Come Go with Me" enters the pop charts
1961 – "Shop Around" by the Miracles was #1 on the R&B chart for a fourth week.
1971 – Dolly Parton scores her first #1 single in Billboard with "Joshua"
1980 – George Jones records "He Stopped Loving Her Today" at the Columbia Recording Studio in Nashville, then bets producer Billy Sherrill that the record won't go to #1.
1982 –  Dan Fogelberg's great tribute to his father–"Leader Of The Band" was #1 on the Adult Contemporary chart.
1988 – Tiffany reached #1 on the AC chart with "Could've Been".
1988 – Dusty Springfield makes her first appearance on the Billboard charts in 19 years with "What Have I Done To Deserve This?," a duet with Pet Shop Boys.
"TV/RADIO TODAY"
1964 – Tickets for the first Beatles appearance on CBS' Ed Sullivan Show sell out.
2003 – ABC's 20/20 airs the British documentary Living With Michael Jackson, where we see him climb a tree, go shopping, and talk about sharing his bed with kids.
"OTHER IMPORTANT EVENTS…"
1935 – "Monopoly" board game goes on sale for 1st time. Prior to being purchased by Parker Brothers, the game had been developed by Elizabeth Magie under the name, "The Landlord's Game."
1938 – The music from Disney's Snow White and the Seven Dwarfs is nominated for an Academy Award.
1952 – Princess Elizabeth Becomes Queen at Age 25.
1960 – Ben-Hur wins the DGA Award for Outstanding Directorial Achievement in Motion Pictures, beating out twelve other films including Disney's The Shaggy Dog (directed by Charles Barton).
1985 – Disneyland begins year-round, seven days-a-week operation. Prior to this day, the park was traditionally closed on Monday and Tuesday during the off season.