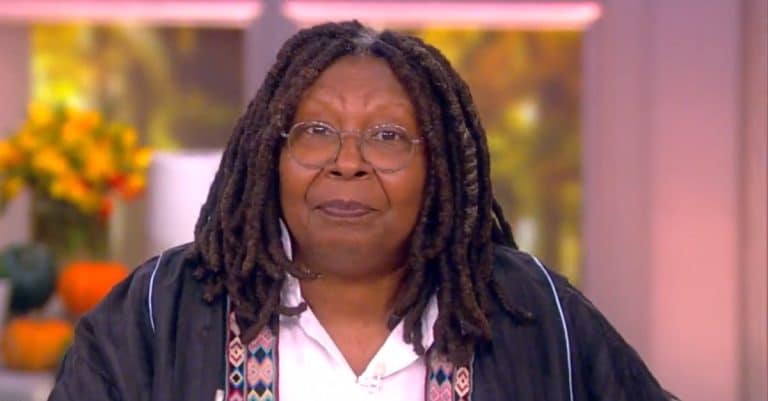 The View has seen a few temporary changes in lineup lately, with Whoopi Goldberg out briefly while she battled COVID-19. Goldberg, 67, returned this Monday still harboring signs of the illness she'd battled. Her cough and comments about masks got strong responses from fans online.
This is actually Goldberg's second time battling the coronavirus. Goldberg's co-host Joy Behar credited the booster with keeping Goldberg alive, saying yes, she got it, but "She's not in a casket, thank you." Here's what happened when Goldberg returned.
Whoopi Goldberg returns after getting COVID-19 again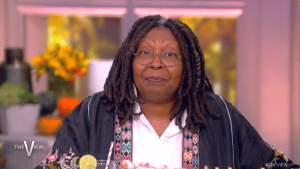 When Goldberg returned to The View on Monday, she was accompanied by a persistent cough, though she wore no mask. In general, compared to how she'd been before, she felt better but her voice was affected still. Then, Sunny Hostin mentioned flying to Florida over the weekend, noting, "I was the only person with a mask on."
"Yeah this is no joke," Goldberg responded. "You know when we wore our masks, everybody was mad but nobody got sick. And cause we've got so many different takes on Covid, it's evolving here, it's evolving here. You know the true thing is if you want to protect yourself you probably need to keep your mask on a little more than you want to."
Whoopi Goldberg and 'The View' discuss wearing a mask
WELCOME BACK, WHOOPI! ❤️ Our #WhoopiGoldberg returns to moderate @TheView after recovering from COVID! https://t.co/cVclFZQU98 pic.twitter.com/BeIyBdItiP

— The View (@TheView) November 21, 2022
Goldberg said she was coughing to clear her throat so the live audience could hear her and claimed she was not currently sick. However, one viewer wanted to know, "Why is this woman not using a mask if she's had COVID several times including last week, is one of the most unhealthy people I have ever seen & requires her audience to wear masks?"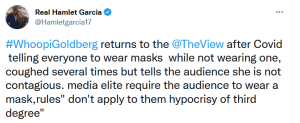 As Dr. Anthony Fauci readied to step down from his federal position, Behar responded to some relaxed attitudes surrounding the coronavirus. "People write on Twitter or someplace, 'You see? Whoopi got it, and she has the vaccinations.' Yeah, but Whoopi's sitting there," Behar noted. "If you are not boosted, you could die. That's the point." Online, though, fans are calling this an example of "Total hypocrisy." Do you agree or disagree with this take?