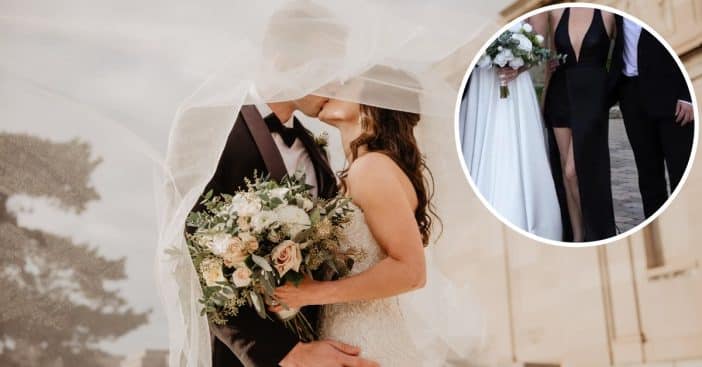 Netizens dragged a groom's mother for wearing a dress they termed 'inappropriate' to her son's wedding after a newly wedded anonymous bride shared a photo of the alleged display in the 'Wedding Shaming' forum on Reddit.
The mother-of-the-groom rocked a black mini gown, complete with a floor-length overskirt that Redditors described as an outfit better suited for a "sexy funeral."
The Reddit post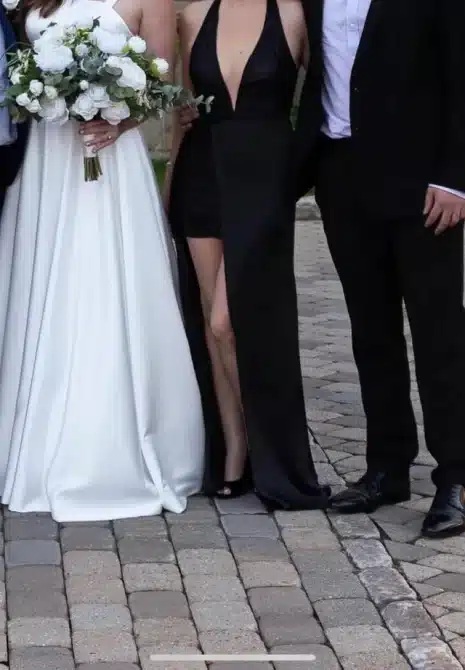 The said bride posted a cropped picture that leaves out the face of the three parties that appeared in it. The photo details the bride holding a flower in her right hand, standing next to the groom's mother baring her cleavage alongside her son, and the groom holding her by the waist.
The post, which has garnered over 400 comments, gained a lot of attention in the forum, which has over 500,000 users. Many Redditors criticized the bride's mother-in-law for wearing the controversial dress on such an occasion. "I think the MIL has a phenomenal body but this is not appropriate wear for her son's wedding," a user said. "She looks like she's going to prom."
Another Redditor bantered, "It's black though, like she's going to a sexy funeral." While someone didn't hesitate to say their mind on the disapproval of the outfit, "It's the low low cut, high leg 'look at me' style of the dress. It just feels super cringe," one other naysayer noted.
A Redditor seized the opportunity to educate others
In the heat of the moment, a Redditor's comment stood out as he detailed a historical fact about the color of the mother's dress. "From the myth of Demeter who lost her daughter to hades in marriage and mourns the loss of her daughter," the user explained. "Don't think the tradition is practiced today but here is your fun classics fact for the day!"
However, someone buttressed the point by stating that wearing black to a wedding ceremony goes a long way back to ancient Greece.