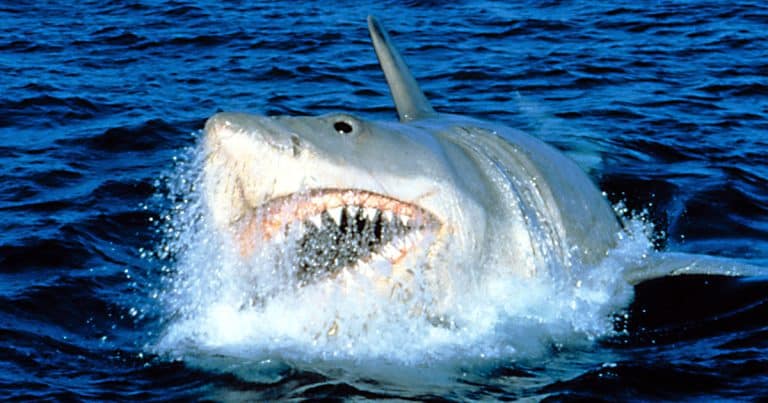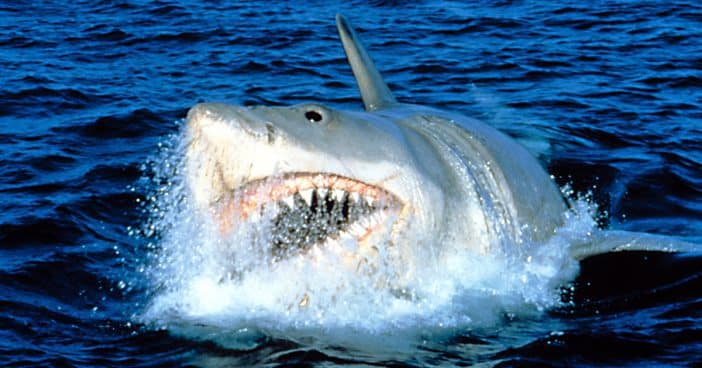 As Steven Spielberg's classic men vs. shark thriller Jaws returns to theaters in IMAX on Labor Day Weekend, it brings to mind one particular question: Given that there are a lot of people out there who spend their winters pining away for summer, along with it the opportunity to soak up the sun and hit the beach, why does Hollywood have a history of scaring the crap out of us so that the last thing we want to do is enter the ocean and run the risk of going up against predators with big, sharp, nasty teeth?
It began 47 years ago when Spielberg decided to make Jaws his second movie (following The Sugarland Express). The success was immediate, with beach attendance around the country dropping dramatically. At the same time, it ushered in the age of the Hollywood blockbuster as the film quickly swam to the top of the all-time box office chart, and remains the one by which all other shark-related films are measured.
While few have been able to match the power of Jaws, there has been quite a number that have tried. Most are small, personal tales of survival of a few people attempting to elude shark death, some just throw logic out the window (the Sharknado films), and then there are big budget efforts like 1999's Deep Blue Sea and 2018's Meg, the latter of which goes all prehistoric in its approach.
Jaws (1975)
Nearly 50 years later, this remains one of the most frightening films ever made. Much of that has to do with director Steven Spielberg's decision to keep the shark hidden through much of the running time, only providing glimpses here and there. Add to this John Williams' iconic dun-dun-dun-dun-dun-dun theme, a strong, character-based script by Peter Benchley (who wrote the novel the film is based on) and Carl Gottlieb, and amazing performances by Roy Scheider as Amity Island sheriff Martin Brody, Richard Dreyfuss as oceanographer Matt Hooper and Robert Shaw as Quint. The latter cheated death from sharks in a World War II incident, but now death has decided to take another bite out of him.
Inspired the sequels Jaws 2 (1978), which saw Scheider (contractually forced to) return as Brody, and in which a group of Amity Island teens serve as shark bait; Jaws 3-D (1983), about a theme park — in this case an aquatic one — that has things go awry as the tourists are attacked by a great white predator (think Jurassic World, only much, much worse in terms of quality), and Jaws: The Revenge (1987), whose screenwriter bragged about the fact he had written the script in four weeks. Maybe he should have taken a little longer.
The Shallows (2016)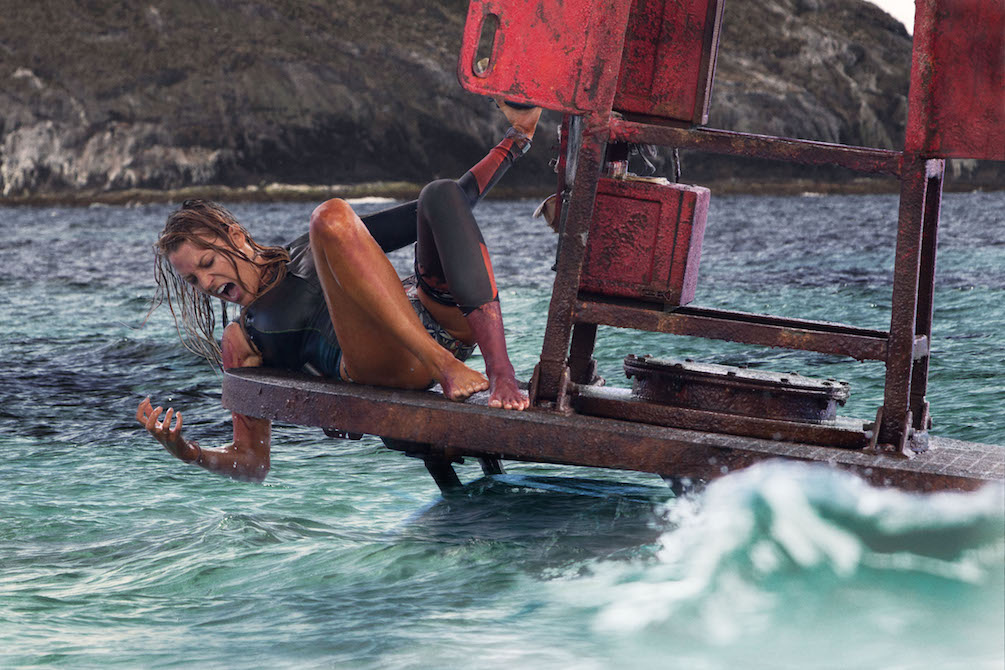 This is pretty much a one-woman, one-shark show with Blake Lively assuming the role of the former and CGI the latter. Lively is pro-surfer, pre-med student Nancy Adams, who is looking for a new purpose in life following the death of her mother. Encouraged via Facetime by her father to pick up the pieces and "survive," she finds she has to do exactly that when she's trapped on a large rock 200 yards from the shore of a remote Australian beach and figuring out a way around an unrelenting great white shark. Dopey at moments, this is nonetheless an under-appreciated, effective thriller.
Deep Blue Sea (1999)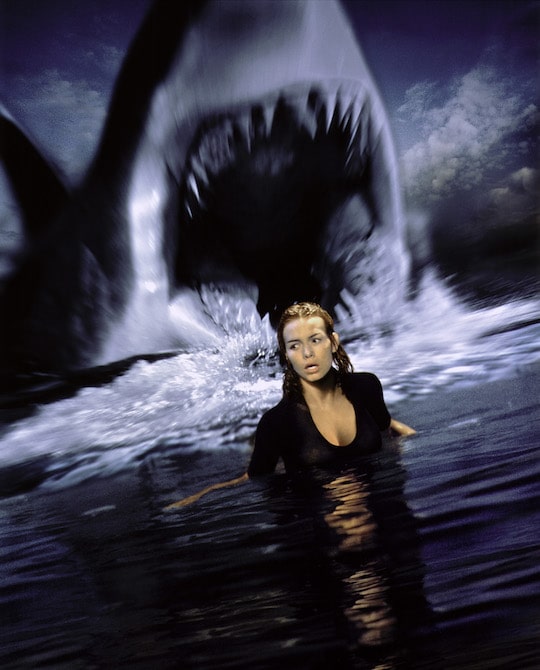 It's kind of like Aliens, but with Mako Sharks. Experiments to use sharks in the search for a cure to Alzheimer's Disease goes horribly awry when two scientists (who have obviously never seen a science fiction movie before) decide to move things along by increasing the brain size of their subjects. Now, of course, the intelligence of the sharks has increased dramatically, and they're plotting an escape, taking out as many of the humans as they can. First use of CGI sharks, and that aspect is impressive. The cast includes Saffron Burrows, Thomas Jane, Samuel L.. Jackson and LL Cool J. Sequels are Deep Blue Sea 2 (2018) and Deep Blue Sea 3 (2020).
Open Water (2003)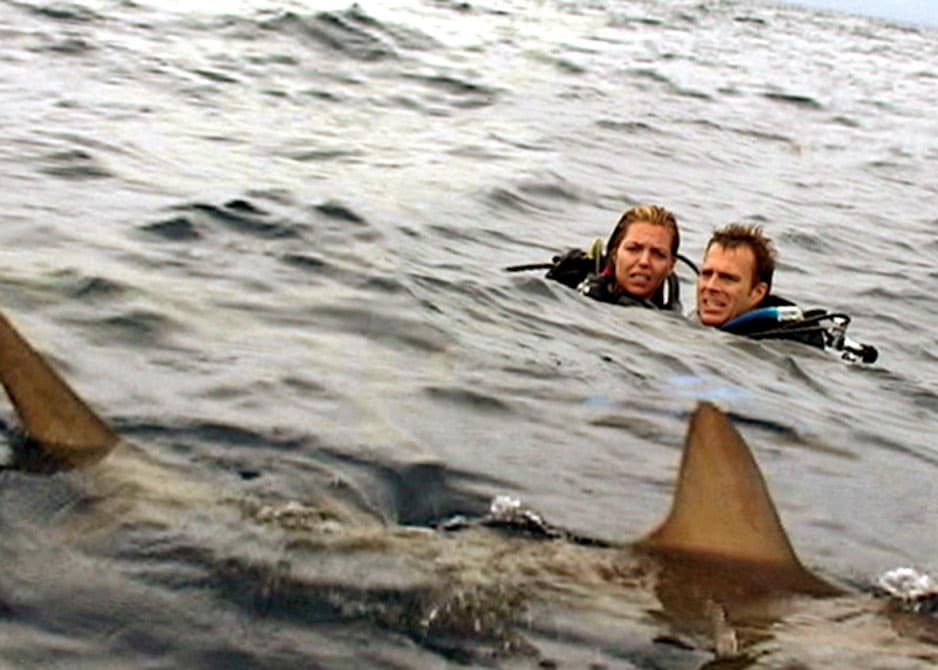 Here's the ingredients of a nightmare: you take a vacation in the Caribbean and decide to expand your horizons by going scuba diving. Only when you come back to the surface, you find that your ride has accidentally left you behind, and you're miles from shore in shark-infested waters. Even worse? The logic of you going scuba diving in shark-infested waters in the first place. We don't want to say they had it coming, but, you know…..
Mako: The Jaws Of Death (1976)
Designed to cash in on the success of Jaws (released a year earlier), this one certainly had a unique twist. Marine salvager Sonny Stein (Richard Jaeckel) acquires a mysterious medallion that gives him the ability to telepathically connect with sharks, a power that he uses to protect the finned ones from human predators. The attempt is made to create a sympathetic portrait for sharks. Yeah, let's see how sympathetic they are when they clamp their….jaws…on your ass.
The Reef (2010)
A group of friends from Australia decide to sail to Indonesia, but en route, their boat capsizes. The best solution they can come up with is to swim to a nearby island, but the one thing they hadn't counted on was….a great white shark(!). What follows is a struggle for survival (and spoilers, there aren't many that do). This Australian film elected to go with actual shark footage rather than visual effects.
The Meg (2018)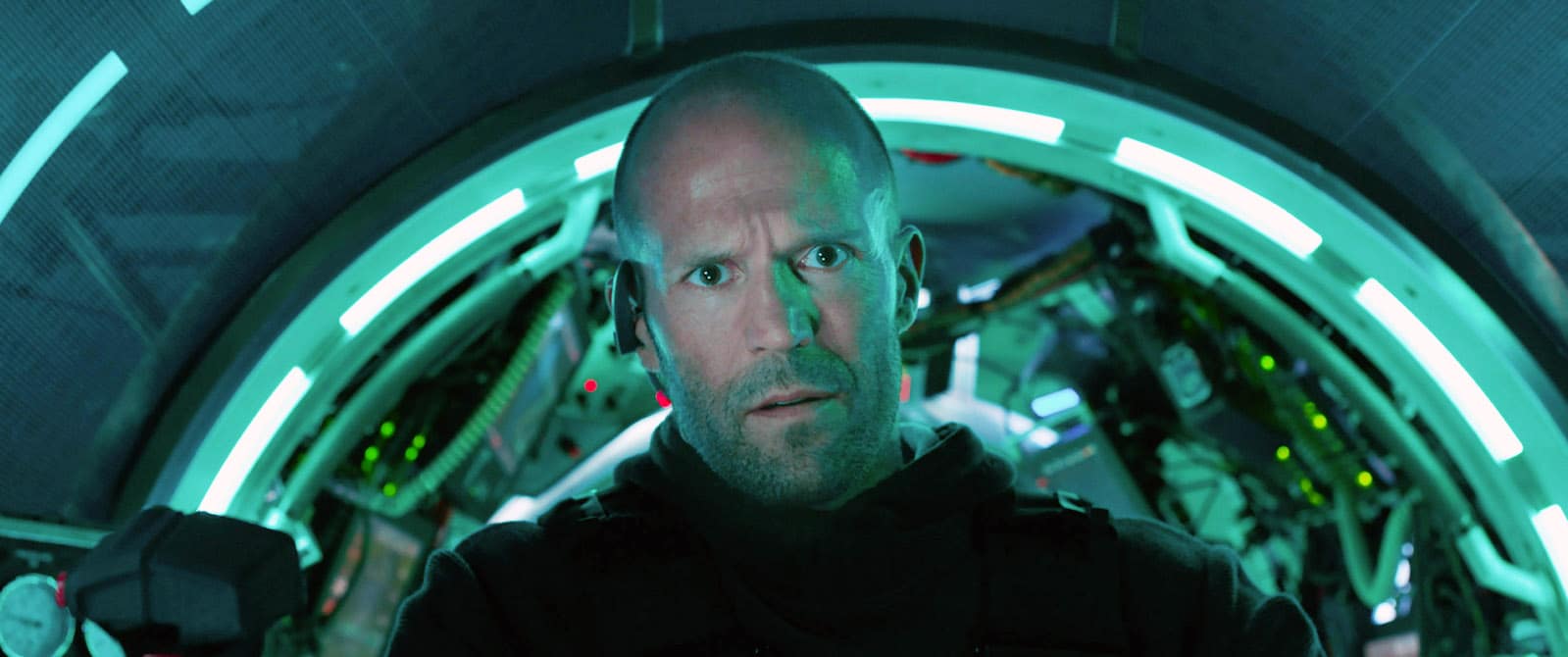 This one had been in development as a film since the Steve Alten novel it's based on was published 20 years earlier. Jason Statham plays former Naval captain and diver Jonas Taylor, who accepts the assignment of rescuing Chinese scientists trapped underwater by a 70-foot great white shark named Carcharodon megalodon. Essentially a prehistoric shark, and to put things in perspective, the novel opens back in time with a T-Rex pursuing its prey into shallow water, and Meg takes down the T-Rex. Now that's a fierce fish!
Sharknado (2013)
Okay, the success of this one defies all explanation beyond the fact that it's just stupid, campy fun. The premise is simplicity itself: a waterspout lifts sharks out of the ocean and starts dropping them in Los Angeles, where a hapless population has to try to survive jaws from above. Tara Reid and Ian Ziering star. This was followed by Sharknado 2: The Second One (2014; a Category 7 Hurricane results in storm surges and a number of Sharknadoes); Sharknado 3: Oh Hell No! (2015; an absolutely huge tornado starts dropping sharks everywhere from Washington DC to Orlando, Florida); Sharknado 4: The 4th Awakens (2016; five years have passed since the events of the last film and all has been quiet…until now. Sharknadoes are showing up everywhere!); and 2018's Sharknado 5: Global Swarming, in which much of America is in ruins and now the rest of the world is being threatened by a global Sharknado. If John Williams scored the main theme for these, would it be dum-dum-dum-dum-dum-dum?
47 Meters Down (2017)
Two sisters, played by Mandy Moore (going through a career renaissance thanks to This Is Us) and Claire Holt, decide for different reasons to get a little adventure in their lives. The solution? Going shark diving in Mexico and feeling pretty empowered from the protection their cage provides them. But then—prepare yourselves—the cable snaps, sending the ladies and the observation cage to the sea bed, which is 47 meters down. Obviously, this is not going to be Jaws, but can it equal The Shallows? No! Spawned the 2019 sequel 47 Meters Down: Uncaged.
Planet of the Sharks (2016)
Think of Planet of the Apes, but without any of the apes. Such goofy fun: In the near future, glacial melting has covered 98% of Earth's landmass. As a result, sharks have flourished, eating all underwater life. They now dominate the planet, operating as one massive school led by a mutated alpha shark. The only human survivors live in terror of the predators, and it's up to them to take down the gigantic chief shark and make the seas safe again. One question: what do the humans eat? One would assume it would be sharks, so in essence, we're getting our revenge. Hah!
Fin.