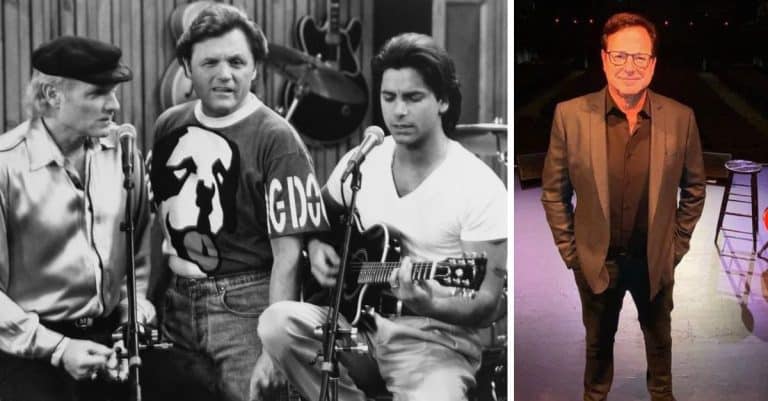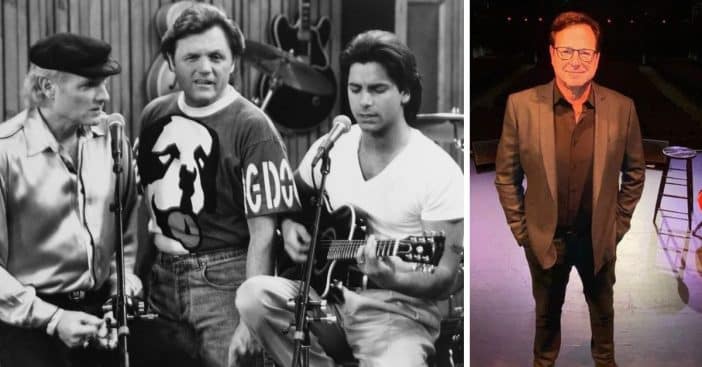 Taking the stage at the 60th anniversary of the Sound of Summer Concert held at the Greek Theatre in Los Angeles on July 8, John Stamos reunited with the Beach Boys to pay tribute to long-time friend and co-star, Bob Saget, who died suddenly in January at the age of 65. Saget achieved fame through his role as  Danny Tanner in Full House, the sitcom created by Jeff Franklin for ABC, which aired from 1987 to 1995.
The standup comedian was found unresponsive in his room at the Ritz-Carlton Orlando, Florida, on January 9, 2022. In the midst of  a stand-up tour, Saget had performed in Ponte Vedra Beach the evening before his death. Stamos, giving a speech at his funeral, revealed, "Bob was there for me like no other. I'm not ready to accept that he's gone. I'm not going to say goodbye yet.I imagine him out there, still on the road, doing what he loves with all his heart and humor. He's standing on stage, killing! Another two-hour set in front of a couple hundred of the luckiest people on the planet. … Everyone here wants an encore with Bob."
The Life And Times Of Bob Saget
Born in Philadelphia, Pennsylvania, on May 17, 1956, Saget's family relocated to Norfolk, Virginia, where he attended Lake Taylor High for a short time. After graduating from Abington Senior High School, he proceeded to Temple University's film school, where he made Through Adam's Eyes, a black-and-white film about a boy who received reconstructive facial surgery. For the film he received a Student Academy Award.
He took up a job with CBS' The Morning Program in 1987 before he was cast in Full House, which launched him into the limelight. Bob also began hosting  America's Funniest Home Videos from 1989 to 1997.
The Tribute
At the concert, the band performed the 1970 hit song "Forever," which was recorded again featuring Stamos as the lead vocal in 1992 on Full House, and was performed many times on the show by Stamos' Uncle Jesse. In a bid to honor his friend, Stamos wrote Bob's last name on the guitar he used on stage at the show.
While performing "Forever," a video clip of Bob was shown on a screen behind the band. After the show, Twitter user @adeedoes posted a video of Stamos' performance and wrote, "John Stamos performed with The Beach Boys last night, and he paid tribute to Bob Saget with "Forever" from Full House. When I tell you I SOBBED. 🥺😭."
Stamos Has Been Paying His Respect To Saget Since His Death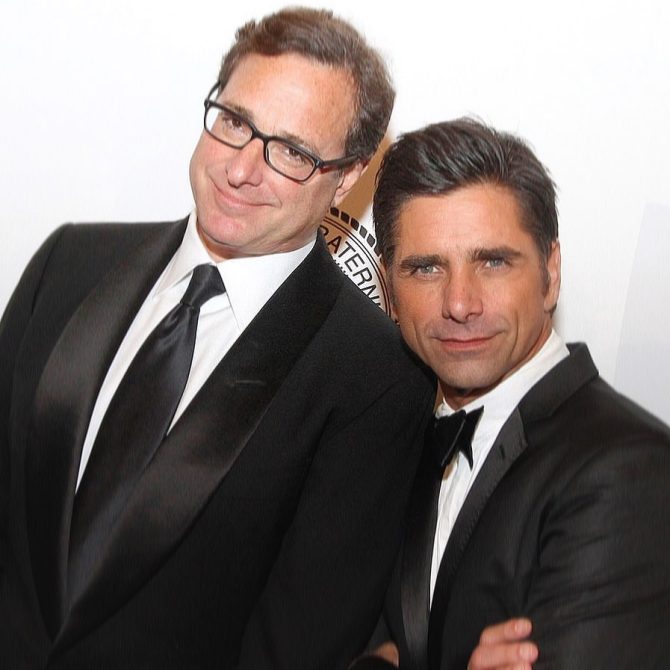 This is not the first time the Big Shot star is paying tribute to Bob Saget. In May, he posted a smiling photo of himself and Saget by the beach to celebrate his 66th posthumous birthday with the caption, "Death ends a life, not a relationship."