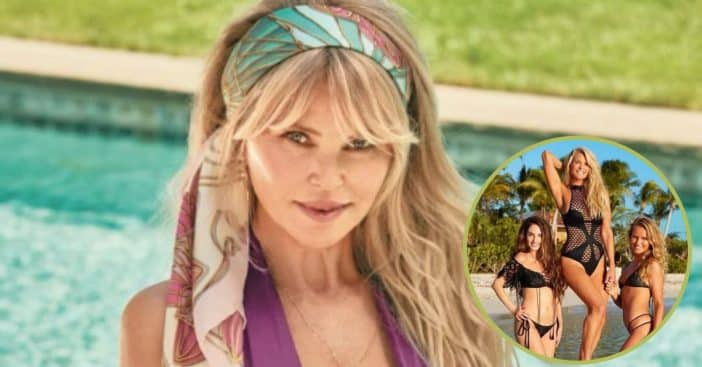 Christie Brinkley is reminiscing and looking back on the 2017 Sports Illustrated Swimsuit photoshoot that she did with her daughters, Alexa Ray Joel and Sailor Brinkley Cook. Brinkley spoke to the August/September 2022 issue of Long Island Woman about the opportunity, saying that it "came about suddenly."
"I wasn't really sure if I wanted to do it," the 68-year-old says. "But I did really want my girls to have that experience so we said OK." Brinkley first covered SI Swimsuit back in 1979, and had been landing covers over those next two years, but when the 2017 opportunity came, she initially wasn't sure about it.
Christie Brinkley opens up about 2017 SI Swimsuit shoot with her daughters
.@SeaBrinkley proves that age is nothing more than a number! And this time, she's back with her daughters https://t.co/PBky2xmZOt pic.twitter.com/aISV55vFZs

— Sports Illustrated Swimsuit (@SI_Swimsuit) February 7, 2017
"The second you start thinking about being in 'Sports Illustrated' you start thinking about, 'Oh, do we stack up?'" Brinkley further explains. "Everybody gets a little insecure. It was kind of interesting for everybody to be together there and sort of address their insecurities and get it out there."
"My girls have both had different fears having grown up in front of the scrutiny of the press, so I think it was fraught with a little bit of anxiety… But it was cathartic, I think. Everybody enjoyed the moment and having that experience together."
View this post on Instagram
One thing that's been an essential constant in her life is having a positive outlook. Brinkley says, "I've always been of the school of, 'You just got to be grateful for whatever you got. You've got two arms, two legs, two eyes…' It's silly to stress about anything else. Be grateful. So what if it's five pounds up, it's you and it's all good."
She adds that she's grateful the modeling industry has become more inclusive through the years. "The most beautiful thing about this beauty industry is that its arms are wide open trying to make sure that they embrace and celebrate every size, shape, age, race… And that they see themselves and find themselves on the pages and feel good about themselves." Aside from this, she adds that there's still work to be done.
View this post on Instagram
Additionally, Brinkley hopes that by posting her own swimsuit photos, she can help inspire and encourage other women to feel sexy in their own skin, too. "I post these pictures because I hear from women my age all the time that say, 'Thank you for changing the way people think about the numbers,'" Brinkley says. "Back in the day, numbers represented something. I remember people thinking that after 30, you should never wear your hair past your shoulders or your hemline needed to hover your knee caps."
"I've always found those rules so limiting… Everybody's different, everybody's unique. But it's like telling a gymnast she can't do flips past a certain age. It doesn't make sense. If you've got great legs, show them. If there's something about yourself that you really love, celebrate that. Don't be controlled by those numbers."