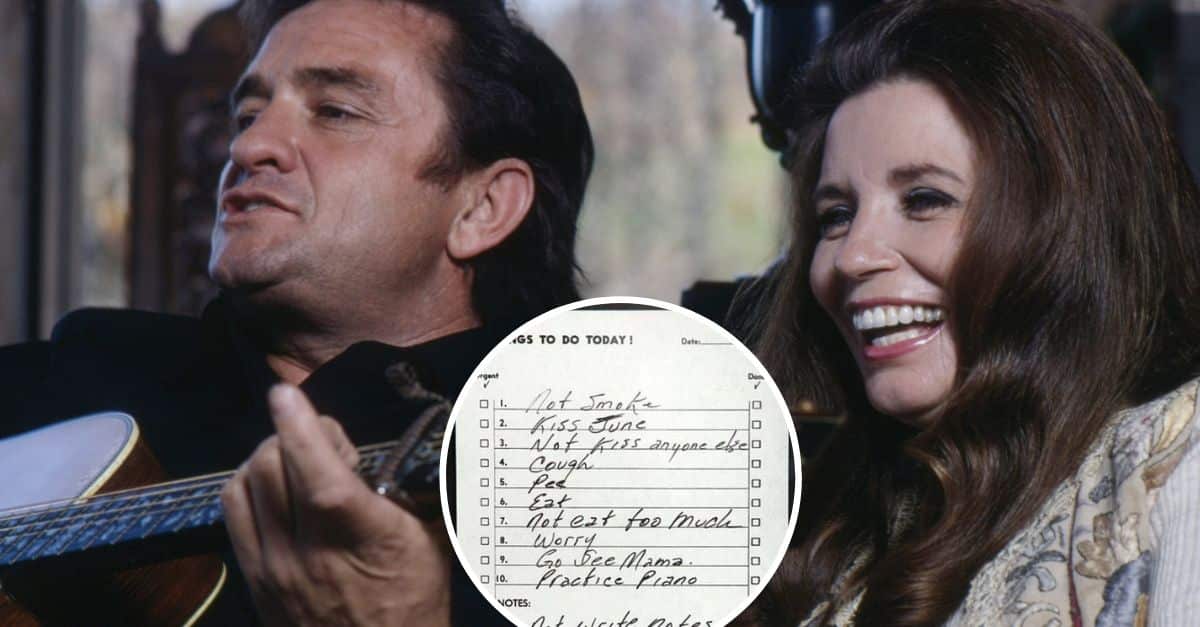 In his later years, Johnny Cash was well-aware of his shortcomings and was working on being a better man. He was finally married to the love of his life, June Carter Cash, and only had eyes for her. The Johnny Cash museum acquired a to-do list that he wrote that is definitely relatable to most.
It turns out the list was written as his New Year's Resolutions sometime in the '70s. On a piece of paper marked "Things To Do Today!" Johnny wrote, "1. Not smoke 2. Kiss June 3. Not kiss anyone else 4. Cough 5. Pee 6. Eat 7. Not eat too much 8. Worry 9. Go see Mama 10. Practice piano." Under the "Notes" section he jokingly wrote, "not write notes."
Johnny Cash's to-do list is too funny
To do list, by Johnny Cash. pic.twitter.com/tJq8BnEoNi

— Classic Rock In Pics (@crockpics) May 23, 2022
This small piece of paper with Johnny's handwriting once sold for $6,400 at an auction! This isn't the only famous note that has been released to the public. Johnny once wrote June a love letter for her birthday back in 1994.
It read, "Happy Birthday Princess, We get old and get used to each other. We think alike. We read each others [sic] minds. We know what the other wants without asking. Sometimes we irritate each other a little bit. Maybe sometimes take each other for granted."
It continued, "But once in awhile, like today, I meditate on it and realize how lucky I am to share my life with the greatest woman I ever met. You still fascinate and inspire me. You influence me for the better. You're the object of my desire, the #1 Earthly reason for my existence. I love you very much. Happy Birthday Princess. – John"
So sweet!