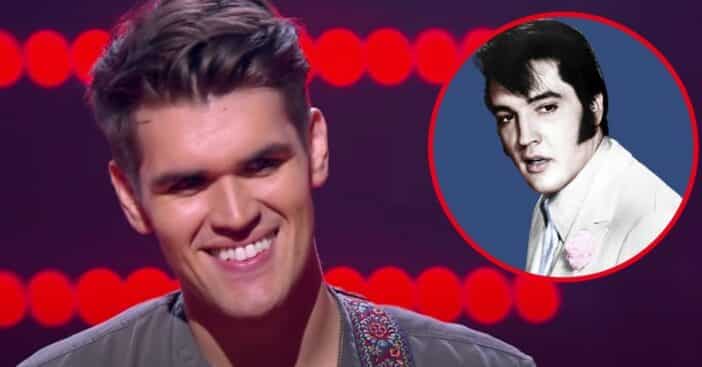 After an electrifying blind audition performance on The Voice, Dakota Striplin revealed he that might be an unrecognized grandson of The King, Elvis Presley. The 27-year-old performed Elvis' hit Love Me Tender and blew the judges' minds and audience away.
One of those judges, Boy George, couldn't help but ask what made him choose the song of the greatest rock star in the world. "I've always loved Elvis so much; he's been a big idol for me since I was little," he replied, revealing his connection with Elvis. "Recently, my dad actually found out that his father wasn't his biological father, and there's a lot of history with my Grandma. She used to work at Elvis concerts and apparently knew him."
Elvis Presley's grandson wants an amazing career
View this post on Instagram
When Kelly Rowland asked him what he wanted from his experience at The Voice, the New Zealand born singer replied, "The Voice is such an amazing platform; since I was in High School, I've been gigging, and it would be amazing to have a career that I love doing." Dakota had been performing in small-town pubs, live television telecasts, and musicals prior to the show in 2019. Previously, he had been on America Got Talent and was sadly eliminated before the quarterfinals.
Currently, he's doing well for himself and is one of the four artists signed with Perfect Pitch Publishing. While he was on the show, he established the Elvis Presley Grandson theory when he was asked if he could be related to Elvis. "That's the running theory, he could be my grandpa," Dakota said. Even Kelly Rowland affirmed he actually looked like the King.
His grandmother lost it when Elvis died
Dakota Striplin said his father doesn't like him talking about the theory,  because it's hard to swallow. He revealed his grandma used to take his father on a lot of trips to Hawaii by himself without the other kids. "And when Elvis later passed away in life, my grandma lost it; she was drinking for weeks, wouldn't leave her room, it was kinda a big reaction to hearing about a celebrity dying.
"A couple of years ago, DNA tests proved that my dad's father wasn't his biological dad; the theory is that Elvis is my granddad, and that would be pretty cool," he further said.
Dakota Striplin joined Kelly Rowland's team on 'The Voice'
After his outstanding performance during the blind auditions, Delta Goodrem and Kelly Rowland vied for him to be on their team. Kelly wooed him by saying, "I would genuinely love the opportunity to work with you, because I know as a coach I bring out the best in my artists, and that is what I want to do with you, and you are amazing, and I would also love you on my team."
On the other hand, Delta described his tone as rich and full; she loved the electric guitar and his stage performance. "I love how you were in command of the whole stage," she said. After careful consideration, he chose Kelly to be his coach.