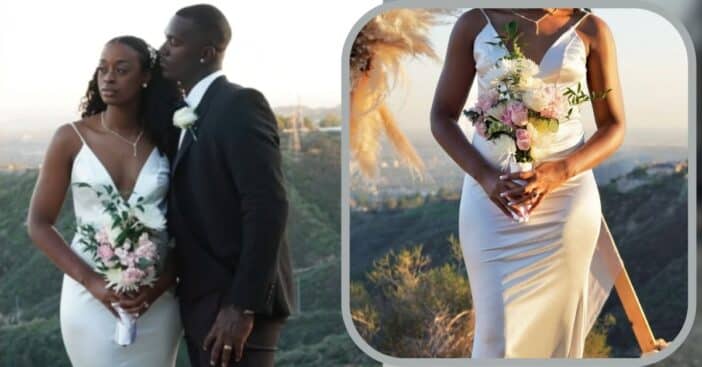 One couple is going viral for having a wedding on a $500 budget, and the bride wearing a $47 wedding dress. Kiara and Joel Brokenbrough were able to pull off the shocking wedding price, when the usual average is roughly $30,000.
"Our goal was to just be as minimal as possible," Kiara tells Good Morning America. "And to spend the least amount of money as possible."
Couple manages to pull off a $500 wedding, bride wears $47 wedding dress
View this post on Instagram
As for the dress, Kiara managed to find it on the online retailer website Shein for just $47. She shared her dress-shopping experience through videos on TikTok, capturing the attention of nearly 1 million people. "I didn't want to spend a lot of money on a dress, because I had the mindset I'm gonna wear this one time for a few hours," she explains.
The couple also managed to save tons of money by finding a free location for the ceremony right off of one of California's freeways. Guests also paid for their own food and drinks at the reception, which is far from the typically situation. "You have a wedding, with witnesses there to witness you, vowing to your spouse, vowing to God that you guys are going to stay together for life," says Kiara. "And then you celebrate with food, drinks and dance. And that's exactly what we did."
View this post on Instagram
Kiara stands by the fact that in order to pull off such a low-budget wedding, you have to have truly supportive loved ones. Furthermore, one of her biggest tips is to find a ceremony area that's free and already decorated in natural ambiance so you don't need to pay for decor. She also says that couples must remember the ultimate goal, which is marriage—not a huge, fancy wedding.
"The people we have there, they understood the assignment, they understood the things that we were trying to do, and they really supported us."