Demi Moore and her middle daughter Scout Willis were surrounded by floral imagery during a recent museum trip they took together. The photos offer a vibrant contrast to the personal health struggles that struck their blended family, following the revelation that Bruce Willis was diagnosed with aphasia.
Moore and Scout are part of a large, blended family shared with Willis, and even celebrated his current wife's birthday together in recent years. Scout is siblings with Rumer and Tallulah Willis and the half-sister of Mabel Ray and Evelyn Penn.
Spring has sprung in these new photos of Demi Moore and Scout Willis
View this post on Instagram
Earlier this week, Moore posted two photos with Scout. "Cherry blossom season," she captioned her post, adding an icon of that very flower. "A day at the museum with Alex Koo and @scoutlaruewillis." Koo is standing beside Moore in the first photo, with Scout on her right side. All three wear face masks. The painting is reported to be by British artist Damien Hirst.
The second photo features just Scout and Moore in front of the same artwork, which shows a vast network of petals in various shades of soft pink, mauve, burgundy, and even purple, with the branches barely visible behind the pastel splashes of color. Scout is fittingly dressed in a vibrant pink Stella McCartney parka. Moore is wearing neutral colors but her mask is pink as well; mother and daughter seem to have coordinated their masks with the other's outfits.
The family has been working to keep their spirits up since Willis' diagnosis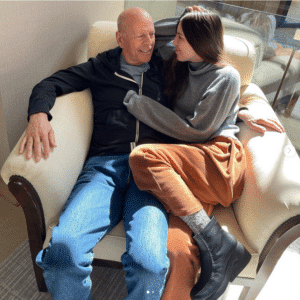 Fun occasions like this are probably a welcome contrast to the recent news the household was faced with. "We are moving through this as a strong family unit," reads the announcement post shared by several of Willis' family members about his aphasia diagnosis and retreat from acting. Following this move, the various family member shave engaged in bonding time together, with Willis, Emma, and Mabel enjoying time in nature together, and Emma celebrating Mabel's tenth birthday.
View this post on Instagram
All this is consistent with Willis' philosophy of "Live it up." Through it all, his family members have expressed gratitude at the flood of support that has poured in since the announcement. Willis has stayed a regular in action films, though hindsight indicates his health has been worsening in recent years, and though he is taking time for himself, this has opened a discussion into the fine line between continuing to provide a performer with consistent work and exploiting workarounds to continue making money from name recognition.