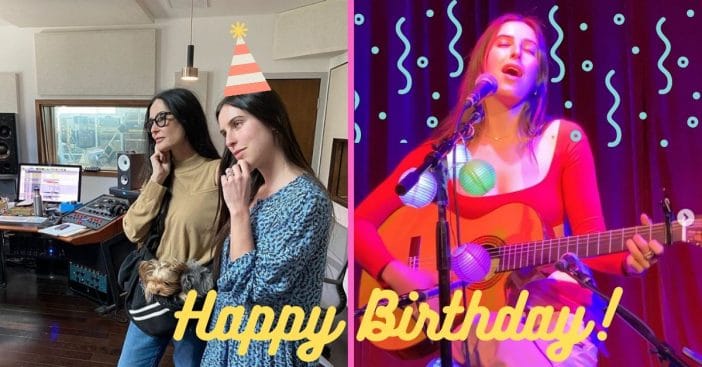 Demi Moore wished her daughter Scout Willis a happy birthday on Instagram. Her post came with pictures of Scout first performing music then enjoying time with mom. She also offered a touching message honoring all that Scout's done and encouraging her to keep it up.
Scout is the daughter of Demi Moore with Bruce Willis. Though the couple split, the mixed family maintains a close relationship. Quarantine allowed them all to bond even more, both despite and because of the strange circumstances surrounding the arrangement.
"Start

lighting up the world," Scout Willis
https://www.instagram.com/p/CC3dC8anCpf/?utm_source=ig_web_copy_link
Just in time for Scout Willis' birthday on July 20, Demi Moore shared a post on Instagram in celebration. She showed a picture of her "Scouteroo," a nickname that incorporates typical cute nickname styles and Scout's full name, Scout LaRue Willis. In the first photo, Scout performs on the guitar while singing. A second picture shows mother and daughter engaged in some fun contemplation.
RELATED: In Honor Of Richie Sambora's Birthday, Let's Look Back On His Biggest Hits
Her message to Scout showed the profound depth of a mother's love and support for her child, which began in 1991. She began, "July 20. Your radiant smile has been lighting up the room since the day you were born. This may be the year to start lighting up the world!" She went on to wish her a heartfelt, "Happy Birthday, Scout LaRue Willis!" Not everything was for social media followers, though. Her final message at the end reads, "PS. I have a lot more to say but I would rather say it just to you!" Some words of encouragement and wisdom need to be shared in person, privately.

A very blended family
https://www.instagram.com/tv/CCb9gCAJLdm/?utm_source=ig_web_copy_link
Quarantine gave the blended family of Bruce Willis time to hang out together in unique circumstances. Bruce Willis and Demi Moore famously get along pretty well considering they are divorced. But even with that knowledge, people felt surprised to see him self-isolating with Moore while his current wife, Emma Heming, did the same in Los Angeles.
She was not alone, instead watching over their two daughters. Scout Willis was the one to explain the situation to those curious. An odd mishap with a hypodermic needle made part of the family stay behind while others went on their way. Fortunately, the setup proved to be a nice bonding opportunity, rather like celebrating Scout Willis today. There is certainly a lot to celebrate. Her credits include The Scarlet Letter (1995), Bandits (2001), and Moonrise Kingdom (2012).