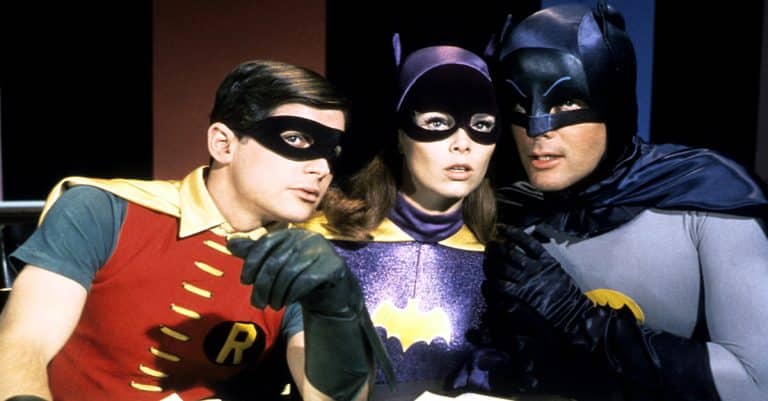 "Holy time warp, Batman!"
No doubt the reaction Robin the Boy Wonder would have given to the response the media and generations of fans have given Adam West/Burt Ward Batman 1966-68 television series over the decades. Seeing that fervor, which was highlighted a few years back when the show was issued on Blu-ray for the first time, in many ways it feels like 1966 all over again.
"It does," laughed West in an interview with Do You Remember, "because the excitement is noticeably the same. I mean, if I put a thermometer into the excitement water, it would read about the same as when the show broke back then. So I'm very happy about that for all the people who have waited for the release."
Burt Ward, who played Dick Grayson/Robin, adds with mock exasperation, "Oh my gosh, I've been asked that question literally thousands of times and until now I never had an answer. But thank goodness they worked things out and it's a real masterpiece; a collector's item for people and it's been a long time coming."
Batman: The Early Days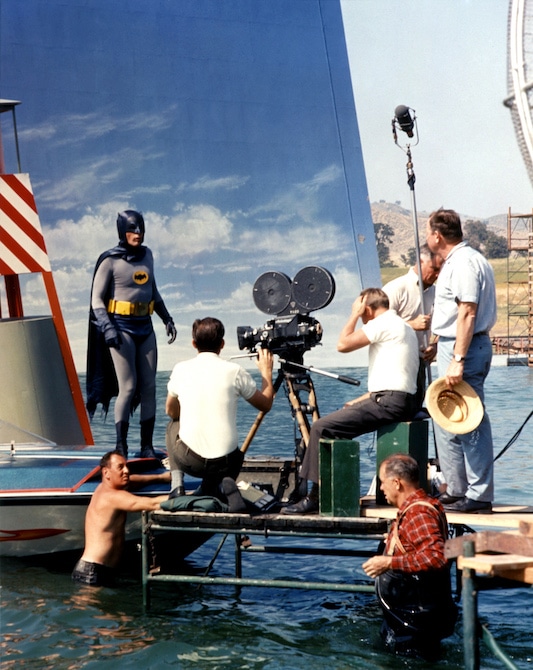 That journey began in 1965 when ABC approached producer William Dozier about a television version of Batman, though as originally envisioned by the network it would have been a darker, serious take. Dozier didn't agree. As pointed out in the pages of American Comic Book Chronicles, "The producer concluded that the ABC execs 'were crazy. I really thought they were crazy if they were going to put this on television.' The only way it could be pulled off, he decided, was to make it 'so square and so serious' that it would work on two levels: as an adventure for kids and as a comedy for their parents. A New York Times article explained, 'ABC could not afford to put the show in an expensive time slot if it only appealed to children; they don't have the buying power. 'This is a merchandising medium,' said Dozier dryly, 'not an entertainment medium.' He decided to apply the pop art technique of the exaggerated cliche, laying it on to the point where it becomes something amusing to adults.'"
The approach worked. In a major way. From the perspective of 2022, it may be difficult to imagine, but in America, the show was nothing less than a phenomenon. Batmania spread everywhere, capturing both children and adults in its wake and creating a whole new language in the form of the "Pows!", "Zaps!" and "Blams!" that accompanied fight sequences, and added such phrases as "To the Batmobile" and "Old Chum" to the popular vernacular. It also made instant superstars out of West and Ward and elevated them to a position they couldn't have possibly imagined.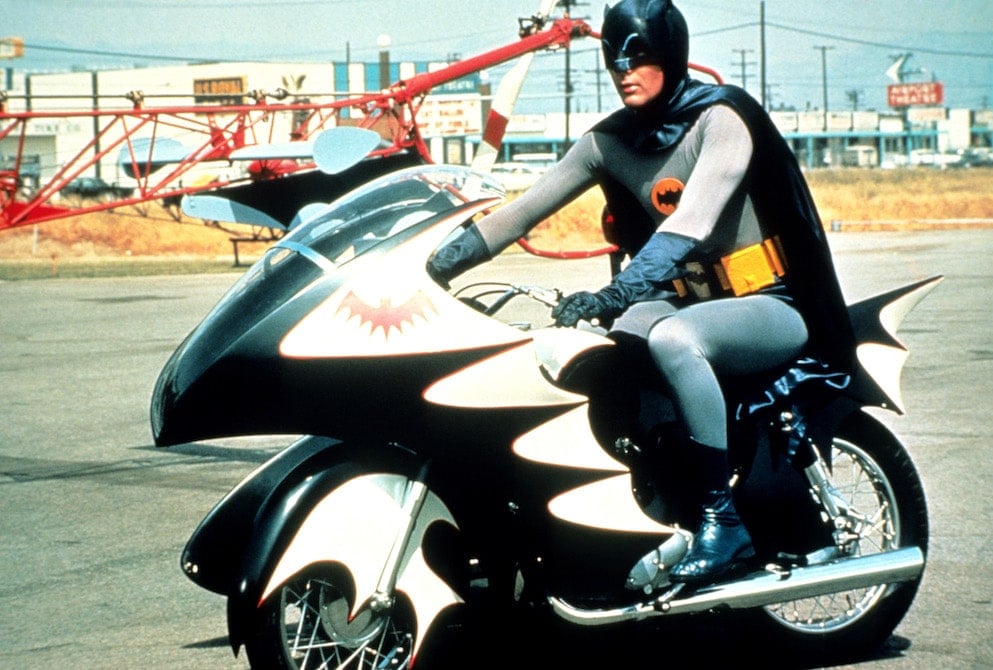 For West, it wasn't always something easy to deal with. "There were nights," he reflected, "when I'd wake up at three or four in the morning with something biting at me like piranha fish. I'd be thinking that I don't deserve this and I can't deal with it. Look, I grew up on a farm in Walla Walla, Washington. I worked in the fields for years, among other things, and when things break that big for you and you become like a rock star, it's tough to deal with. But I know how fortunate I was."
As Ward sees it, he had a much easier time dealing with the success because it didn't mean that much to him beyond the work itself and the fact that people were enjoying the show. Plus, he says, for the first three months the show was on the air, he was so busy filming it that he was unaware of the growing response on the part of the public. That all changed when he made a personal appearance — in costume — in Tacoma, Washington, over the same weekend that West was appearing as Batman at Shea Stadium in New York.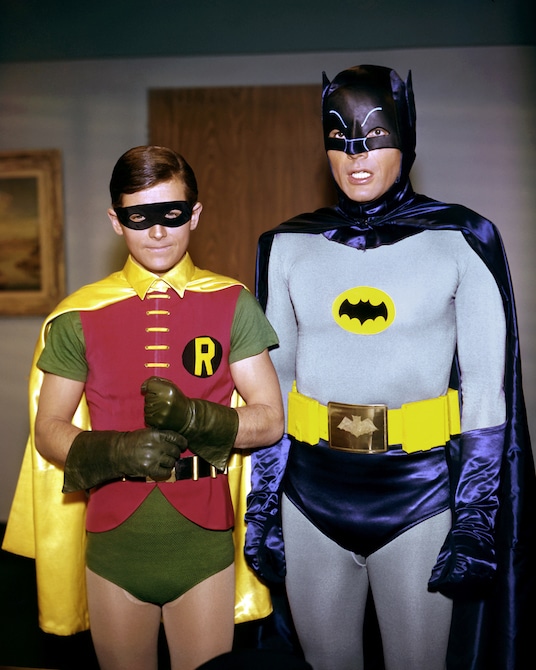 "From what I understood when I got there," he enthuses, "people were sleeping on the streets and you couldn't get within six blocks of this shopping center the Wednesday before the Saturday and Sunday appearance. The shopping center had arranged for the University of Washington football team to be my bodyguards. I'll never forget that appearance: I had all these people around me and we're a big mob walking in the same direction, and I was dressed as Robin. There were these two elderly ladies coming the other way — they were quite a distance away — and both of them looked at me, and one lady said to the other, 'Damn hippie!' I mean, I thought that was pretty funny and it made my day. People were just going nuts, but it really didn't affect me and I'll tell you why. When I'm sitting there meeting people and I have the mask on, it's almost like you're watching TV. In other words, I'm watching people come up and they're saying, 'I love this, I love that,' but I'm watching them as opposed to being part of them. It's like watching a show through the mask. For them it wasn't me, Burt Ward, it was Robin.
"Here's what's really amazing," Ward emphasizes. "These people would come and be beyond anything you could imagine. They'd fight for your paper drinking cup and they'd swoon. When the appearance was over, I'd go back to my dressing room and would get dressed in my regular clothes. I'd come out among the same people, and not one of them recognized me. Nobody knew — nobody — so therefore it didn't really affect me, because it was the character the people were in love with; I just happened to be there as a witness when they were doing all the fawning and everything else."
Bat-Icons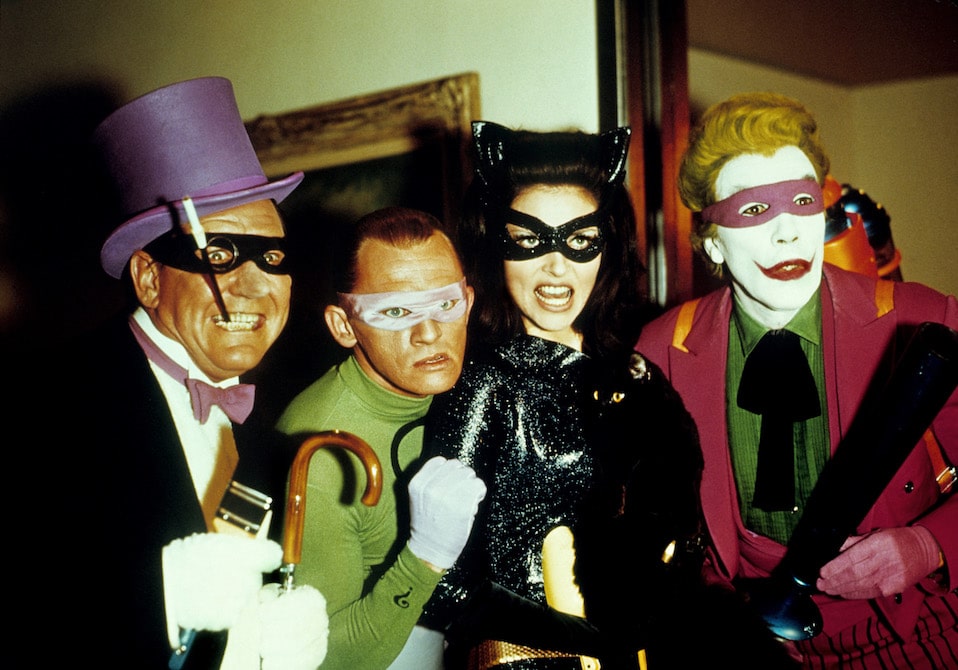 Also elevated to icon status were the Dynamic Duo's rogue's gallery, among them Cesar Romero as the Joker, Frank Gorshin as the Riddler, Burgess Meredith as the Penguin, and Julie Newmar as Catwoman.  Additionally, in the show's third and final season, Yvonne Craig was added as Batgirl and she, too, became an instant star. With all of them, like Batman and Robin, playing things so straight,  things definitely slipped over to camp. And for Batman, this take got about as far away from a character pursuing justice after the murder of his parents as you could get.
"You're right," said West. "In the comics, Bruce baby was crazy. I mean, Batman's nutty, so I kind of played it that way and super serious and always moving, musing, trying to put clues together, and very physical and solemn. We didn't need all those explosions and flames and people blowing up. We didn't need that, because we planned to be funny and yet be wonderfully exciting for the kids. This wasn't the Dark Knight. I decided to be the Bright Knight, and to bring the laughs."
As noted above, Craig joined the show in the dual role of Batgirl and Barbara Gordon, who was the daughter of Commissioner Gordon. For her, the approach made perfect sense given the times and, in fact, is reflective of why people were so excited about the series' disc release.
"It's a sign of our times," the late actress noted. "Everyone would like to go back to Flower Power rather than blowing people up in these different places, so I think people are looking for an escape. And this is not only an escape, but it's silly and fun and pretty. And all of those bright colors, which really helped to interest little kids, because they liked all that bright color. And all of that camera work. Yet there was something in it for their parents, so they weren't just sitting there saying, 'Oh my God, another Sesame Street.'
"When the Michael Keaton Batman movie came out in '89, it was very dark," Craig elaborated, "Then I remembered the fact that Batman started out dark in the '30s and '40s, and then, when we had Flower Power in the '60s, the show came out. There were people who were very upset that we would be making fun of this. Then, in 1989, when the Michael Keaton one came out, it was so dark and dismal. I saw it as a sign of the times, and that was the time for it to be dark. It will get lighter as life gets lighter and ultimately it did.  It's the natural cycle."
The other natural cycle is the truism that the candle that burns twice as bright, burns half as long. Batman may have been a phenomenon that gave its leads the kind of stardom that approached Beatlemania, but by season three it was largely over. The "joke" had worn thin, ratings were dropping and Batgirl was added to try to shore things up. It didn't work.
"In the last year," observed West, "the studio was close to getting enough episodes to keep the show in reruns forever, so they weren't spending as much money on set designs, writers and everything else. I sensed that maybe this thing was wearing a little thin. The first two seasons were wonderful, but in the third the audience got the sense that something was amiss."
By March of 1968, the phenomenon was over, and the show that had so gripped the imagination of viewers in America and abroad, was canceled. The sensation that had swept over the show's lead actors, suddenly released them.
"The ending was very matter of fact for me," said Craig. "I had been on it for one season and it was terrific, but if all of us told the truth, the truth was we did not know that 45, 50 years later people would still be talking about it. It was a wonderful job, but nobody looked ahead and said, 'Oh, this is going to be iconic.' I had done a lot of work before Batman, and so went on to do other things. I would have thought it would be a problem for Burt, because he had not been an actor prior to the show. You get in this hit series and then you get dumped out of it. Where do you go?"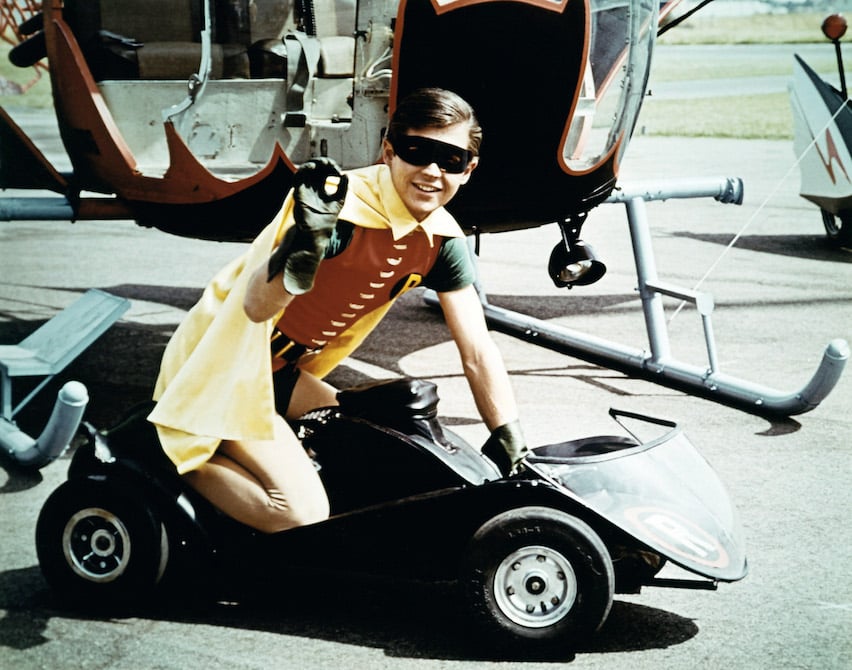 Differs Ward, "It wasn't a problem at all. I mean, I loved doing the show, so in that respect I missed it, but in terms of suffering from a loss of stardom or something, no, not at all. I feel this way: you win some, you lose some. That's the way I look at it. When I was doing Batman, it was the greatest show and it became one of the biggest hits ever on TV. And it was worldwide. But I knew it couldn't go on forever."
West probably had the most difficult time, largely because of the challenge in securing other acting opportunities. "Oh, there was a time when I was typecast so terribly," he admitted, "and up for a number of big features I couldn't do because the producers casting would say, 'What would happen if he went to bed with the leading lady? The audience would forget the whole story and say, 'Look, it's Batman in bed.' So I just decided years ago to love the character, because people love it and recognized that I should be grateful to have that; to be one of the few icons around."
Craig has her own theory as to why West had such a hard time. "I think it's because of his speech cadence," she opined matter of factly. "I think because his speech cadence is so unique that they hired him as Batman partly because of that. You know, 'Hello, Citizens' and that kind of thing. When he started reading for other things, they thought he was playing Batman. But that's who he is and that's how he talks, so it hung him up for a while, because they couldn't erase the sound of Batman, which was not done as part of the character; it was just that he was using his own voice and speech cadence. Then that finally wore off, and he started getting hired for exactly that."
Prior to West's portrayal of Batman, the other superhero who had struck a similar chord with the audience was George Reeves in The Adventures of Superman. But, despondent over career opportunities and sincerely believing that his appeal was only to children, Reeves ended up committing suicide. Despite whatever issues he may have had following the series, West, on the other hand, has been in the unique position to truly see the impact that his portrayal had on not only the children of the 1960s, but the generations that have followed.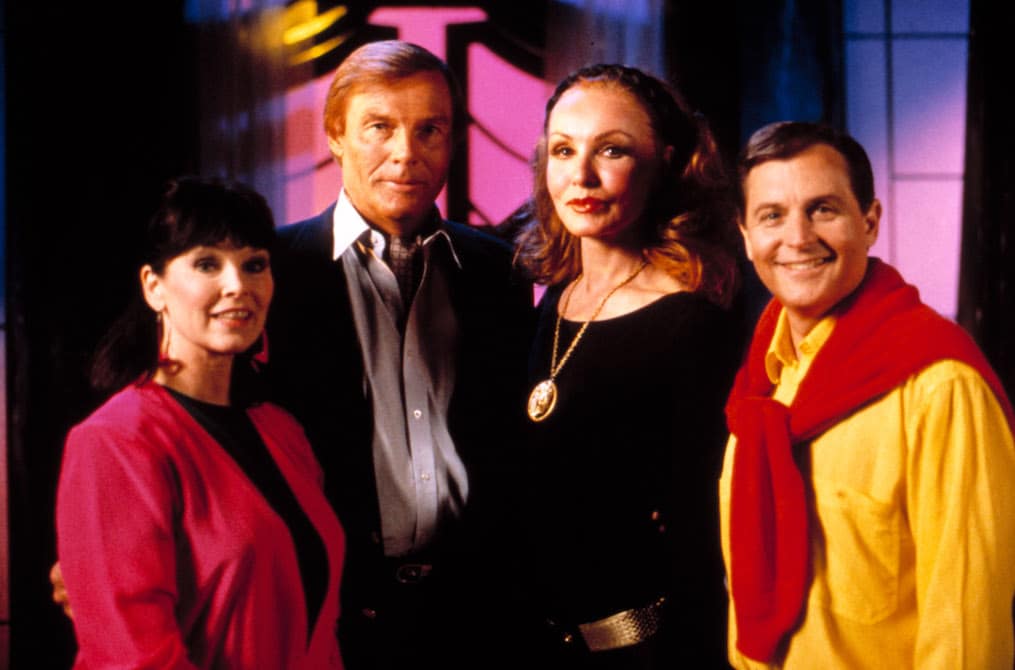 "I actually feel quite humbled by that observation," he commented softly. "Again I say I'm probably the luckiest actor alive in that I've become kind of an icon and people have an affection for me, which is wonderful. What does an actor want? I guess to be loved every time he goes out onstage or before the camera. It's like, 'Love me. Appreciate my work. I'm really doing my best here.' If I made people happy, and I know I have, and I've given them a lot of laughs, then I'm a happy guy. But I do wake up sometimes late at night and think, 'Why me? What happened?' Like I said, I was a farm boy from Walla Walla, Washington. I don't know what the hell happened to me. It just did."