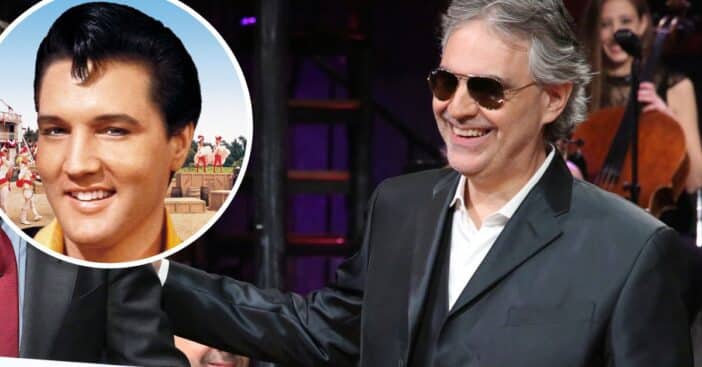 When you think of Andrea Bocelli, you may not think of Elvis. They are very different singers. Andrea is an iconic opera singer while Elvis was the king of Rock 'N Roll. However, Andrea is a big fan of the late Elvis Presley and has covered several of his iconic hits over the years.
In particular, Andrea has performed two of his favorite Elvis songs. Of course, he put his own spin on the classic hits. Andrea said, "There is no denying that Elvis had a great talent. He possessed a pliant voice with extensive range and a soft and enveloping timbre. Plus, he was an extremely charismatic person."
Listen to Andrea Bocelli sing Elvis Presley songs
His favorite Elvis songs are "Love Me Tender" and "Can't Help Falling In Love." They are both ballads and he loves that both songs have such a long and rich history behind them. Andrea said, "In both cases, Elvis Presley's versions are extraordinary and memorable."
He continued, "Yet I have the wishful thinking that I too had something to say, to add, artistically speaking, to the performance of these classics. The melody of 'Love Me Tender' comes from a sentimental ballad from the time of the Civil War. It's a song with roots that go back to the 1800s."
Andrea said he loves that both are love songs and they have such a beautiful melody to them. He has sung the songs live and included them in his live albums.
Watch Andrea perform "Can't Help Falling In Love" below: