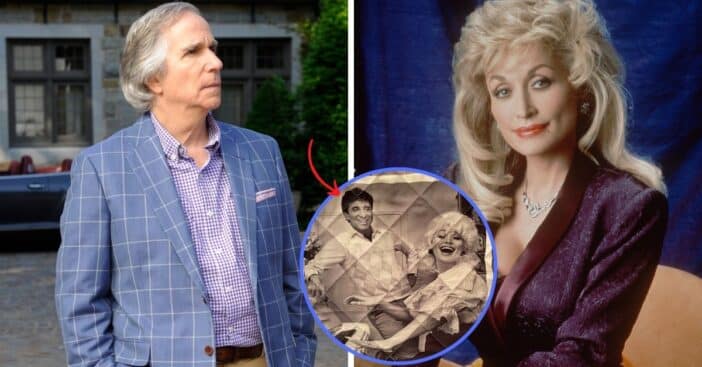 Happy Days icon Henry Winkler recently solved a mystery involving Dolly Parton on social media, and it has fans very interested. On a Dolly Parton quilt, actor Michael McKean was trying to figure out who the mystery man was beside her—and Winkler was able to figure it out on behalf of all of us!
"This is on a Dolly Parton quilt, the only square with another person pictured. Who do we think it is?" The fan writes on Twitter alongside a photo of the quilt. So… who was it?
Henry Winkler solves the case on Dolly Parton quilt mystery
That is Sandy Gallin . He was Dolly's manager and long time friend .. https://t.co/JnGhyHZLDY

— Henry Winkler (@hwinkler4real) December 9, 2021
"That is Sandy Gallin . He was Dolly's manager and long time friend," Winkler responds, confirming the mystery man's identity. Now, fans love and adore Dolly Parton—even those who don't listen to her music knows who she is and knows how much of a legend she is in the country music industry. But, fans may not know much about Sandy Gallin.
RELATED: Dolly Parton Was Beat Up For Wearing Iconic Makeup Growing Up
Parton first met Gallin in 1976 when Mac Davis, another country star, suggested that the two meet. Parton had actually just made an appearance on Davis's show, and wanted to broaden her horizons beyond just country. She also was aware that Gallin managed the careers of Cher and Joan Rivers at that time.
How Gallin helped Parton skyrocket her fame
By '77, Gallin had suggested Parton record the song "Here You Come Again," which went on to be Parton's first crossover hit. Additionally, the song led Billboard Hot Country Singles for five weeks and came up to No. 3 on the pop charts. It sold more than 1 million copies and earned Parton her first Grammy for best female country vocalist. It's safe to say that going with Gallin served her well! Some of Gallin's other well-known clients include Michael Jackson, Barbra Streisand, Mariah Carey, Nicole Kidman, Lily Tomlin, and Whoopi Goldberg.
As for how Gallin and Parton ended up together in a photo on a quilt? Not sure. But Outsider.com thinks they may know of a connection, perhaps. Back in '85, the two formed a film company called Sandollar Productions. The company then went on to win an Academy Award for producing the best documentary in 1990 called Common Threads: Stories from the Quilt and told the story of the NAMES Project AIDS Memorial Quilt.
View this post on Instagram
RELATED: Dolly Parton's Advice To Her Younger Self Is Priceless