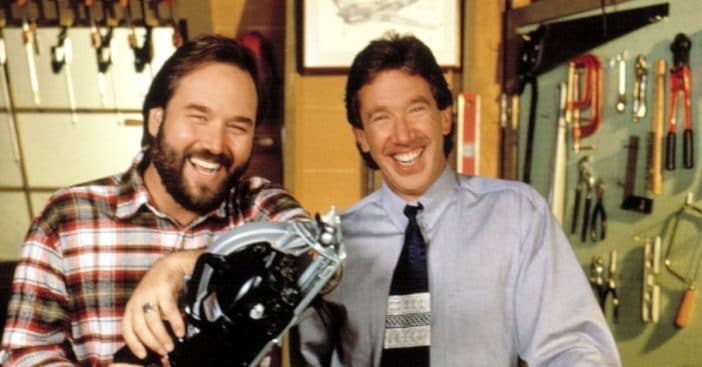 Home Improvement stars Richard Karn and Tim Allen have been hosting a new show. They reunited to host the reality competition show Assembly Required on The History Channel. Richard recently shared some good news that the show is returning, but with a new name.
For the second season, the show will be called More Power. They decided to switch up the name in parts due to the connection to Home Improvement. You may remember it as one of Tim's catchphrases from the nostalgic '90s show.
'Assembly Required' will now become 'More Power'
Assembly Required Full Episodes, Video & More | HISTORY Channel https://t.co/g8Fq5MQ3SV

— More Power on @HISTORY🛠🪓🪚⚒️ (@HistoryAssembly) September 1, 2021
Assembly Required followed several builders who had to repair old items and change them up to become something new. Tim and Richard hosted the show and talked about the history of each item while April Wilkerson, explained the technical aspects. April is a YouTuber and DIY specialist.
RELATED: WATCH: Tim Allen And Richard Karn's New Show 'Assembly Required' Official Promo Video
Richard did not yet reveal if the show will make any additional changes other than the new name. One fan responded, "More power is a great name. Always used to love the calamities caused by going over the top on Home Improvement. Classic wig being sucked into the Air Conditioning scene comes to mind."
Tim Allen spoke about filming a new show during a pandemic
The pandemic caused some problems for season one. They were going to film with everyone in a studio but ended up filming everyone remotely. Tim and Richard filmed from Tim's personal garage. Tim once shared, "Richard has helped me to do this. It's long days and it's ad-libbed a lot, but not really. So it's kind of a combination of television. It was really stressful for me because I come from stand-up, which is fully rehearsed. Theater, which is rehearsed. Movies, which is, of course, rehearsed. A sitcom is kind of rehearsed. I ad-lib quite a bit in mine, and this is a merging of all that."
He added, "I'd watch these guys, because of COVID we had to go to their homes, they couldn't come to a big studio, and I was amazed at these men and women, at what they do in their homes and garages. It got very motivational. They fix it and think of stuff. It's everything I want it to be."
Are you excited for season two? Watch a clip from the show below: