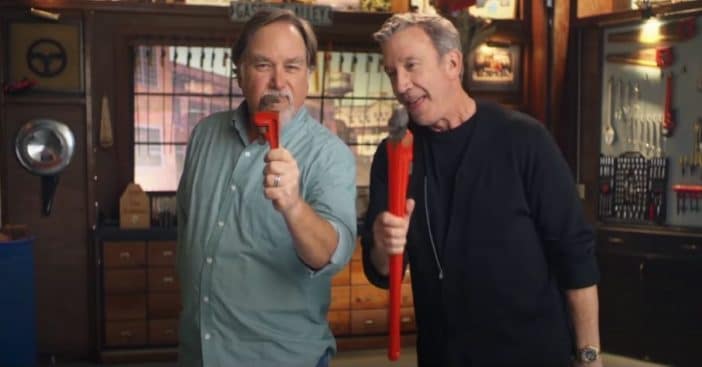 Home Improvement stars Tim Allen and Richard Karn are reuniting for their show Assembly Required, which now has a premiere date and an official promo video. The show will premiere Tuesday, Feb. 23 at 10/9c on The History Channel.
The 10-episode series will "spotlight the best and brightest makers from across the country, as they compete head-to-head, to create mind-blowing builds — everything from a dual all-season ice melter/leaf blower and all-in-one riding comfort mower, to a do-it-yourself jacuzzi and BBQ bicycle — which not only pushes each builder beyond their limits, but challenges their inner fixer and inventor to build it bigger, better and more powerful."
Assembly Required is officially coming to a TV station near you!
The reunion of the two co-stars comes nearly 30 years after Home Improvement's premiere in 1991. The two were previously reunited on an episode of Last Man Standing, which will conclude its nine-season run in the spring. "They say a longtime friend is someone who responds with, 'This is by far your worst idea ever.' Fortunately, this was a great idea working with Richard," Allen says in a statement.
RELATED: Tim Allen Still Has The Original 'Tool Time' Set, And 9 Other Facts You Didn't Know About The Toolman
"I loved those days doing Tool Time. We both share a great appreciation of people who can solve a problem not by talking about it, but by 'doing' it with creativity and amazing building skills. Plus, it gives me more time to make fun of his fake beard."
Check out the official promo teaser video
Karn adds to that, "Tim has always been jealous of my facial hair — mainly because when he grows his it looks a bit off — but I will say this has been one of his best ideas ever. Working alongside him has been the bright spot of this difficult year. We see eye to eye on a lot of things, but if nothing else this show has brought out the differences in our own personal design preferences and when you add in the creativity of our contestants, well, let's just say it brings me great joy to be a part of this!"
Check out the new promotional teaser video below!