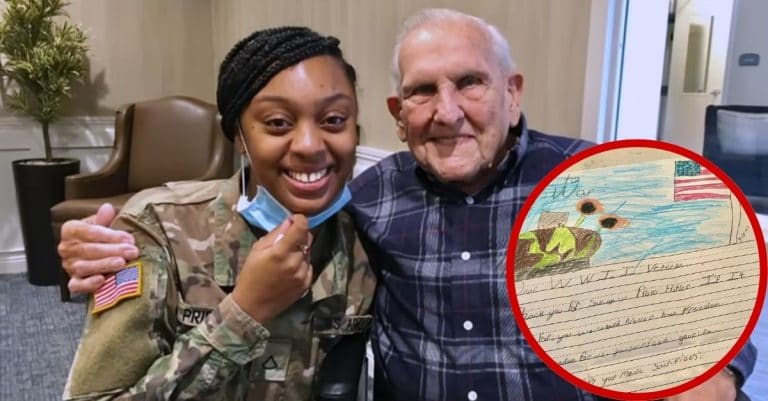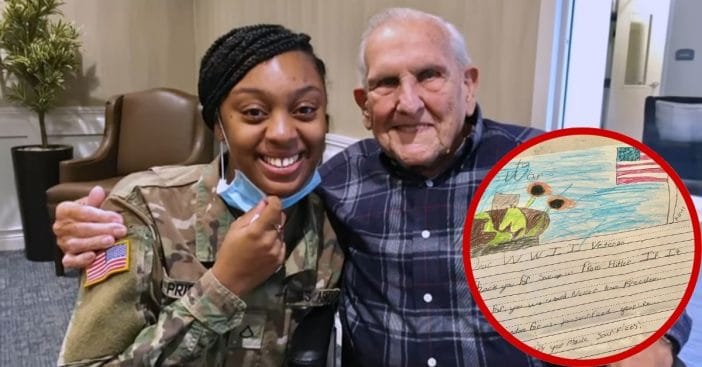 12 years ago, Dashauna Priest was a third grader tasked with writing a letter of thanks to a World War II veteran. She penned her note, the letter went out, and went to Frank Grasberger, then in his early eighties. And there it's been for over a decade, wherever he goes.
Neither student nor veteran knew each other; they were not related or had mutual acquaintances. They were connected only by one distant letter. That finally changed when at last Grasberger, now 95, got to meet the young woman who wrote the letter he's carried with him at all times.
A World War II veteran receives a note of gratitude
An American veteran has met the little girl who wrote a 'Thank You' note to him 12 year ago. The then 9-year-old DeShauna Priest wrote a letter to World War II veteran Frank Grasberger, thanking him for all he did in the military.#Veteran #ThankYou… https://t.co/8YKaiNDarB pic.twitter.com/snC4lKDGnh

— V.E.T.S (@V_E_T_S_HQ) September 14, 2021
Frank Grasberger was only 18 years old – just roughly ten years older than Dashauna when she wrote her letter – when he was drafted into the army. He ended up spending almost three years in Germany. Today, he calls Strongsville, Ohio home. In 2009, he flew from D.C. on an Honor Flight, and during this event he received Dashauna's letter. The note was part of a class project, and reads "Thank you for saving us from Hitler. If it wasn't for you, we would never have freedom. You made freedom for us. You sacrificed your own life. I'm so happy you made sacrifices!" She then signed off as "Your friend," Dashauna Priest of Irving Elementary.
RELATED: 99-Year-Old World War II Veteran Receives Hundreds Of Christmas Cards
The first time Grasberger read that note from eight-year-old Dashauna Priest, he cried. "It really tore my heart up when I saw it," he shared. "I just couldn't believe a child could write a letter about a war." He kept the letter folded in an envelope and carried it with him constantly. Included was Dashauna's drawing of an American flag and an army helmet.
Dashauna Priest gave Grasberger a piece of joy to carry with him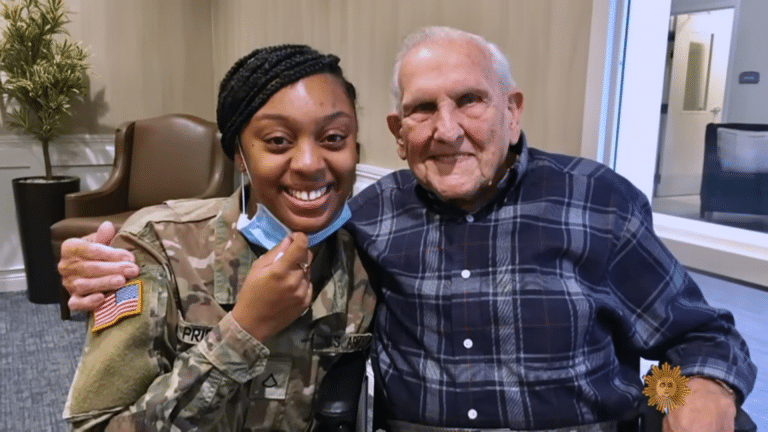 But though Dashauna herself did not fully understand the scope of World War II and had not personally know Grasberger, she knew respect. She explained, "I always looked up to people in uniform, so I took it really seriously." Now 21, she herself is serving her country. Grasberger continued to take the gesture seriously to the point he drafted his own reply to her. Between expressing gratitude of his own, Grasberger also wrote, "You really made me feel very good about fighting the war." He and his wife Delores mailed it to her school but did not hear back. Still, he held onto hope – and that letter – each day. Finally, they received help from Jill Pawloski, resident services director at Vitalia Senior Residents, where the couple resides. Pawloski scoured social media, and through Instagram, she had her match!
Mirroring Grasberger, Dashauna kept his response in a box of important trinkets. But with Pawloski's help, on July 23, Dashauna got to do more than that; she surprised Grasberger, garbed herself now in her own military uniform, and offering red roses to the veteran. The moment of their meeting became a viral TikTok sensation, so others can hear when Grasberger exclaimed, "I love you so much. I really do" to the woman he considers his "third daughter." The two exchanged letters – and tears – for three hours, where Dashauna met "an amazing person" who is "so full of life." Grasberger credits the "godsend" meeting with helping him feel truly complete after all these years.
Thank you both for your service!