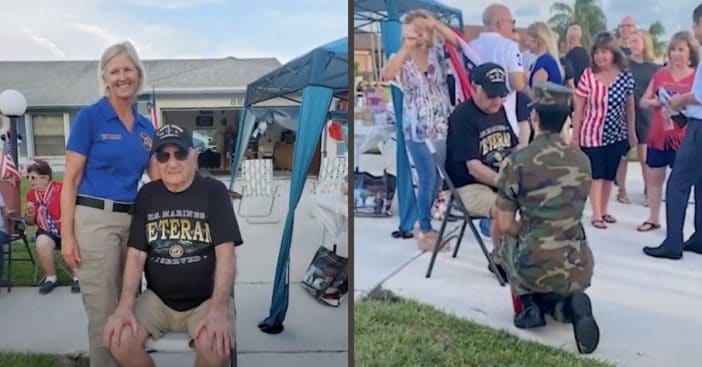 WWII veteran Peter Ruvolo got the ultimate birthday surprise for his 93rd birthday and he recently went on Fox & Friends to discuss his big surprise! An entire platoon of young Marines paraded by his home, and it's a very special moment for him because he and his friends started the Young Marines of the Palm Beaches Program back in the '90s.
The members of the program today stopped by his home to shower him with the utmost gratitude for his commitment, hard work, service, and efforts.
Peter Ruvolo's ultimate birthday surprise
While on Fox & Friends, Ruvolo told co-host Pete Hegseth that he "never" expected any of this to happen for his 93rd birthday. "It was an honor and it left me in shock that I couldn't speak," Ruvolo said alongside his daughter, Joanne. She actually had something a bit different planned for the occasion; she originally planned a simple walkthrough, but of course, the Marines had something different and more extravagant in mind!
RELATED: Previously Silent WWII Veteran Opens Up About Normandy Invasion
"My original plan was to do a drive-by parade for my dad, patriotic, but I only wanted to do it if I could get some of the Marines, the young Marines, to get into the car and wave some flags to be patriotic," Joanne shares. "And when I called up Cindy Townsen from the Young Marines of West Palm Beach, she said, 'Oh, no, no,' she said, 'We're doing a full-on parade for your dad.'"
An honor for everyone involved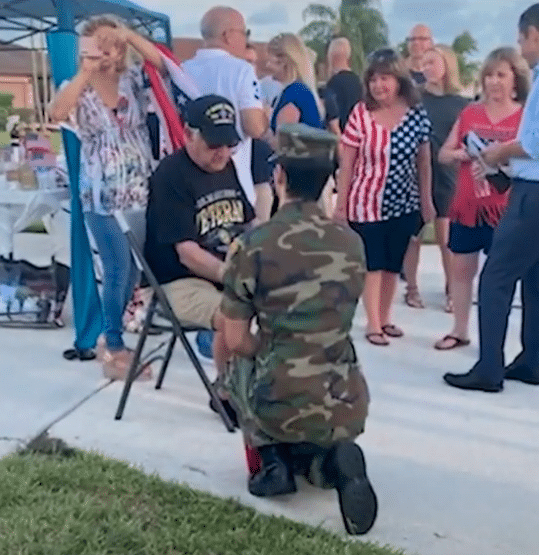 "It was wonderful, absolutely amazing day for our whole family and our community," Joanne continues. Frederick MacNeil is a Young Marine Staff Sergeant and also spoke on Fox & Friends about what an incredible honor it was to be able to do this for Ruvolo.
"Being a part of the small amount of people who were able to honor that last generation of men, the men that aren't just like us, but gave that ultimate sacrifice, and were able to be there for such an amazing event, it was something that I can't even explain."