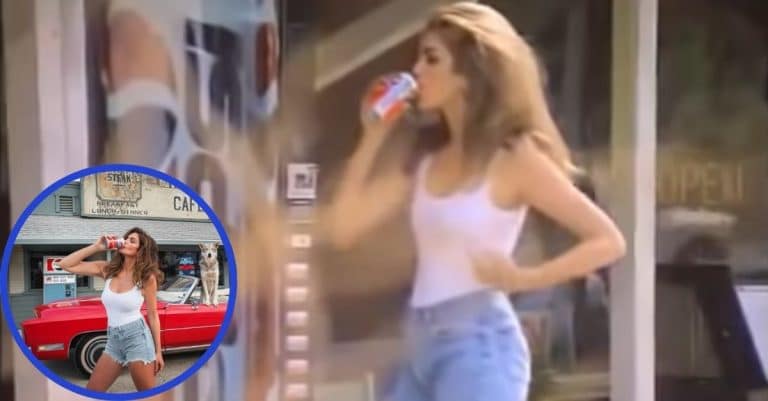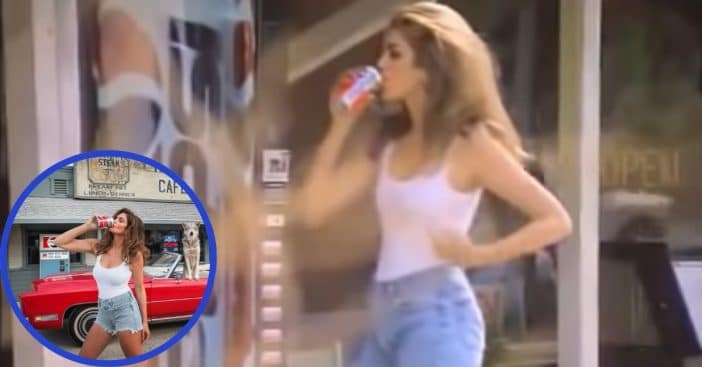 Back in 1992, Pepsi aired a commercial starring model Cindy Crawford clad in a form-fitting white tank top and short Daisy Dukes shorts. Back when filming that ad, she was around 26. As of February 2021, she's 55, but you wouldn't know it looking at her modern recreation on social media.
On Tuesday, Crawford shared a photo on Instagram in which she once again donned that simple outfit. She also is seen drinking from a can of Pepsi right outside the same building, all from 30 years ago, and all for a good cause.
Cindy Crawford brings back classic Pepsi commercial
The year is 1992. The camera shows the uneventful storefront of a Halfway Cafe, where two boys hang out by the fence. They have a clear view of a vivid red sports car pulling up, and out steps Cindy Crawford. The young model takes off her sunglasses and pulls out a coin to purchase a fresh can of Pepsi, which she takes an appreciative swig from.
RELATED: Cindy Crawford Recalls Feeling "So Intimidated" When She First Met Princess Diana
Jump to present day, and Crawford doesn't appear to have aged a day in her reenactment photo. The shot is complete with a stylish car and a venue entitled Halfway House Cafe. The caption names David Yarrow as the photographer, with whom she called it "always a pleasure and a thrill" to work, "and even more so when it's for a good cause."
Supporting a personal and global issue
View this post on Instagram
The partnership between Crawford, Pepsi, and Yarrow is all to raise awareness and funds for the American Family Children's Hospital of Madison Wisconsin "where my brother was treated for leukemia." According to Crawford, "So far, with the help of David's gallery network across the globe supporting the art and its sales — we've already raised 1 million dollars for the cause."
She also mentions a Yarrow twist on the picture. While the original, played as a highly viewed Super Bowl ad, featured two boys, Yarrow's photo has two Tamaskan dogs. With this simple change, Yarrow wanted a "way I could introduce a new angle without losing the integrity of the adaptation." This is just one of many creative reenactments of the classic Crawford Pepsi commercial, this time for a personal and enduring cause.