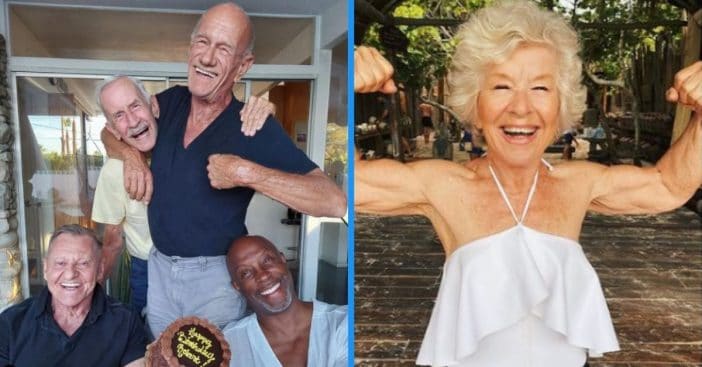 It turns out that people who are in their 60s, 70s, and 80s are influencing young fans and finding themselves with a pretty decent following! 75-year-old Joan MacDonald is one of them. Her health was in shambles at age 71. She was overweight, on numerous medications, and struggled with high cholesterol and high blood pressure along with kidney trouble.
A few years later MacDonald now has a bodybuilder's physique with 1.4 million followers on Instagram, and she gets to influence and inspire people on a daily basis. "It's so rare to find someone her age being able to do all these things," said one of her fans, 18-year-old Marianne Zapata of Larchmont, New York. "It's just such a positive thing to even think about."
These "grandfluencers" are finding themselves with thousands or millions of young fans
View this post on Instagram
MacDonald now partners with sportswear and supplement brand Women's Best, and the stress-busting device Sensate, doing paid partnerships with both. She also just released her own health and fitness app. Way to go, Joan!
RELATED: Reports Conclude That Senior Citizens Are Replacing Teens As Employees In Fast Food Restaurants
Another group of older gentlemen, known as The Old Gays on TikTok and YouTube, have a pretty big following due to the nature of their videos. A lot of them feature four friends – comprised of Jessay Martin, 68, Robert Reeves, 78, Michael Peterson, 65, and William Lyons, 77 – reacting to various things including songs/music videos, or trying new things like hard seltzer and even marijuana. It's definitely a great source of entertainment, and with 2.2 million followers on TikTok, it's safe to say they're doing it right.
View this post on Instagram
Other older influencers, now known as "grandfluencers," focus more on beauty and style. Some of them have even opened up their own Amazon closets and do live videos to show what they have. Others take up cooking! Lagetta Wayne, who is 78, is one of them, and often has younger fans asking her to be their grandmother (so sweet)! She is often seen tending to her vegetable garden and cooking up something delicious at her home in Suisun City, California. Wayne is known as @msgrandmasgarden on TikTok, with over 130k followers since joining the app in June 2020.
The trajectory of social media usage is surely changing in demographics as senior citizens are now picking up their phones and getting to work. Jessay Martin of The Old Gays talks about how much his life has changed since doing this. "I thought I was going to spend the rest of my life relaxing pretty much, and I do, but this is picking up more for us. I had a very structured week where Monday I worked the food bank at the senior center, Tuesday and Friday I did yoga for an hour and a half, Wednesday I was on the front desk at the senior center. I was just sort of floating by, not being social, not putting myself out there in the gay community. And boy, has the Old Gays changed that."
They are changing the game
View this post on Instagram
One of the most endearing parts of it all is when grandparents team up with their grandchildren to bring joy to the Internet. This is something we often see on TikTok. "Mainstream media, I would say, presents a really narrow viewpoint on this age group. What's great about social media is you can follow a really cool 75-year-old woman who is just doing her thing in Florida and that's fun. That's different. And she's funny," says Mae Karwowski, founder and CEO of the influencer marketing agency Obviously (who has more than 100 influencers in her network between the ages of 60 and 80).
"The 21-year-old fashion model influencer is managed. She has a team. She has designers falling all over themselves to give her everything. She has professional photographers. A lot of these 70-plus influencers are doing it all."