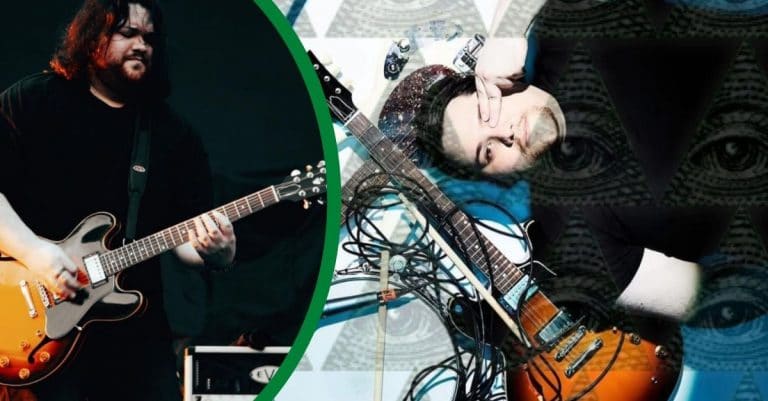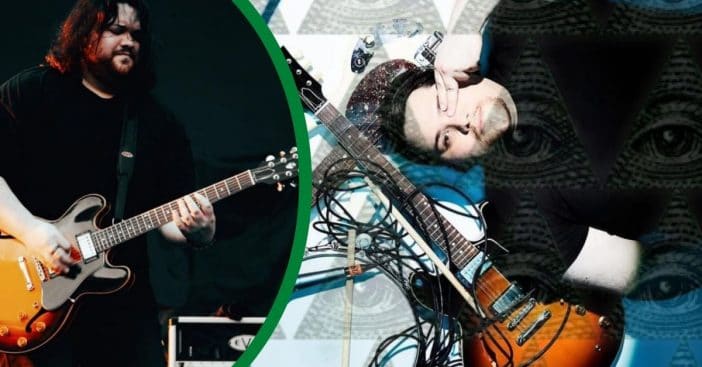 In addition to his rock band Mammoth WVH and relation to late guitarist Eddie Van Halen, Wolf Van Halen is well known for his direct responses to various internet comments, feedback, and rumors. Most recently, it was theorized that Wolf is a member of the Illuminati.
As the budding theory arose, Wolf posted a picture of him laying among some instruments. In the photo, he stares up at the camera and uses two fingers from his left hand to cover his left eye. The image of the Illuminati triangle-and-eye can be seen repeatedly superimposed across the picture.
Wolf Van Halen, Illuminati Grand Master?
— Wolf Van Halen 🐺 🚐 🙌 (@WolfVanHalen) September 6, 2021
On September 6, Wolf posted that first selfie themed around the Illuminati. Some followers echoed a theory that he is a member of the secret "enlightened" society, the center of intrigue and debate. This selfie is actually an edited version of a selfie from September 5 captioned, "Got a new pillow. It's a little uncomfortable but it sounds really good." It does not include the triangle images, but did apparently give some followers enough cause to theorize Wolf's membership in the organization.
RELATED: Wolfgang Van Halen Recalls Last Few Months Spent With His Dad
So, a day later, he posted a series of tweets, beginning with, "The amount of people who think I'm in the Illuminati because I posted a picture with one eye is terrifying and depressing." He went on, "Like I know people can be dumb, but holy sh-t. It's totally not a real thing you guys. Like really. Not real at all."
Responding to the comments
In the past, Wolf has not shied away from responding to comments of any nature on social media, from criticism to Van Halen tribute requests. So, Wolf did not hesitate to reply to these Illuminati rumors with more humor. Another tweet of his, written in garbled text, reads "Do not believe his lies. We are always watching. Pee pee pee poo illuminady [sic] confirmed."
This is consistent with Wolf's traditional method of responding to bold internet statements made by followers: "By making fun of the dummies. It sustains me," he explained. The approach has proved divisive; some find humor in it and cheer him on, while others consider it a cycle of shutting down people making grand statements with grand statements of his own. Likely, Wolf has a response for all these opinions.